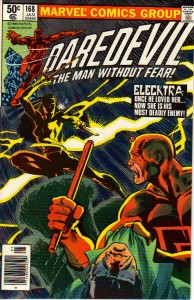 Daredevil #168, Marvel Comics, January 1981.
The superhero genre was born with Action Comics #1 (June/38). All costumed heroes since owe pretty much everything to the success of Superman.
So is where we are today all because of Action Comics #1? Well obviously yes and surprisingly no.
Superhero comics stalled heavily in the late 1940s, it was akin to the Permian-Triassic extinction event of about 250 million years ago where something like 80% of all species disappeared from the earth. The "great dying" of superheroes after World War II was almost as dramatic. It took vertebrates 30 million years to recover from the P-T event but luckily our superheroes needed only about a decade.
Much has been written about DC's re-population of their superhero line but I feel that historically this would not have been enough to see them through. Superheroes were still being written the same way they were 20 years before, read that a generation prior. The times were changing fast and superhero comics were not. Eventually the whole genre would have again run out of steam. My guess would have been a more robust presence of magazine format material in the 1960s. Remember how popular Mad Magazine was at this time and remember that Mad switched format from comic to magazine at issue #24 (7/55) to escape the stifling restrictions the Comics Code would bring. Weak, uninspired options in comic books would have driven more 1960s kids to publishers like Warren, who in turn would have more than likely added titles.
So what reinvigorated comics?
Fantastic Four #1 (Nov/61) and all the Marvels that came after did. Where Action #1 invented the super hero, Fantastic Four #1 began reinventing the superhero, bringing the hero down to mere mortal levels, allowing us to personally relate to them. This comic ushered in a new way of telling the superhero story and the comics it spawned were for that time hip and edgy, a perfect fit for the 1960s counterculture movement.
The industry rode the Marvel revolution right through to the late 1970s, a generations worth of comics.
By the end of the 1970s the industry was creatively stalled and superhero comics sucked. Unfortunately for me this was the time when I was a teenage and heavily reading comics. Sure there was some good stuff here and there (I'm saving a particular X-Men issue for a future Undervalued Spotlight) but your staple titles like Hulk, Superman, Daredevil, Captain America and Thor were almost unreadable.
What comics needed was another game changer, a comic that would again reinvigorate the medium, another Fantastic Four #1.
In January 1981 about 20 years after Fantastic Four #1, read that a generation later, Marvel published Daredevil #168.
OK now please back off! I am not saying DD #168 is Fantastic Four #1 but what I am arguing is that this is a book that represented a shift, a book that had a hand in bringing on a new era of superhero storytelling. Frank Miller's success with the Daredevil title really was the beginning of something new, something that would grow into another comic book revolution. Again, I am not saying the book had the immediate impact that Action #1 and Fantastic Four #1 had, nowhere near, but Daredevil #168 did signal a change, it was a turning point.
Frank Miller joined the Daredevil title with issue #158. The title was failing; Marvel had it on a bi-monthly schedule and fan favorite Gene Colan was off the title. Miller instantly infused a noir mood to the art which he felt fit well with the character. Miller has been quoted as saying it was his intend to tell superhero stories in a noir crime style.
Of course we all know that Daredevil #168 introduced Elektra Natchios, Matt Murdoch's (a.k.a. Daredevil) former college girlfriend who just happened to be a ninja assassin. Miller's run of #168 – 182 is the stuff of legend. The storytelling was off the charts, yes melodramatic but also intense and complex. I could not wait for each new issue, it was the first time I'd ever felt so strongly about comic books and my heart was ripped out when Miller did the unthinkable and killed off Elektra in issue #181.
Comic fans were numb after Elektra's death. This was no death of Captain Marvel which comic fans like me read with interest but little emotion. This was devastating stuff. Reading the Daredevil letters column a few issues later was like therapy for me because I was consoled by the fact that others were having just as hard a time dealing with her death. It was a special galvanizing moment for the comic book reading community.
Frank Miller had pulled it off. He had redefined the Daredevil character for a new generation and he had redefined superhero storytelling for a new generation.
There was now an open road to the great comic works of the mid 1980s including Miller's own Batman: The Dark Knight Returns (Feb/86), Alan Moore's Watchmen (Sept/86) and Miller's Daredevil: Born Again (Feb/86) which by the way is my pick for best superhero story of that era. I will argue anyone who does not connect Daredevil #168 to these great comic book works.
The evolution of superhero storytelling continued. Gritty and intense storytelling of the superheroes had arrived and it would be one of the more successful templates used in superhero comics for the next 20 years, read that, comics were safe for at least one more generation.
The cover features pencils by Frank Miller with inks by Klaus Janson. The 22 page story is written and has pencil breakdowns by Frank Miller, finished art and inks are by Klaus Janson.
The 40th edition of the Overstreet Price Guide shows $73/$129/$185 as the splits at the 8.0/9.0/9.2 grades.
Strengths that make this comic book a good long-term investment are:
Heralds a new approach to superhero story telling
1st appearance of Elektra the ninja assassin
Frank Millers 1st issue as writer and artist (he began as artist on #158)
Seen primarily as an Elektra comic but should be noted as a game changer