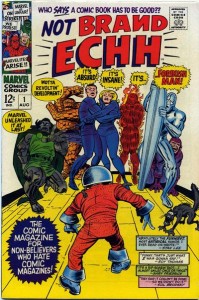 Not Brand Echh #1, Marvel Comics, August 1967
Marvel Comics published a satirical parody filled comic called Not Brand Echh #1 in August of 1967. By 1967 the Mighty Marvel comic book beachhead was well established, the publisher was bursting at the seams with talent and ideas. The time seemed right to poke fun at what were now very popular and well known superheroes.
Forbush Man was the title's mascot, he had no superpowers and wore red long johns and sported a cooking pot for a helmet. Later in the series (issue #5) we learn that Forbush Man is none other than Irving Forbush, the imaginary Marvel errand boy Stan Lee cooked up back in 1955 and who was fodder for many a joke by Stan the Man in the bullpen section of Marvel Comics.
In this first issue Forbush Man shared the pages with the likes of the Human Scorch, Sunk-Mariner, Sgt. Furious, Too Gone Kid, Silver Burper and the Fantastical Four! Who wrote this stuff?
Lots of very talented artists and writers contributed to this title. In the first issue alone we have a Jack Kirby cover, an 8 page story by Stan Lee and Jack Kirby starring the Fantastical Four, a 4 page Too Gone Kid story written by Roy Thomas, a 5 page Human Scorch story pencilled by Bill Everett and a 5 page Sgt. Furious story written by Gary Friedrich and penciled by John Severin. The John Severin connection is cool because this comic obviously owed so much to Mad Magazine and John Severin actually drew and inked a 7 page story called Varmint! In Mad #1.
The title itself has an interesting origin. Advertisers in the 60s did not like to use the competitor's brand name (no Coke vs. Pepsi back then). Competitors were Brand X and in many of the Marvel letter columns of the mid 1960s DC Comics was playfully called Brand Echh.
Sadly the series lasted only 13 issues. Marvel tried another parody series in the 1970s called Spoof, they also launched the magazine format Crazy which contained a lot of Not Brand Echh reprints. Marvel's 1988 series What the- ? was obviously a continuation of the Not Brand Echh tradition. Surely Marvel has another attempt in the wings?
This was a neat idea, definitely unique to Marvel in the 1960s. Considering the publishing date, the talent involved, the characters parodied and the relatively low current Overstreet Price Guide value and low current trading value (CGC 9.4s are only getting about $130.00) I really think this comic is poised to appreciate in value over the coming years.
The 40th edition of the Overstreet Price Guide shows $47/$76/$105 as the splits at the 8.0/9.0/9.2 grades.
Strengths that make this comic book a good long-term investment are:
Marvel #1 from the 1960s
Contributions from a who's who of comic book legends
Too undervalued relative to all the Marvels of that era