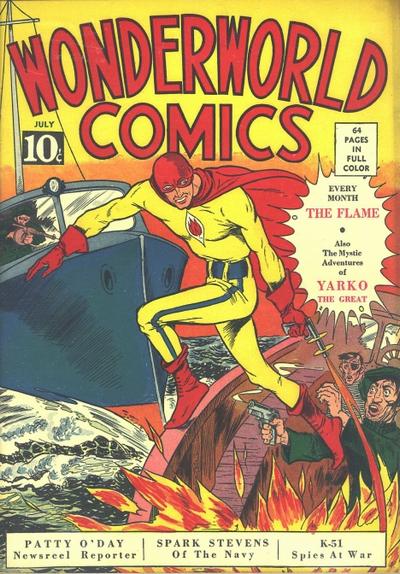 Wonderworld Comics #3, Fox Features Syndicate, July 1939
A while ago in Undervalued Spotlight reader Dave contributed installment #74. I'm happy to present another fan submission. Warren is a regular column reader and felt Wonderworld #3 was a good candidate. I love this pick! Great work Warren. Here's Warren's email;
Wonderworld Comics # 3.
I say this because Wonderworld Comics was cover dated July 1939, a mere 3 months before Marvel Comics # 1, which was cover dated October 1939.
The character was The Flame, created by writer Will Eisner & by artist Lou Fine, both giants in the Golden Age of comics in my opinion!
The Flame's secret identity was Gary Preston. He was trained by a group of lamas in Tibet to gain control over fire and temperature, including his own body temperature (he could even melt bullets, just like the Human Torch in Marvel Comics!).
Back in the Golden Age, rival comic publishers were checking out each other's creations & even sometimes the comic writers or artists would steal other publisher's ideas.
The fact that the Human Torch was published by Timely only 3 months later may not be a coincidence!
Wonderworld Comics (especially # 3) is an extremely difficult book to find (especially in high grade) & does not reflect its true impact on the nascent comics industry, especially for the future of Timely Comics & Marvel Comics.
Also interestingly, Detective Comics took Fox Feature Syndicate & Will Eisner to court because Wonder Man was too similar to Superman. Detective Comics won the lawsuit & Fox Comics then dropped the character of Wonder Man. So this means that this was the first copyright lawsuit in comic book history!!
I only wonder (no pun intended!) though why Fox Feature Syndicate didn't itself sue Timely and stop it from continuing to use its version of a flaming character, the Human Torch.
So all these attributes leave me to confidently say that Wonderworld Comics # 3 should be considered as an Undervalued Spotlight comic candidate.
Thanks,
Warren
The 40th edition of the Overstreet Price Guide shows $5,052/$8,926/$12,800 as the splits at the 8.0/9.0/9.2 grades.
Strengths that make this comic book a good long-term investment are:
Flame predates Human Torch and the influence seems obvious
Two names, Will Eisner and Lou Fine
Early Golden Age key by the very collected Fox Features
Because Warren says so