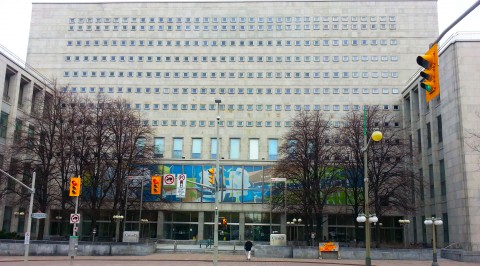 Last week I had the opportunity to spend a couple of days at the Library and National Archives of Canada in Ottawa. It's just a couple of blocks west of the Parliament buildings on Wellington and backs onto the Ottawa River.
As you would expect, you can't just walk in off the street and ask to go through their collection of original Bell Features artwork. To begin with, the art and over 300 Bell Features comic books are kept in storage across the river in Gatineau and have to be requested by any visitor or researcher at least a week or two before they arrive. You also have to apply for an id card on line and you receive it when you get there and sign in at the security station and have to display it at all times when you are in the building. The id card, though, is good for 2 years so it's easier to come back again.
I managed to get through a small container of Cy Bell textual material in one morning and then spent two full days looking at original art pages in the Special collections area on the third floor. You don't need white cotton gloves for the textual material and aren't so closely supervised in a large research room full of other people doing research at other tables on material of particular interest to them. However, there are security cameras watching you in every part of the building (except the washrooms, I hope).
The Special Collections Room is a little different. There are a couple of dozen 3 metre long viewing tables and two supervising government research assistants with their desks in the middle of the room. There were never more than two other researchers looking at their own material at the same time I was looking at mine. Here the gloves are on.
The art came out of a back room on a trolley. Before my visit I had ordered in 9 boxes of art, which ironically looked like elongated "pizza boxes" with each box containing between about 120 and 150 original art items (in fact the research assistants referred to them a "pizza boxes" as well). Inside the boxes the pages are stacked sandwiched between non-acidic archival sheets to reduce progressive deterioration.  The archives have almost 2300 pages of original Bell Features art and by my calculations I was able to get through just over half of them (this means another trip up before summer).
Here are a couple of items from Cy Bell's textual material box. The first looks like it's from around 1946 and lists a few story ideas. I wonder if this means that Cyril Vaughn Bell had more of a creative role than previously thought. The Johnny Canuck meets Uncle Sam idea is the "peach" of the crop.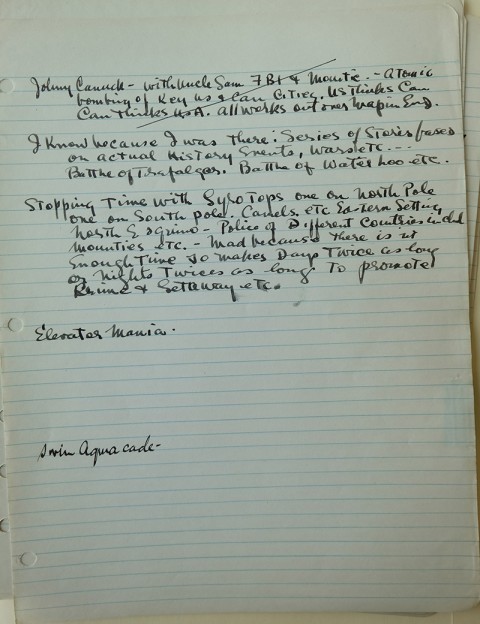 Here is a post-WECA period item from 1949 and from Louis Silberkeit of Archie Comics who mistakenly calls our Cyril the more American "Cyrus" (this sort of, in itself, signals the tacit relationship between the American and Canadian businesses) and offers Bell Features new title Jughead Comics #1 for reprinting. The reply is saved in the files in carbon copy form and comes from Cy's brother Gene. Too bad, a Canadian Jughead #1 would have been a great item to have in a collection. Bell Features, though, did pick up the title with No. 2 on.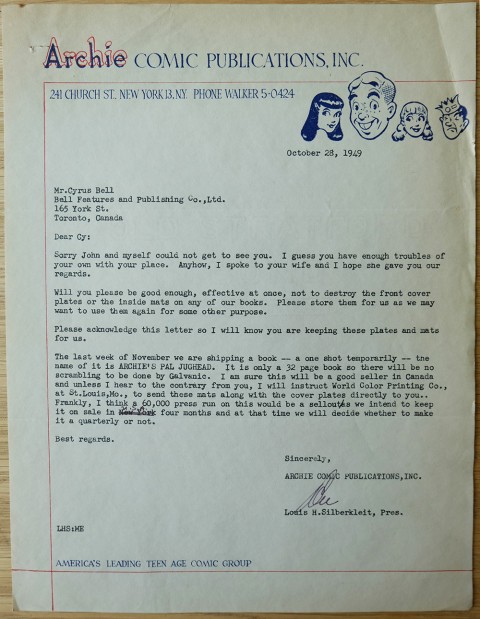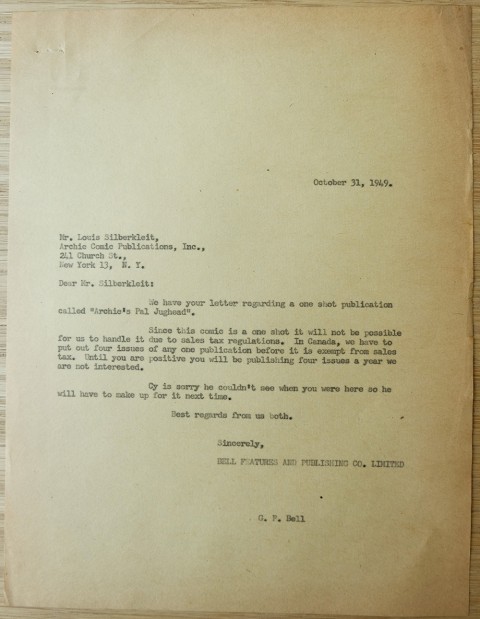 With the original art pieces, the super-hero features tend to be generally missing, so no Dingle Nelvana pages or Murray Karn Thunderfist or even Ted Steele Speed Savage pages. These are either lost or, more likely, hidden away in private collections.  I don't know if Patrick Loubert or Michael Hirsch kept any part of what they had before they donated it to the Archives.
Here is one peculiar page. It's a Jo-Jo Congo King original but what is it doing in the Bell Archives. The title of the story is "The Terrible Fanged Lady" and the closest I can find in Jo-Jo Comics appears in issue No. 9 and its title is "Death of the Fanged Lady" and it's from December, 1947. I hope that we can identify this splash appearing in a late forties Bell book. It certainly looks like a re-draw of the script from the Jo-Jo Comics #9 story.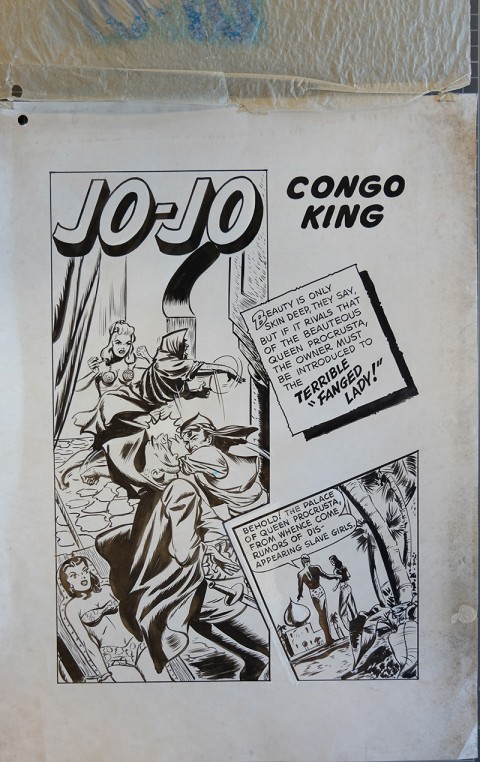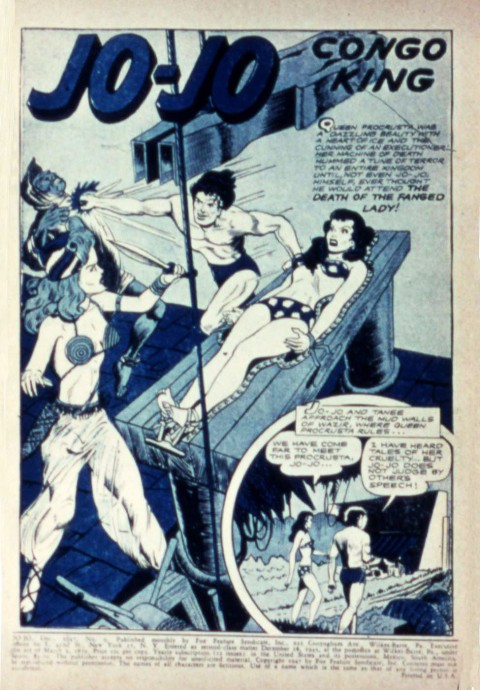 Finally here is a more significant page. It's from Joke Comics No. 5 and is the original splash for the first "The Terror" story written by Al Clemenson and drawn by Don MacKague. You can see that the first picture is without all glued on items and that The Terror was originally called "The Avenger." I wonder who made the editorial name-change call?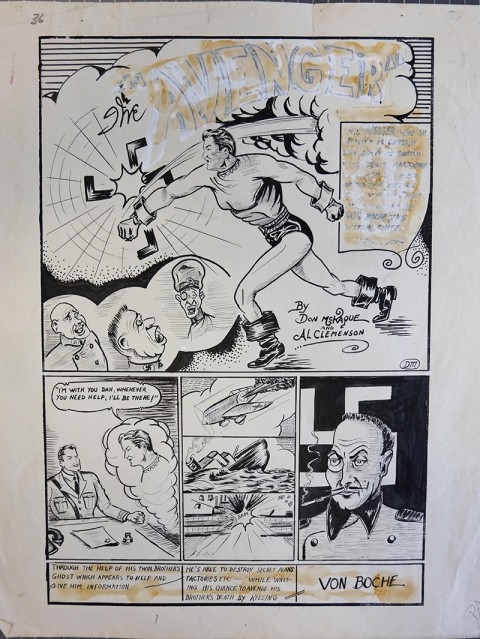 This second image has a previously glued-on piece that was floating with the page put it its proper place.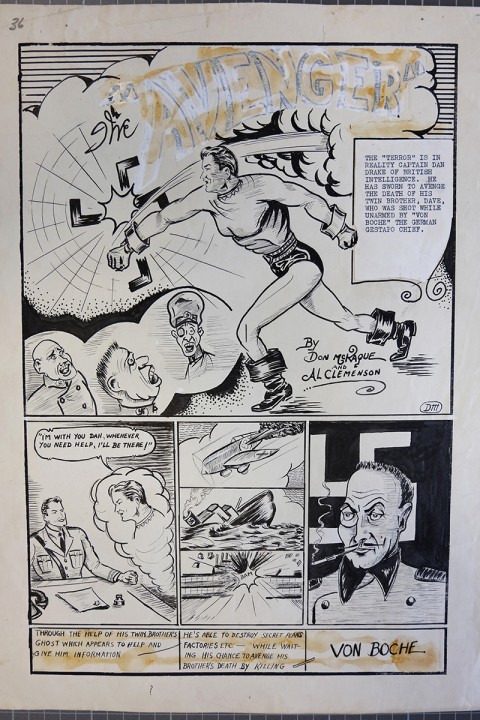 The final image is from the microfiche of the published page.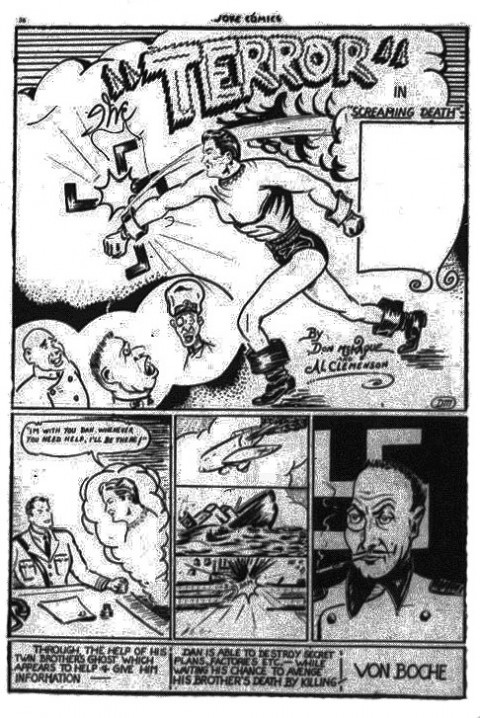 Looking through over a thousand pages of original Bell Features art in two full days left one central impression on me. The quality of the artwork on these original drawings shouldn't at all take a back seat to American produced comic art of the same period. Bell's reproduction and printing processes on relatively inferior quality paper does not do them justice. When you see these pages up close and in their original state, you can easily see that they represent quality comic book art of the first order.