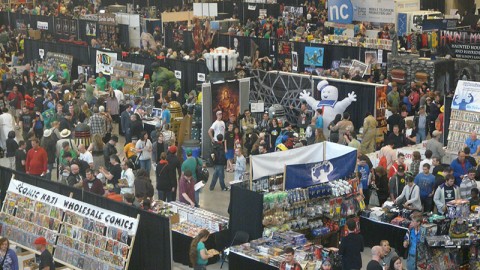 Just wanted to do a quick report on the Canadian Comics panel  that we held at Niagara Con this past Saturday (June 8).
The panel was comprised of Hope Nicholson (producer for the upcoming "Lost Heroes" documentary which will air on Super Channel Canada this year, Rachel Richey Canadian comics researcher and author of the Comic Syrup blog on Canadian comics, Kevin Boyd proprietor and commander of The Comic Book Lounge on College St. in Toronto as well as Overstreet Comic Book Price Guide Adviser since 2005, Co-Founder and Associate Director, Joe Shuster Canadian Comic Book Creator Awards, and Richard Comely artist and creator of Canadian icon Captain Canuck. I was lucky enough to lead and moderate the conversation.
About 40 people attended the session and we began with an short overview of the basic periods in the development of Canadian Comics starting with the WECA books (The Canadian Whites 1941-46); the Reprint and Repack period that included original material from F. E. Howard, Export Publishers and Superior (1947-1956), the Public Service Giveaway books (1957-1973) that includes items such as Captain Enviro Comics out of Halifax and Captain Alcohol Comics out of Yellowknife; the so-called "Silver Age" of Canadian comics (1974-1988) that might have begun with Orb Magazine and certainly with Richard Comely's Captain Canuck Comics No. 1 and also includes Dave Sim's Cerebus  The Aardvark which started in 1977; and finally the Independent Period (1982-present) which includes Vortex Comics.
I can't recall all the good points that were made both by panel members and audience members alike. Among the points was the fact that Kevin Boyd noted that John Byrne only considered himself a Canadian creator for the small window of time he lived in Canada. He has been a U.S. citizen for a while now and no longer considers himself at all a Canadian artist.
Richard Comely revealed that when he created Captain Canuck he had no idea that there had been a Canadian Golden Age and he was totally unaware of the WECA period "Whites." He did say that he made a concerted effort to have Captain Canuck No. 1 be a Canadian comic through and through by setting it in the far north.
There were a number of references from the audience to Scott Pilgrim as being one of the great Canadian Comics because it is set in Toronto. The time went by too quickly in the end and when in closing we asked the audience why they came to the session and what they hoped to find out and a couple of them mentioned that they wanted to learn more about the Canadian "Whites." We, of course, pointed them to our planned panel at Fan Expo on the Canadian war-time comics. In the end, the time spent on the topic of Canadian Comics and what made a comic Canadian seemed to be a time well spent by both the panel members and the audience.