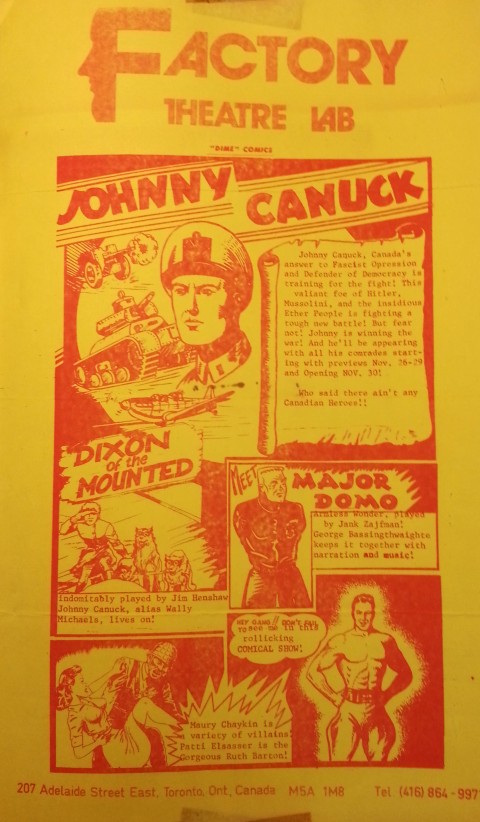 In going through some of my Canadian comic ephemera, I came across items related to a strange entertainment event in the seventies that was connected to era of the Canadian Whites. The brief seventies awakening to and appreciation of the Canadian war-time comic industry began with Michael Hirsh and Patrick Loubert's November, 1971 publication of the compendium of Bell Features material they called The Great Canadian Comic Books (Peter Martin).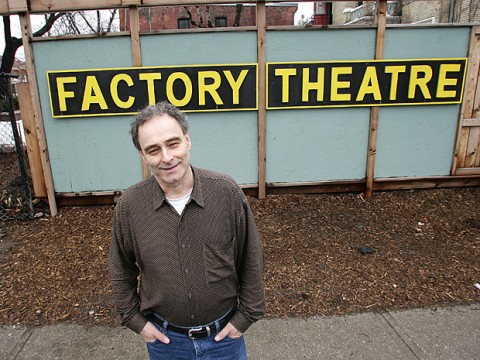 Three years later, playwright Ken Gass, founder and Artistic Director (1970-79)of the Factory Theatre, (then known as the Factory Theatre Lab and situated in its first location at 207 Adelaide St. in Toronto), was able to stage his own play "Hurray for Johnny Canuck" and it opened on November 30, 1974.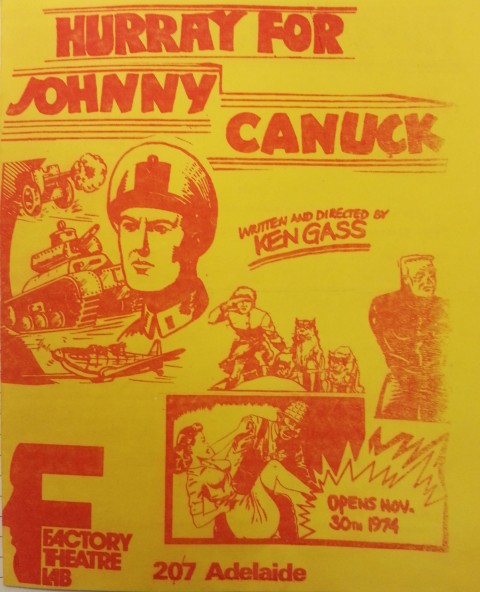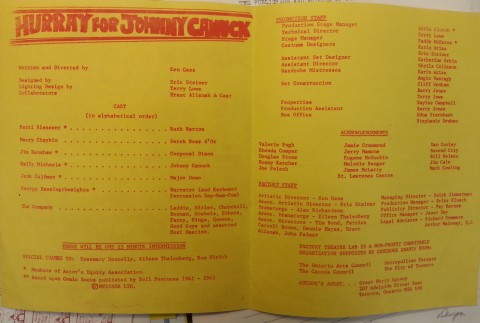 I've found a flyer and programme from the play and what's notable for me is that Maury Chaykin is listed as playing the role of Derek Bras d'Or (who only appeared in a couple of issues of the Hillborough Studios Triumph/Adventure Comics).  Wally Michaels, whom I have no knowledge of, played the title role and Jim Henshaw played Corporal Dixon.  On the day of Maury Chaykin's death, July 28, 2010, Jim Henshaw obituary recollection posted on http://the-legion-of-decency.blogspot.ca/2010/07/maury.html included the following recollection: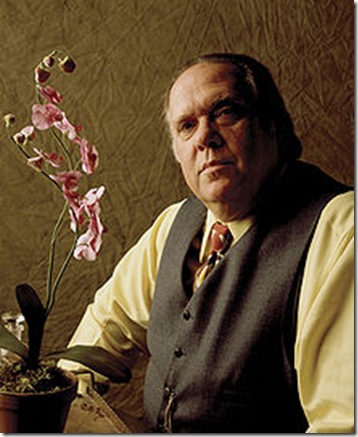 I first met Maury Chaykin a few days after he'd emigrated from New York to Toronto. We'd both been cast in a new play called "Hooray for Johnny Canuck" written by Ken Gass for the Factory Theatre.
The theatre, like most in Toronto in the 1970's, was in a dirty old warehouse. The play was an attempt to revive the once hugely popular, but by then completely forgotten Canadian comic book industry which had thrived through the 1940's with Canadian heroes like Johnny Canuck, Derek Bras D'Or, RCMP Corporal Wayne Dixon and Nelvana of the North.
Like Captain America and Sgt. Rock, these pulp creations had almost single handedly defeated the Nazis and Imperial Japan in their B&W hand drawn pages. But they'd had a lot of fun doing it. So the show was a slapstick romp, patriotically over the top and politically incorrect.
We did a lot of improvising to help the script find its shape, all playing multiple characters in scenes that did or did not make the final cut.
A lot of actors are uncomfortable working in that kind of atmosphere. And for the first week, Maury was fairly quiet. None of us took that as him being aloof or harboring any New York actor sense of superiority. He just seemed a little shy and to be trying to figure out where he fit in.
I learned he'd gotten into acting with the help of his uncle, director George Bloomfield and had come to Canada looking for greener pastures not long after some New York agent had suggested he wouldn't work much until he was old enough to play Tevya in "Fiddler on the Roof".
One afternoon, we took a crack at a scene that just wasn't working. It featured a number of mad scientists pitching doomsday weapons to Adolph Hitler. Ken asked us to set aside the original comic book pages and kick around the concept. So we all took turns creating our own mad scientists and their comic/demonic creations as Der Fuehrer waited to be impressed.
When it was Maury's turn, he nervously took the stage, acting very deferential as he introduced himself. "Hello, Mr. Hitler. My name is Maury Chaykin and I'm very pleased to be able to audition for you this afternoon."
He stepped back. Cleared his throat. And launched into a full fledged performance of "If I were a Rich Man" from "Fiddler on the Roof". The cast and crew collapsed in hysterics. It was one of the funniest things any of us had ever seen. And like much of the work Maury did from there on, it exemplified his incredible talent for turning his own life experience into memorable moments of comedy and drama.
There are some words of review in Profiles in Canadian Literature Vol. 8, p. 45: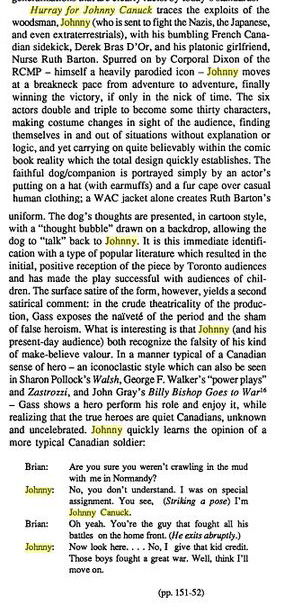 Other than the names of some of the characters, I'm not sure how much the play had to do with the actual world of Bell Features since Johnny appears to be a lumberjack and not the RCAF Officer he is in Dime Comics. The play has been staged as recently as July 10 and 11 of this year  by The People's Studio Theatre Company of Mississagua at the Burnhamthorpe Library Theatre.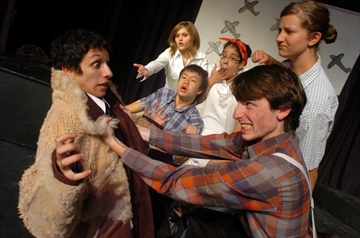 This makes me think about who we could cast in a movie like The Avengers Movie but about the Bell Features universe with a team such as the one I proposed in an earlier post. Who would we get to play the following?:
Nelvana:
Johnny Canuck:
Thunderfist:
The Brain:
Captain Wonder:
And maybe….
I'm at a loss and would love to hear any suggestions as to who you think should answer a casting call for such a movie.