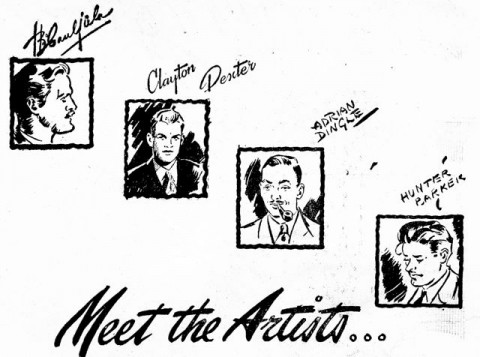 Clayton Dexter was first brought on board Canadian war-time comics by Adrian Dingle and his Hillborough Studios when they decided to publish, what turned out to be, a one-shot adventure comic called Top Flight Comics early in 1942.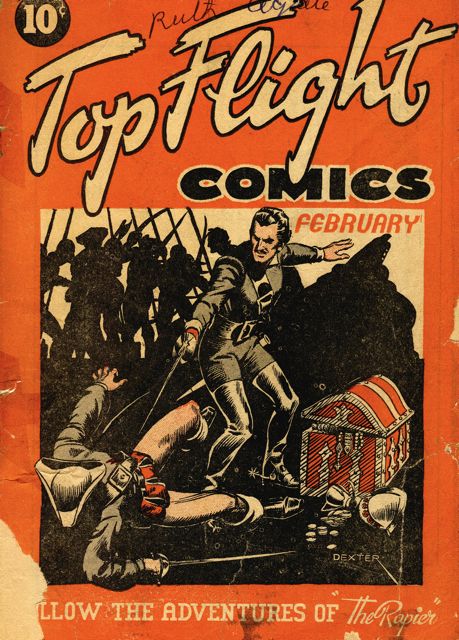 This was toward the end of the 6 issue Hillborough Triumph-Adventure Comics run and an ad actually appeared for it on the back of Triumph-Adventure No. 5. For this issue he did the cover of The Rapier and the corresponding story inside. This was a character that he seemed to have created. After this Clayton Dexter apparently disappeared from Canadian comics until after the war when he surfaced in late issues of Bell Features' Commando Comics and then Dime Comics.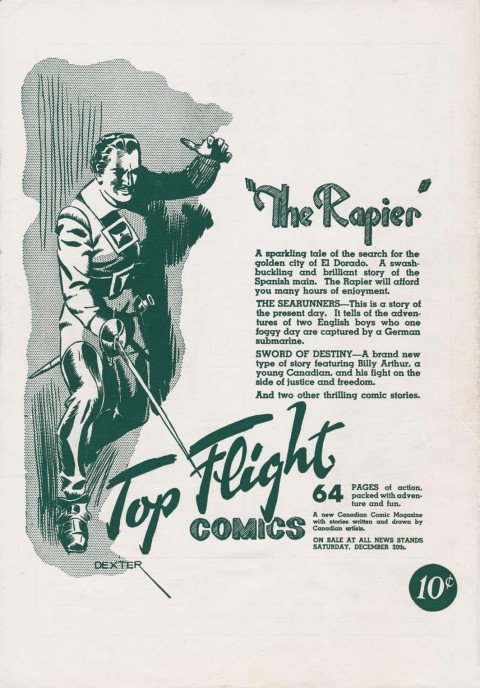 Few people know, however, that Clayton Dexter is a pseudonym for Howard Buchanan Cowan; thanks to Howard's son Glen for this information and other biographical details. He was born in 1918 in Toronto to a well-known Dentist Father, William A. Cowan, who practiced on Bloor Street. Howard received some art training at Humberside College and after graduating in 1939 wanted to pursue further art studies but received no support from his father who seemed not to see much of a future in this and ideally wanted his son to become a dentist.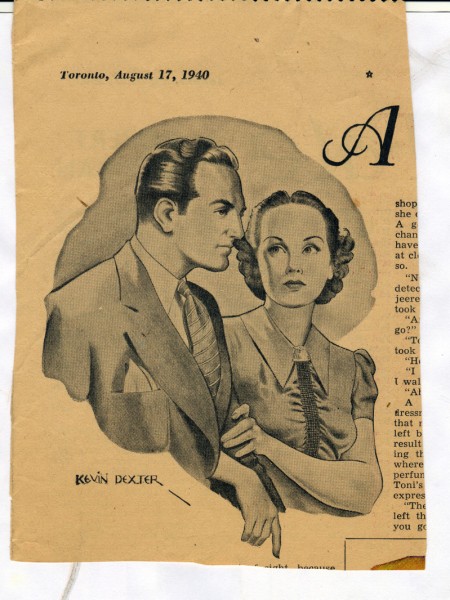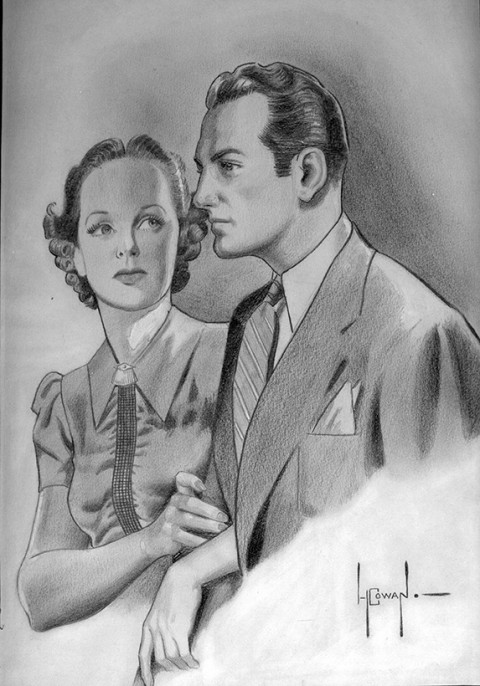 Instead, Howard chose to do freelance illustration for Toronto newspapers such as The Toronto Daily Star and he was just about in his mid-twenties, at end of 1941, when he began working for Adrian Dingle, who he greatly admired (as did many other Canadian war-time illustrators) and his Hillborough Studios on Top Flight Comics. In that issue he put together (as writer and artist) a comic book feature called "The Rapier" about a 17th century swashbuckler and pirate fighter which became the lead and cover feature of the book. Dingle clearly seemed to appreciate and value his work given the prominent place it held in the book.
However, by the time the book was already published, February 1942, Howard was already a trainee in the Canadian Army and stationed in Saskatchewan. About a year later he met and married Frances Jesperson and managed to get stationed closer to Toronto so that he could move back with his wife. He had a son Glen early in 1945 and a daughter Lynn in 1946.
After the war Howard B. Cowan renewed his contact with Adrian Dingle and was hired by Bell Features. His first work as Clayton Dexter for Bell was on his own creation "Salty Lane" in Commando Comics Nos. 18-20 right after the end of the war. "Salty" is an apparent "soldier of fortune" based on the docks of a large city.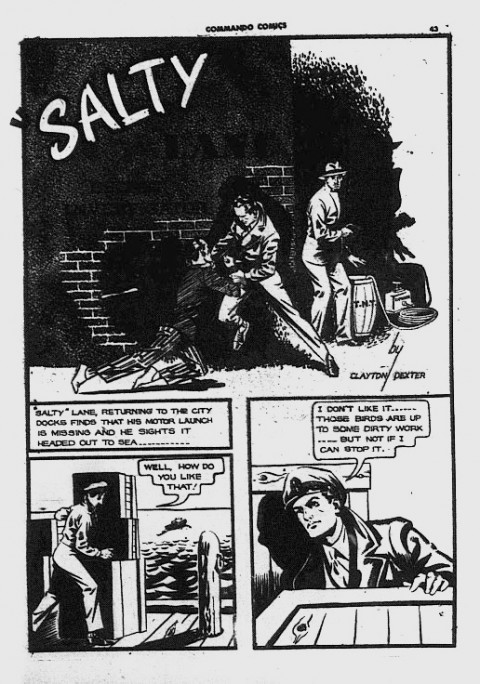 He's never identified as Canadian, but he has his boat stolen and this pulls him into an espionage plot involving Japanese agents that carries over for the next two issues and lands him in Manchuria. Where Dingle has apparently moved the feature from the middle of the book to lead story on page one. Another "Salty Lane" story appears about six months later in Joke Comics No. 26 and he's still in the East where he saves the life of his friend "Susan" and battles what looks like a poisonous Komodo dragon. Adrian Dingle's cover for this book represents this "Salty Lane" story.
The last "Salty Lane" story I can find is in the full-colour Slam-Bang Comics No. 7 from May, 1946 and this places Salty's adventure in Mongolia. That appears to be the lot, a total of five "Salty Lane" stories.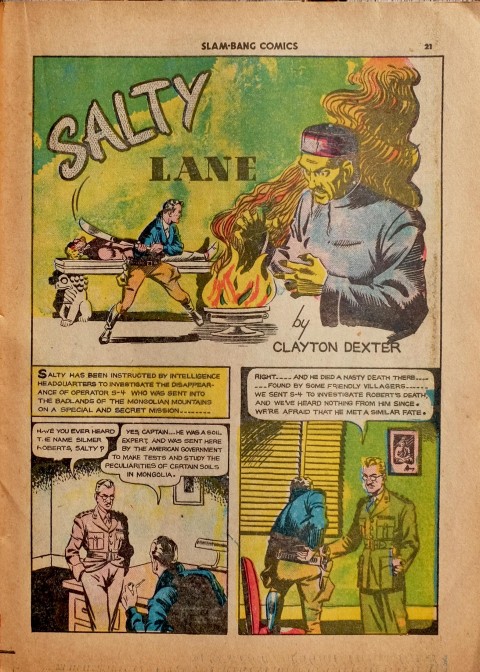 In Commando Comics No. 20, Cowan does a second feature called "Susan" and it's the final story in the book. The title character is an heiress that is being stalked and threatened by a couple of shady criminals. Luckily she has a police or para-police minder-protector in the form of a man called "Decker" who has apparently been hired to do this job by Susan's tycoon father. After an apparent mishap all ends well, but the story seems to be a one-shot or maybe a try-out and the characters do not seem to appear again.
Cowan's figures here are among the best formed, well-executed, and strong-lined in all comics at the time. They drip Alex Raymond influence and animation. He has become the enigmatic favourite of many a collector of Canadian war-time comics.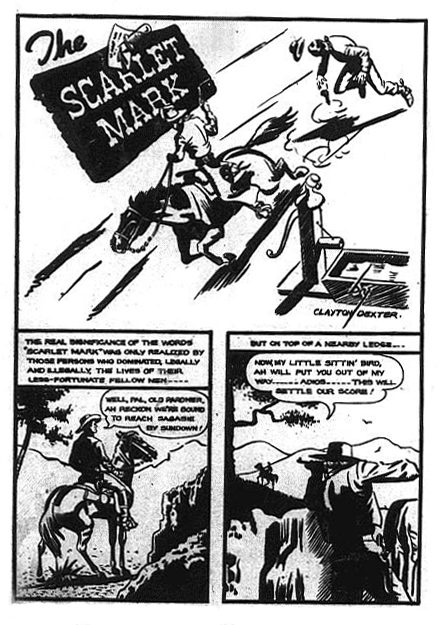 Cowan's other original feature was the western called "The Scarlet Mark" and appeared only once in Triumph Comics No. 28 which by coincidence has the only Clayton Dexter cover, a cover that actually refers back to the Nels Grant story in the previous issue.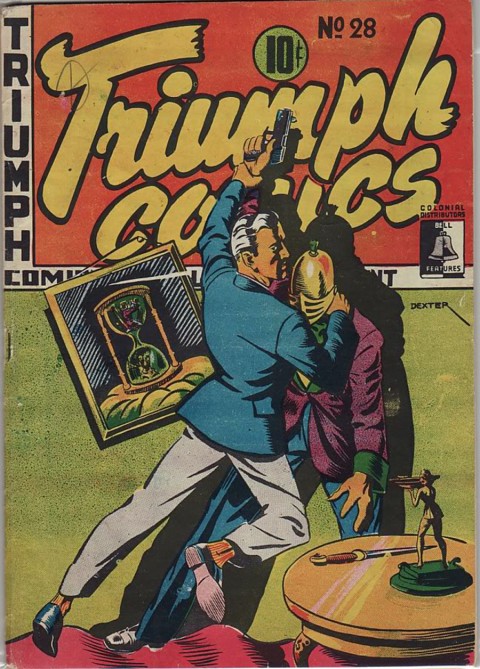 This story, which appears to be a story about a vigilante purveyor of Batman type justice in the West, ends abruptly after 7 pages and clearly points to the fact that there were more pages done but in the turmoil of the last few months of the WECA period Bell Features must have jettisoned this along with many other pages and stories.
Next, Adrian Dingle had Cowan take over the Rex Baxter strip in Dime Comics beginning with No. 25. The Xalanta story arc, created by Edmond Good in the first issue of Dime Comics and taken over by Dingle in issue 14, came to an end in Dime Comics No. 22 and, with issue 23, Dingle turned Rex Baxter into a "Counter-Spy." With this story, Dingle began an arc about Hitler not really being killed at the end of World War Two. Instead, with Nazi technology, he manages use an escape rocket and crashes on an island in the mid-Atlantic. Dingle leaves the series with Hitler in the last panel staring down at some bubbles coming up from the ocean floor at the shore of his deserted island.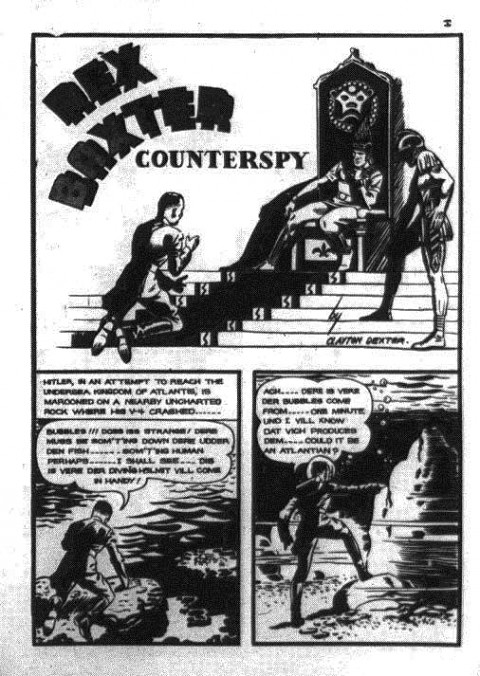 For the next three issues, Cowan takes Hitler, using a glass bubble diving helmet, down to the sea floor and Atlantis, which he summarily proceeds to conquer with an atomic ray developed by the Nazis.  Rex chases after him and, in Dime Comics No. 27, kills him for good. There is no credit for writing on the series other than the byline of the artists, Clayton Dexter so I assume that Cowan did this all by himself or followed some original idea from Dingle.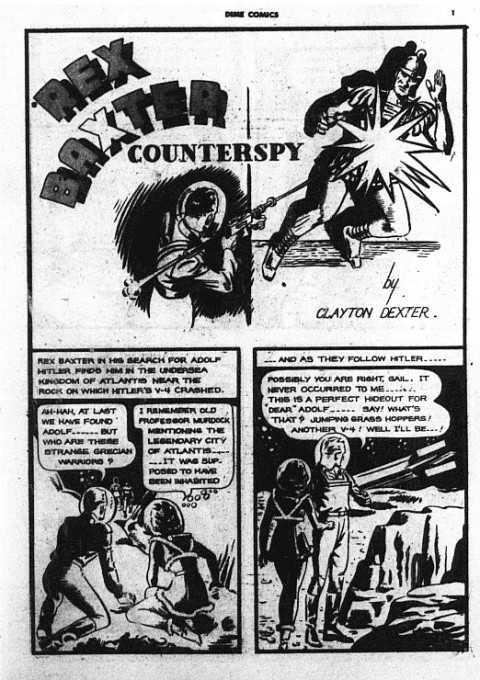 In Dime Comics No. 28, the last original content Dime, Cowan sends Rex Baxter to a castle in Austria to thwart a German Baron's plot to plant Nazi developed atomic bombs in Russia resulting in a rift in the postwar allied relations. Of course, this turns out to be a piece of cake for Rex who closes out his final adventure. Dingle salutes the piece by featuring the story on the cover as the twilight of the Canadian war-time comics firmly sets in.
Soon after the comics were gone, the Cowan family relocated in Lucknow, Ontario, an area where Howard's grandparents were originally from. In the early fifties they established a restaurant business there and another son, Kim, was born there in 1954. Sadly the marriage collapsed soon after and Howard moved back to Toronto to live with his father. He worked at designing and engineering commercial signs and married second wife, Ruth Jackson, in 1964.
Howard Buchanan Cowan died from a heart attack at his home in 1987. He was 69.
Thanks to Glen Cowan for major assistance with this.