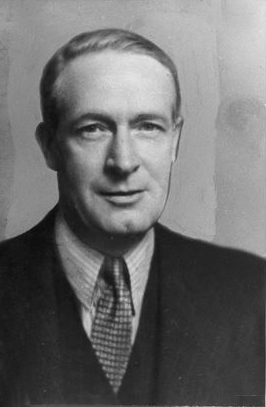 Text stories, a whole bunch of words and a couple of pictures; they were probably the most skipped-over part of any WECA comic they appeared in. Though they didn't appear in every war-time Bell Features comic book, they did appear in them right from the start. In 1945 Bell even felt they were important enough and had the quality to bring a bunch of them together in one of their 15 cent compendiums and called it Thrilling Stories for Boys alongside their Nelvana, Speed Savage, and Phantom Rider compendiums.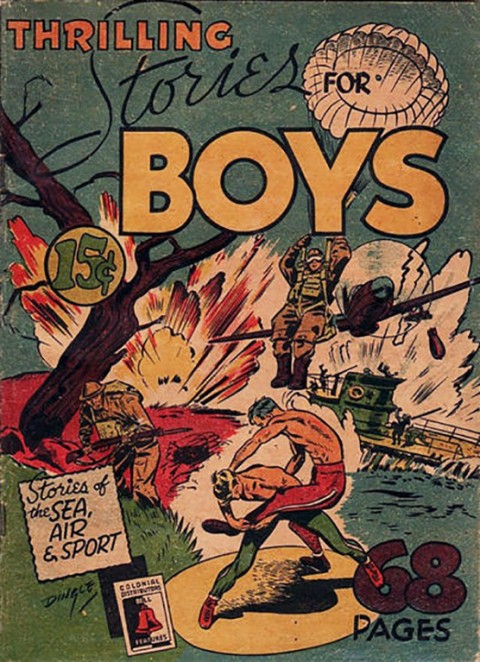 It's important to note that, as the title of the compendium states, these were stories "… for Boys" and targeted that segment of our population that was made up of "Snips and snails/And puppy dogs' tails…." One notable exception to this was Vic Griffin's three issue arc involving "Airwave Annie" Lindsay which was accompanied by Edmond Good's illustrations and ran in Dime Comics 10, 11, and 12. Most, however, were war stories that ran from a couple to sometimes six or even seven pages and were invariably accompanied by and enhanced with great illustrations by Bell's best artists.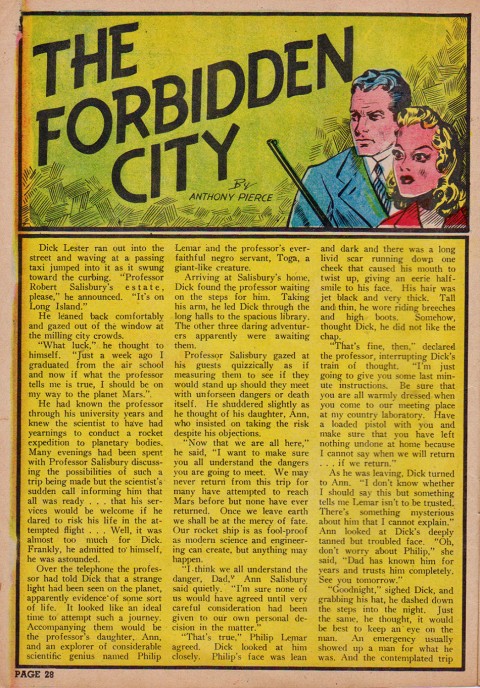 It began right with the first "Bell" comic, Wow Comics No. 1 which contained two text stories: "The Forbidden City" by Anthony Pierce and "Death in the Night" by Jack Conway, both I suspect were Pseudonyms probably used by Edmund Legault, the only person that Cy Bell had at the time to use in creating his comics (this means that the sparse sketches that were done for the stories were also probably by Legault). This continued through issues 2, 3, and 4 with Legault taking on the pseudonyms Gordon Garson, Rupert Dumart, and Rocky Treplain (wonderful pulp-author type names) before Edmond Good chimed in with his story "Devil Wolf" in Wow Comics No. 5, which looks like it was illustrated by Murray Karn.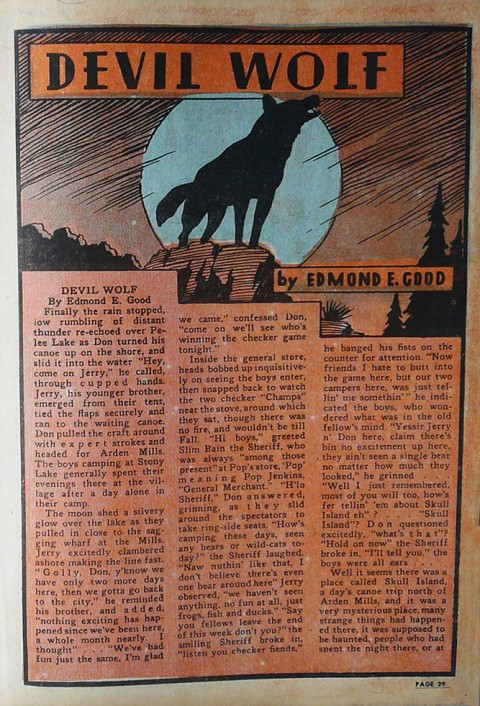 Legault did go one to write and illustrate a couple more of his own text stories under his own name in Commando Comics No. 1 ("Horror over Hong Kong") and Dime Comics No. 8 ("Torpedo Flight"). Edmond Good also did a coupled of more stories as well as three with his wife Audrey who dropped the "y" in her name when it appeared on the by-line with Edmond's (the three by the husband and wife team were: "A Trail of Plunder" (Wow Comics 6);  "The Pipes of Peace" (Dime Comics 4); "Hunger Trail" (Triumph Comics 14).
But in this column, I want to draw specific attention to Vic Griffin who contributed the most (18 in total) text stories to Bell Features Comics. His first story was probably in Commando Comics No. 4 which was the only one he signed Fred Victor Griffin after that he became Vic Griffin. This first signature points to the fact that Vic Griffin was an ace reporter and star war correspondent for the Toronto Star.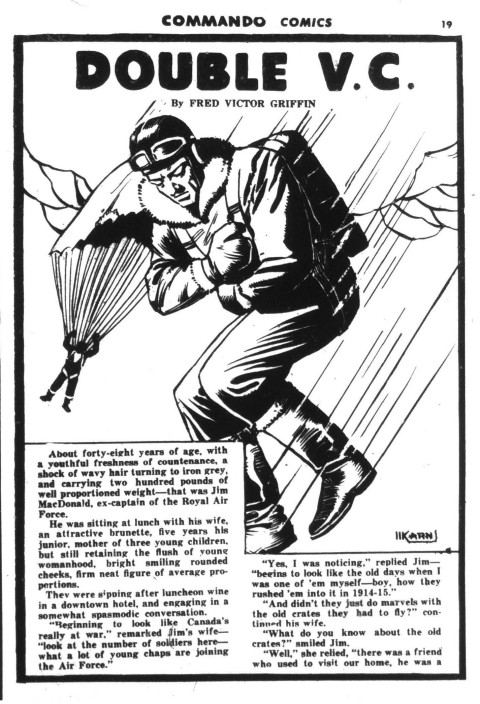 He was born Frederick Samuel Gilmore Griffin on March 5, 1889 in Castleblaney, County Monaghan, in Northern Ireland and came to Canada when he was 23 carrying a lilting Irish brogue that belied his origins throughout his life in Canada. His first job in Toronto was working in the basement at Eaton's but by 1916 he managed to get a job as a cub reporter at The Toronto Star and after eighteen months was sent to Ottawa as parliamentary press gallery correspondent.  Griffin married Toronto nurse Luella Flood in 1922. He soon rose to the ranks of feature writer for the paper and must have worked alongside American ex-patriot, Ernest Hemingway while he was employed by The Star from 1920-23.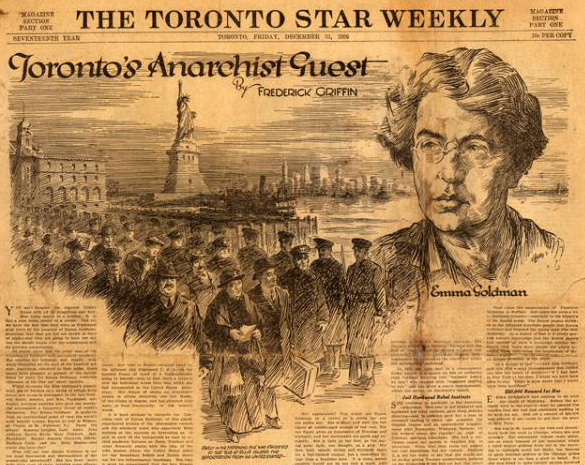 Later he rubbed elbows in The Star offices with Gordon Sinclair and Gregory Clark and eventually served as the paper's chief war correspondent for over three years during the European conflict. Griffin didn't begin contributing material to Bell Features comics until early 1943 and must have been sending his stories in from Europe along with his war reports. Griffin covered the Canadian war effort in Dunkirk, Dieppe, with the Canadian First Division through Sicily, and through D-Day itself. Altogether Griffin worked at the star for thirty years and during that time his byline was one of the most recognized in Canada covering all the major events of the period. He was also known for sending out some of the first accurate and honest reports from inside Russia during the early years of its great communist experiment.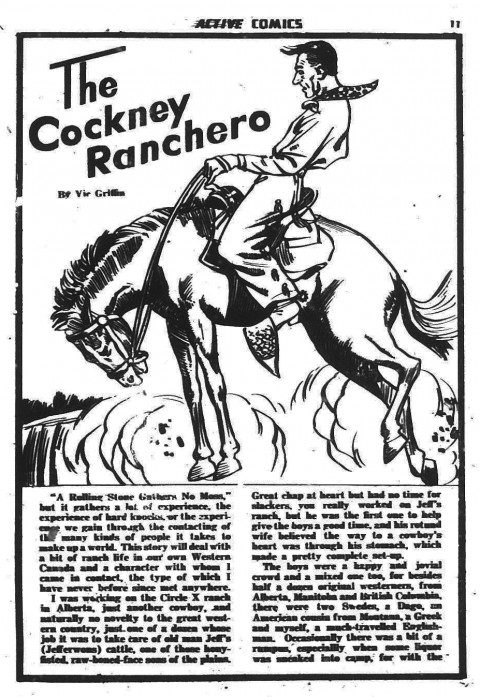 Fred Griffin died suddenly on Tuesday, January 15, 1946 from a heart attack while shoveling snow at his Glengrove Avenue home near Havergal College. He was 56. It was less than a year after returning from the European Theatre of War. Here is a short excerpt from his obituary in The Maple Leaf (Jan. 19, 1946) a newspaper for Canadian armed forces started in Italy during the Second World War and by the time of the obituary serving the Canadian occupying forces in Europe: "For more than a month during the fiercest fighting in Holland, Griffin drove 160 miles a day in an open jeep in foul weather to cover the battle lines, living on cold, bully beef lunches and returning to his billet at night to write and cable his stories."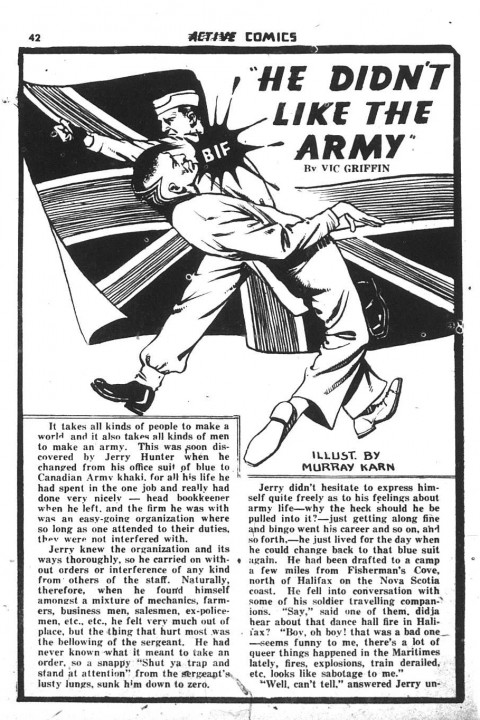 He must have been doing his comic book text stories for Bell under the same circumstances, and remember, he was born in 1898 and was doing this in his fifties. I wonder how connection with and hiring of Fred Griffin, feature Toronto Star writer and war correspondent, by Cy Bell actually came about? In any event, it produced some quality story-telling for the troops and for the kids back home and even some great Canadian history all in comic book form. Score another one for Canadian comics.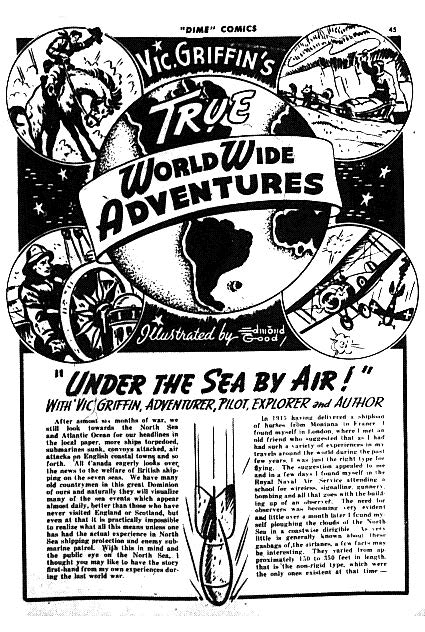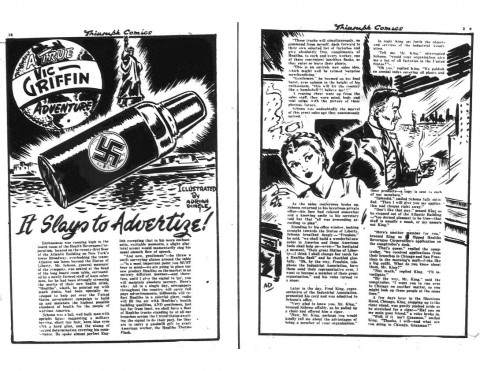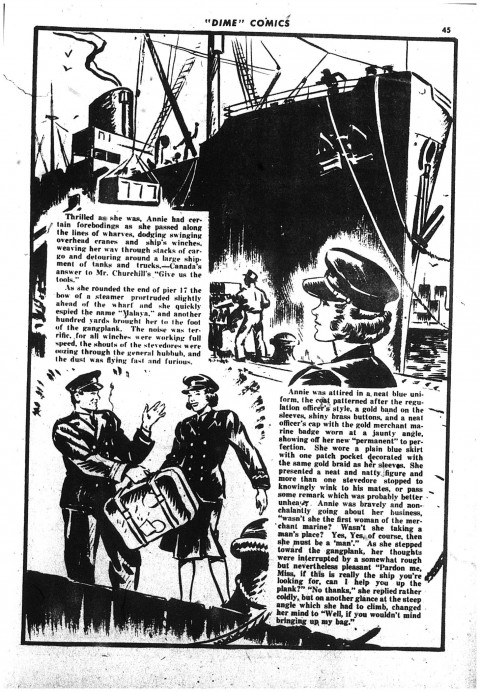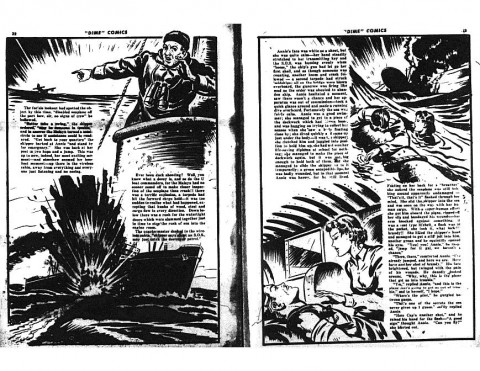 Here is a list of his stories from Bell Feature Comic Books along with the artists who illustrated them:
Vic Griffin Text Stories
Comic
#
Title
Artist
Active Comics
9
The Cockney Ranchero
Murray Karn
Active Comics
10
Icebound Road to the Aurora Borealis
Murray Karn
Active Comics
11
He Didn't Like the Army
Murray Karn
Active Comics
12
It Was a Hun-ny of a Trip
Murray Karn
Active Comics
13
Hi-Jacking Davey Jones' Locker
Adrian Dingle
Commando Comics
4
Double V. C.
Murray Karn
Dime Comics
9
Under the Sea by Air
Adrian Dingle
Dime Comics
10
Airwave Annie (A girl wireless officer…)
Edmond Good
Dime Comics
11
Airwave Annie Pt. 2
Edmond Good
Dime Comics
12
Airwave Annie Pt. 3
Edmond Good
Dime Comics
13
Otheopolis' Camel
Edmond Good
Dime Comics
14
From Frisco to Paree
Edmond Good
Dime Comics
15
New World Wide Adventures – Seeing is Believing
Edmond Good
Joke Comics
8
Art for Art's Sake
Edmond Good
Triumph Comics
16
It Slays to Advertize
Adrian Dingle