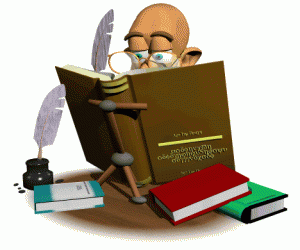 Sometimes people doing the kind of thing I am doing for this column get called "comic book historians." I don't like the term.  The word "historian" has academic connotations and presuppositions and the sense of being an authority that I don't wish to take on as a mantle. People who do "history" bring to bear a number of disciplines, such as sociology, psychology, ethnology, economic theory, religion, etc., on a particular event or series of events to offer their "take" on them. They then propose an explanation for how these events came to be and/or what resulted from these events. This is definitely not what I am doing. Besides how can comic books even have a "history" yet? They are not even a hundred years old.
What people seem to mean when they use the term "comic book historian" is essentially someone who is a chronicler of events to do with comic books, that is, someone who puts things in temporal order and assigns or proposes dates for them. This, indeed, is part of what I do. More properly, I see myself as a wide-eyed "questor" or even "pilgrim" on a journey through an arcane, film-noir landscape trying to see what's around the next shadowy corner or at the end of that dark alley ahead lined with fire escapes. I've just been sharing what I've encountered and uncovered on this strange vacation I can now afford to take in my retirement. I am not a "comic book historian."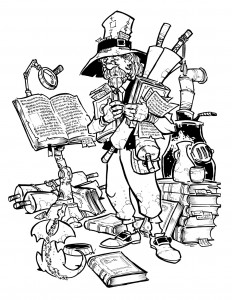 There are a couple of things happening this week of which we should take note. First, there is a free screening of Will Pascoe's informative and well-executed documentary on Canadian comic book characters Lost Heroes at the Carlton Cinema on Wednesday, April 7th at 7 pm. This is done in conjunction with The Toronto Cartoon Art Festival (TCAF) taking place this week at the Toronto Reference Library near Yonge and Bloor. There will be a question and answer panel just after the screening at around 8:45 pm and right now the panel will include the following people:
1. Mike Valiquette – animation director of the new Captain Canuck webseries
2. Kalman Andrasofszky – comic artist/writer of the new Captain Canuck comic series
3. Jason Loo – creator of the new Toronto superhero series "The Pitiful Human-Lizard"
4. Hope Nicholson –researcher for the film and along with Rachel Richey the force behind the new Nelvana reprint book
5. Robert Pincombe – writer, artist, lover of the Canadian Whites and foremost authority on Leo Bachle/Les Barker, the creator of Johnny Canuck
6. me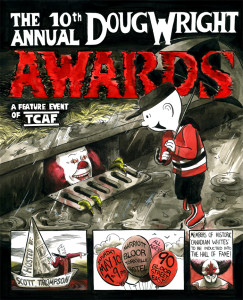 Also at TCAF this year will be the 10th annual  Doug Wright Awards for cartooning. This year four Whites artists are going to be inducted into the Giants of the North Hall of Fame and Hope Nicholson and Rachel Richey are planning to release their Nelvana reprint. Here is a portion of the official press release:
A feature event of the Toronto Comic Arts Festival (TCAF), The Doug Wright Awards are pleased to announce that the pioneering artists of the Second World War "Canadian Whites" comics will be formally inducted into The Giants of the North: The Canadian Cartoonists Hall of Fame during the ceremony on Saturday May 10, 2014 in Toronto.
My understanding that the five artists being inducted will be the four living artists Gerald Lazare, Jack Tremblay, Mel Crawford, and Murray Karn and that Adrian Dingle will be inducted posthumously. Gerald Lazare and Jack Tremblay will be attending in person to accept their induction awards. The awards ceremony will be held at the Toronto Marriot Bloor Yorkville Hotel from 7-9 pm. I am attending and will make a brief report in next week's post.
I do want to mention one small eureka moment this past week. There are many Whites artists about whom we know very little. Some used pseudonyms that we haven't been able to crack. One of these is Virgan, who created a few satirical and cartoony series such as "Hitler has his Troubles," "Hans  Cuff," and "Spooky Tales" in the middle issues of Dime Comics (Nos. 13, 14, and 15).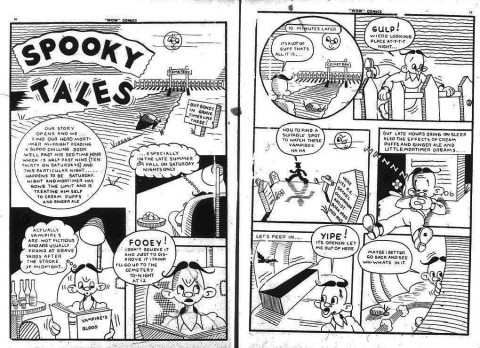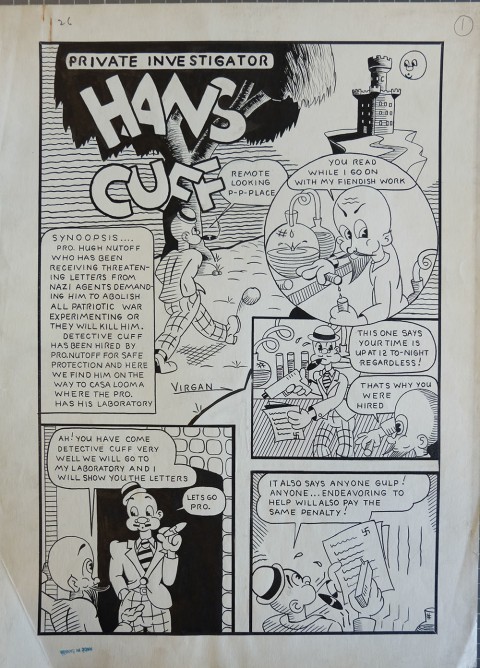 Strangely enough, the explanation was on the back cover of Dime Comics No. 16 which has an ad for Colossal Comics, that binding together of a half-dozen remaindered Bell Feature Comics. In the little circle at the bottom left it lists the artists represented in the issue and among them is "C. Godwin (Virgan)."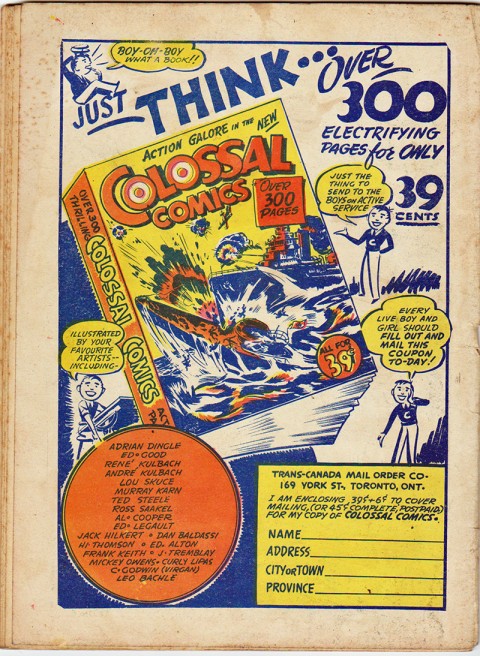 Problem solved!?! Not exactly, because on the back of a page of original art that looks like it was done by "Virgan"  that I came across during my trip to the National Archives a couple of weeks ago, there is a name scrawled lightly in pencil on the back and it reads "Clarence Goodwin." Cy or somebody seems to have gotten it wrong on the back cover of Dime Comics 16. So it looks like "Virgan" is/was Clarence Goodwin and we'll see if we can find out anything more about him over the next few months.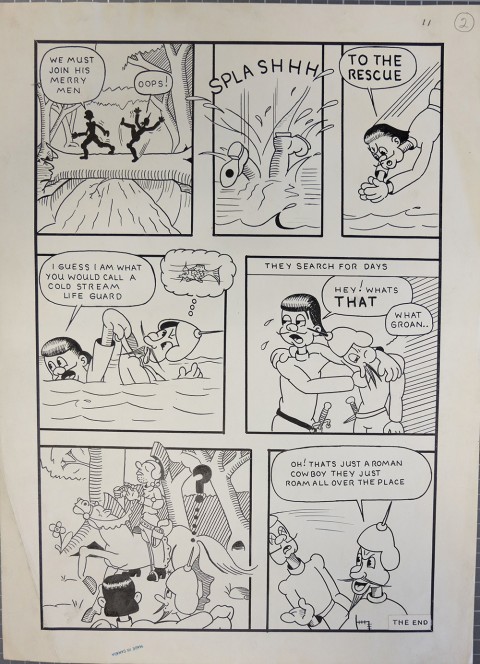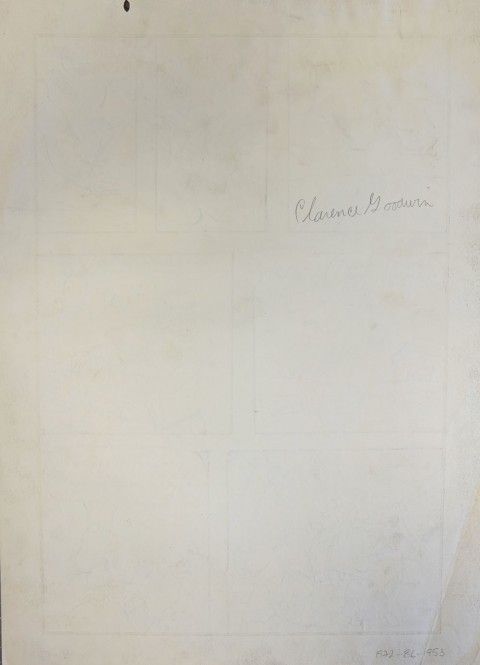 Finally, I had some extra time on my hands this week so here's a "mind worm" puzzle for those of you who feel up to it. It takes patience, logic, and organization to figure this one out? Not for the fainthearted…:
In our nation's capital there are five Whites collectors, all originally from other cities in Canada, who live on the same block all in a row, next to each other and each in a different type of house. One of these has a copy of the rare tabloid –sized Robin Hood Comics No. 1. Can you figure out who using the following 11 clues?
The guy from Calgary lives in the bungalow.
The guy from Halifax has a copy of Triumph-Adventure #1.
The favourite character of the guy from Saskatoon is Nelvana.
The apartment building is just left of the cottage.
The favourite character of the apartment dweller is Johnny Canuck.
The person who owns an original Dingle page also has a copy of Dime Comics #1.
The person in the mansion has a page of John Stables original art.
The favourite character of the man living in the centre is Brok Windsor.
The fellow from Montreal lives in the first building.
The man who has a page of original Vernon Miller art lives next to the man who has a copy of Better Comics #1.
The man who has a copy of Wow Comics #1 lives next to the man who has a page of original John Stables art.
The favourite character of the person who has a page of original Ed Furness art is Thunderfist.
The person from Vancouver has a page of original Murray Karn art.
The man from Montreal lives next to the condo.
The man who has an original page of Miller art has a neighbour who favourite character is Freelance.