As many of you know, this column began seven years ago as part of my attempt to focus a newly minted retirement on something both interesting and challenging, albeit perhaps trivial in comparison to the struggles we all face daily in today's world. I had been an avid comic book fan and collector for just about half-a-century, starting back when it really was a hobby—an esoteric hobby that was exclusively male and a hobby you seldom admitted to on penalty of being branded puerile and socially stunted. This was before the speculative commerce brought about by Overstreet, the decimal-place-oppression of slabbing, the success of CGI-enhanced media epics, and the curiously-earned respectability of the academic study of comics and graphic novels.
I looked for something to explore that had been relatively neglected and overlooked and something, that had Canadian pizzazz. I remembered Hirsh and Loubert's 1971 The Great Canadian Comic Books and John Bell's more recent studies on the phenomenon of Canadian comic books from the past and realized that we Canadians had mostly forgotten that we had had our own comics for six years through the Second World War. I felt that these comic books and their creators needed to be remembered and needed to be brought back into the growing comic book culture of our time.
Well, after seven years worth of columns and a couple of books, including a checklist/price guide, I feel that a lot has been done and I can pull back a bit from a regular monthly column. I still want to do the column but more sporadically rather than regularly, and write as events and thoughts demand it. I almost feel that the seven years' worth of columns could be easily edited into a small and useful survey book on WECA comics for a very limited market.
Anyway, I'm planning to cut back a little on this column and work on a few other things, including the 80th anniversary of the first Canadian comic book, Better Comics Vol. 1 No. 1, coming up in 2021. So, in future, it may not appear as regularly every month, but rather more sporadically–and it might be a little shorter, though this one certainly isn't. Of course, I will respond to certain news items and developments as they arise.
This column will be a very rough and initial classification of Canadian WECA heroes (1941-46). So, let's imagine that we dump all these old Canadian comic book heroes into a giant type of 'coin sorter' and then see what comes out at the bottom (what a great comic book cover that would make!).
The first few batches to come out would be the cowboys (Tiger Tex, Wild Bill, Tang, Phantom Rider, Purple Rider, Cariboo Trail…), air aces (Spanner Preston, Crash Carson, Capt. Red Thorton, Scotty MacDonald, Ace Barton, Clift Steele, Black Falcon, Flash Fulton, Don Swift, Phil Dauntless, Mono the Air Cobra…), trenchcoated detectives and spies and other soldiers of fortune (Salty Lane, Guy Powers, Nels Grant, Dr. Blue and Blackie, Mr. E,  Dr. Destine, Dr. Justice, Callahan, Sign of Freedom, Terry Kane…), and Jungle adventurers (Jeff Waring, Steve Storms, Betty Burd, "Poppy", Red Rover…). These archetypes were the golden age staples and tremendously popular at the time, but I tend to consider them the "beige" heroes—those who lacked the romance of costumes or the comic book spice of extraordinary powers, or even the vibrant context of science fiction and/or fantasy.
Batman-type Heroes
The first of the categories left is what I would call the "Batman-type." It contains un-superpowered individuals with unusual agility, strength and skills who often take on a costume of some sort to fight crime and the Axis. A few, in fact, don't really have costumes such as Freelance, Johnny Canuck, Sergeant Canuck, and Canada Jack but their iconic stature, I feel, demands that they be set apart from the other regular WECA crime fighters.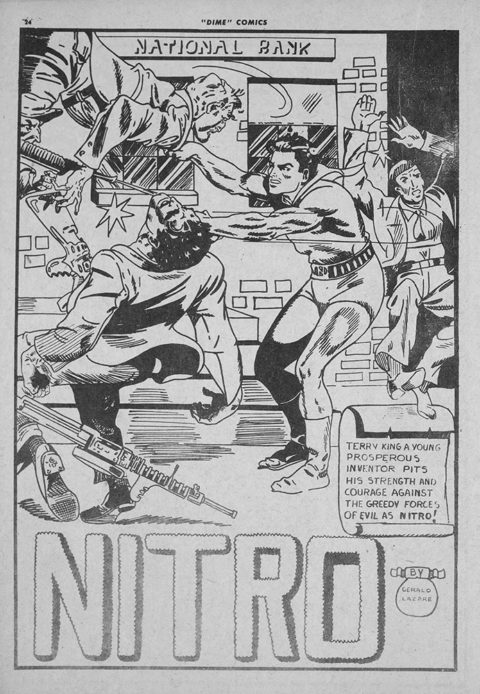 We might look upon Gerry Lazare's Nitro as a link between the costumed/masked heroes in this 'Batman' group and the ones I've just mentioned who don't have any costumes or secret identities. Nitro begins in Dime Comics 14 and there has the secret identity of Terry King (though this becomes Terry Allen in later issues). The paradox of this is that Nitro, though he has a costume, wears no mask and is clearly recognizable as his alter ego, though nobody else in the strip seems to realize or acknowledge this.
The two leading heroes in this costumed group are Speed Savage with his run in Triumph Comics and The Penguin with his run from Wow Comics 15 on. Speed Savage is a super athlete competing in sports across the country who takes on the costumed identity of The White Mask when fighting crime and his only accessories are two revolvers. His costume evolves from a Shadow-like suit, fedora, and cape in the first eight issues of his run, to a streamlined, lycra-type for the remainder. The Penguin, on the other hand, doesn't have his secret identity revealed throughout his run in the last half of Wow Comics. He is always seen in his tuxedo and penguin mask. He surfaces again in a single installment in 1946's Slam-Bang Comics No. 7 with his secret identity revealed to the reader as Bruce Baron, his tuxedo dropped for a regular blue suit, the bill on his mask bobbed, and his name changed to "The Blue Raven."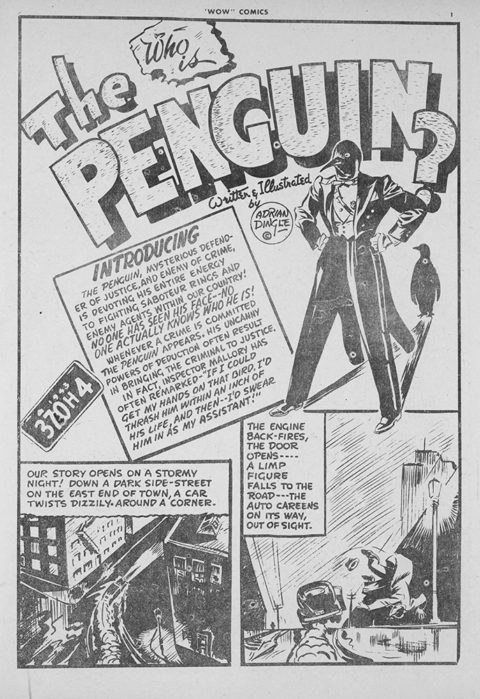 Some of the other 'Batman-type' heroes included in the Bell Features stable were Super Commando, the Whistler, Night Hawk, Top Hat 'n' Tales, and The Polka-Dot Pirate, the only female hero in this group. Aram Alexanian's Super Commando, whose run was in Joke Comics, Dan Baldasse's The Whistler (only in Joke Comics 13 and 15), and Ross Mendes' the Polka-Dot Pirate have no secret identities, while Baldasse's Night Hawk (only in Joke Comics 17 and 18) is shipping company owner Bob Neven and does his anti-Axis crimefighting on the waterfront and Top Hat 'n' Tales (only one appearance in Active Comics 28) consists of a team of a person called Mike Sands and his ward. All of these heroes, but the Polka-Dot Pirate and Top Hat 'n' Tales, pack heat.
There's one other Bell hero that we should include in this Batman-type group and that is Fred Kelly's The Blade (Joke Comics 18-24). Though he starts off as a masked pirate in the days of the Spanish Main, in Joke Comics 22 a gas in a cave puts him into suspended animation until he wakes up in 1945 to take on the Japs.
Finally, there are a couple of heroes from other publishers that we also have to include in this Batman-type. They are Ed Shecter's Captain Victory and Rocky who had a single appearance in Rucker's Weekender Comics Vol. 2 No. 2, Aram Alexanian's Nemesis whose lone appearance was in Feature's Lightning Comics No. 12, and Burt Bushell's The Black Wing from Lucky Comics. Nemesis doesn't have a secret identity but he does have a dog sidekick called Rover. Captain Victory, whose chest is emblazoned with the Union Jack is also detective Perrie Sterling and his young masked ally is Rocky Ryan. The Black Wing is Phil Dauntless, who begins as the pilot hero of "Ether Escapades" in the very first issue of Lucky Comics. Phil Dauntless is framed by fifth columnists in Lucky Comics Vol. 1 No. 9 and then decides to continue to fight the Axis under the masked guise of the Black Wing from the tenth issue of the title.
Science Fiction/Fantasy Heroes
Here we find heroes encountering fantastic worlds such as a couple from Bell Features like Edmond Good's Rex Baxter in the underground realm of Xalanta in Dime Comics 1-20 and then chasing Hitler down to Atlantis in Dime Comics 25-28 and Edmund Legault's pilot Whiz Wallace's adventures on other planets in the first ten issues of Wow Comics. From Maple Leaf Publications we have Secret 7, who for a few early issues of Bing Bang Comics finds himself on another planet, and a couple of years later Jon Stables' Dr. Brok Windsor makes an unexpected trip into the Land beyond the Mists in Better Comics. Maple Leaf also gives us Lon Martin who skippered the space ship The Solar Star in the strip "Quest for the Solar Star" in the last few issues of Better Comics as well as Bill Benz's Tur Hozak who plied his time-travelling trade in the last few issues of Bing Bang Comics. At Anglo-American Publications, we shouldn't forget Les Gilpin and Ed Furness's rocket ship team, The Crusaders, who begin interplanetary adventures early on in their run in Grand Slam Comics. Lastly, Century Publications produced two characters that would fit into this strand both created by Ed Letkeman. The first is Zor the Mighty, a caveman who encounters the subterranean advanced world of Koz in two issues of his own title and the second Rocky Mason, whose experimental space ship is hijacked to Saturn in the comic Space Nomads.
There are a three one-shot stragglers that we can't leave out of this SF/Fantasy basket and they are Gerry Lazare's Scott Stewart, Planetary Pilot who appears in Joke Comics 26 and Paul Dak's Torr, Interplanetary Detective who makes the cover and leads off the final issue of Active Comics (No. 28), and Fred Kelly's Mr. Monster who straddles two publishers, first appearing in the last panel of the last issue of Triumph Comics (No. 31) and then having the lead-off story in F. E. Howard's Super Duper Comics No. 3. I think it's reasonable to include Mr. Monster in this fantasy category because he does battle supernatural monsters.
Gadget Men (Inventors)
This category is headed by Maple Leaf's Cosmo Grant and Bell Features' Thunderfist. The former appeared in Rocket Comics and was created by Spike Brown, who also created Sergeant Canuck, and the latter appeared in Active Comics and was created by the team of Edmund Legault and artist Murray Karn.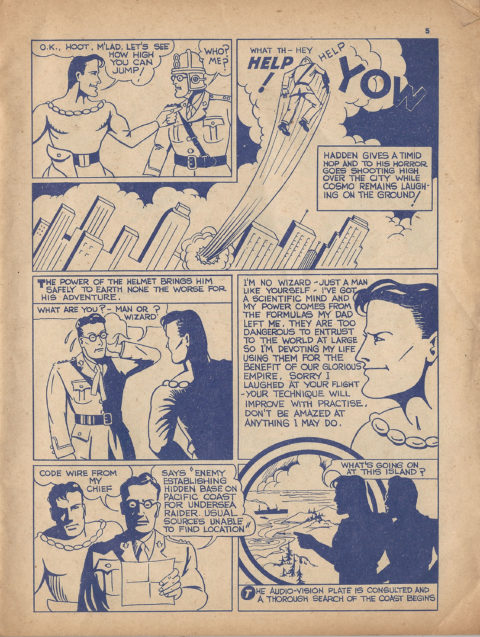 Cosmo is a scientist based on the west coast of Canada and, following on his father's initial work he has invented a power helmet and chemical formulas that have given him the power to fly and invulnerability. He has also invented an atom gun which has different powers depending on the special bullets he has invented for its use. For the first couple of years, Cosmo and his pal Hadden, battle the Axis on the west coast, but as the war draws to an end, Cosmo ends up in Atlantis and continues his adventures there until the end of the title
Thunderfist, who is based somewhere in upstate New York, was originally athletic amusement park performer Randy Steele who throws himself into scientific research after his scientist brother, Danny, is murdered. He comes up with an electrically charged costume that gives him special powers. It is bullet-proof and has a mini wrist tv that allows him to see whatever he wants in the world; it has boots that enable him to make tremendous leaps and run super-quickly along telegraph wires; it has gloves that give him a super-powered punch (and hence his name). Murray Karn takes over the writing for the series from Edmund Legault with Active Comics No. 7.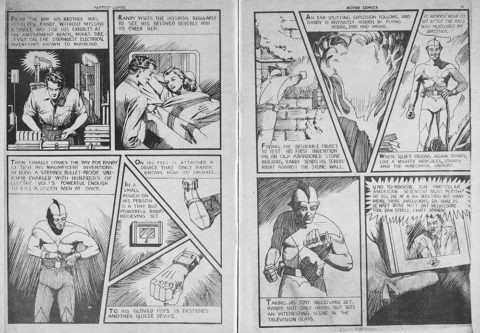 One other significant Bell Features gadget man hero is Leo Bachle's Invisible Commando who appeared in the first fifteen issues of Commando Comics. He is, in reality, scientist Lee Pierce of the RCAF who invents a capsule that when swallowed allows him to become invisible for three hours.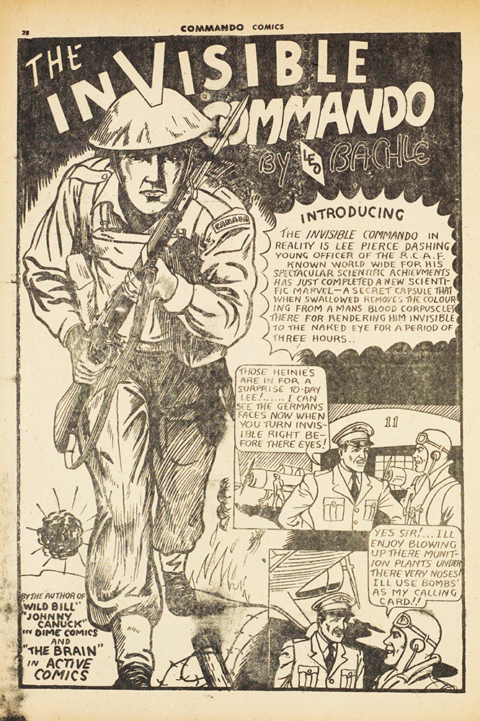 Over at Anglo-American Publications, we have Don Shield who invents a "Reverso Ray" that emanates from a shield strapped to his chest and is capable of reversing the motion of any object it hits. Don Shield was created by Ed Furness and appears in the early issues of Three Aces Comics.
Maple Leaf Publications had the Vernon Miller's The Earth Torpedo in early issues of Better Comics. It was a Mole-Man type of earth-boring machine that was built by Professor Miles and his nephew Bobby and it is used to fight crime and the Axis.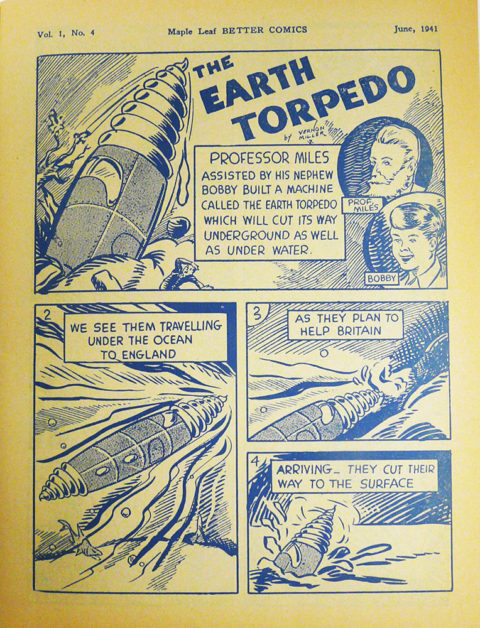 At Ed Shecter's Feature Publications we had Ross Mendes' Dr. Future and Pee Wee who appeared in issues 11 and 12 of Lightning Comics. Dr. Future is Dr. Benson who is always experimenting on machines that can transport people into the future. Dr. Future rescues Pee Wee from who's been shrunken by a rival scientist and transports both himself and Pee Wee into the 30th century for another adventure in Lightning Comics No. 12. Lightning Comics also had unknown creator D. Haughton's Dartman in issues 11 and 12. Dartman was in reality ace reporter for The Morning Trumpet who invented a gun that shot special dart-shaped missiles. Shecter also gave us his own enigmatic creation, Captain Daring, who appeared in all three issues of Lightning Comics. Captain Daring has a fancy Auto-gyro plane but is never revealed to have any special powers. Perhaps Shecter intended to develop this character further.
Heroes with Super Powers
The first Canadian super-powered hero was Vernon Miller's The Iron Man who was essentially a Sub-Mariner clone and appeared in early issues of Better Comics. The Iron Man had tremendous strength, his costume was a pair of swimming trunks and he lived in a bubble city under the sea.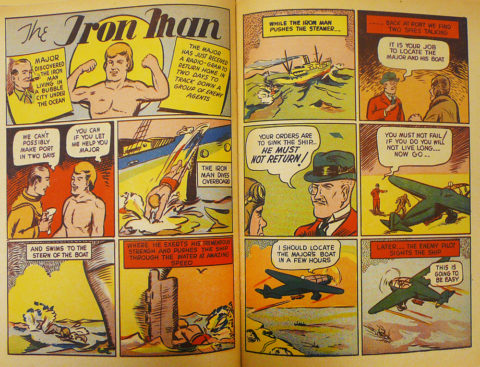 Adrian Dingle's Hillborough Studio produced the second with the demi-goddess Nelvana of the Northern Lights appearance in the first issue of Triumph Comics. She was the daughter of Koliak, might god-King of the Northern Lights and was able to call upon his power over the Northern Lights to help her at any time. She could fly along the beams of the Northern Lights even at the speed of light if necessary and those lights could make her invisible when she wanted it.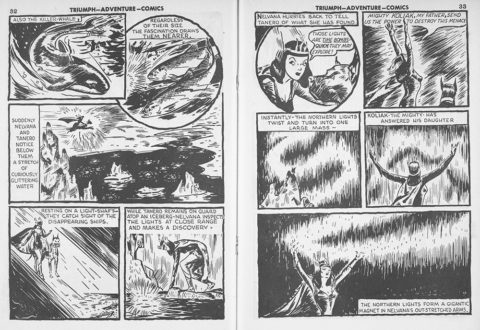 The start of 1942 saw the addition of two new titles to the Bell Features shelf and in the first issue of one of them, Active Comics, we had the appearance of Leo Bachle's The Brain. The Brain is a Toronto-based scientist, Gordon Bell who can psychically visualize happenings both far and near. He invents a mesh flying suit and as the series goes along, he seems to gain some super strength. With these super abilities, the Brain has a twenty-seven issue run in Active Comics and a subsequent, full-colour, single appearance in Slam-Bang Comics No. 7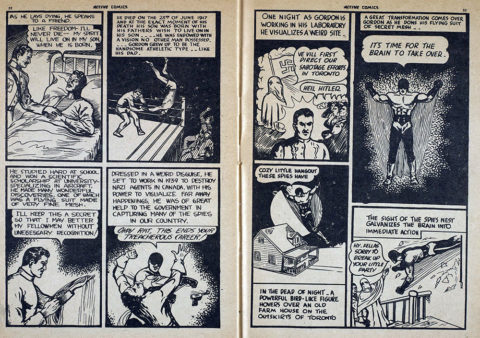 Also early in 1942, Bell Features acquires the rights to Adrian Dingle's Triumph Comics and, with Bell's first issue—No. 7, we have Ron Saakel's creation, Captain Wonder. Captain Wonder is clearly modelled after Fawcett's Captain Marvel. Three ancient gods endow him with: "… the strength of a hundred men, great wisdom and speed, the power to fly like a bird and swim like a fish…." One of the most powerful heroes in the WECA universe, Captain Wonder has a long run in Triumph Comics but never properly reaches his full potential.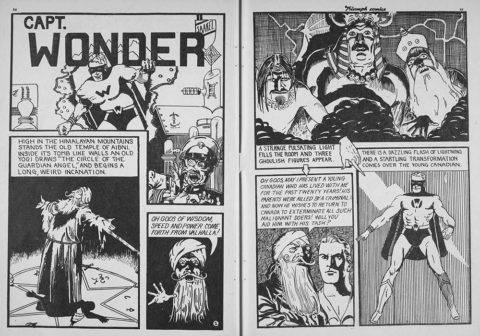 Still, in 1942, another Bell Features title, Joke Comics, gave us another couple of super-powered figures. Pulp cover artist John Hilkert created the second Canadian female superhero, The Wing, in Joke Comics 4. She has no origin story and her secret identity is comic strip creator Trixie Rogers, whose main strip is about the character, The Wing. She originally appeared only in issues 4 and 6 of Joke Comics and her super ability was the power of flight. When Gerry Lazare revives her in issue 14 of that title on, he rarely shows her using that ability. Creators Don McKague and Al Clemenson also give us a hero called The Terror, who only appeared in Joke Comics 5 and 6. Originally called, The Avenger, he is Dan Drake of British Intelligence and he has the power to call upon his twin brother's ghost at any time for help against his Axis enemies.
About a year later, Bell Features creator Kurly Lipas (Livio Pasoli) gave us King Fury in Active Comics 13-17. King Fury gains his super strength by being placed in a tube and bombarded with Dr. John Tone's bronzing strength rays, an origin reminiscent of Captain America. He becomes a secret agent for the U.S. government and uses his super strength to battle Axis enemies.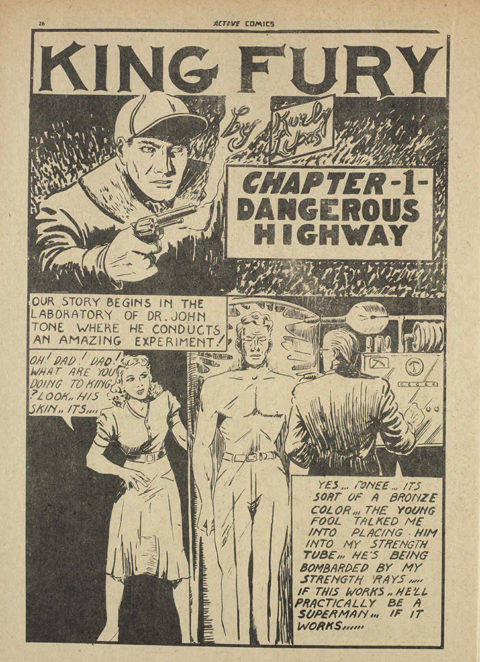 On the west coast, Maple Leaf Publications creator Ernie Walker comes up with a hero called The Hand in Rocket Comics. The Hand is posh Luke Rockstone who has learned the psychic ability of disembodying his hand so that he can remotely fight crime. The feature has a good run in that title.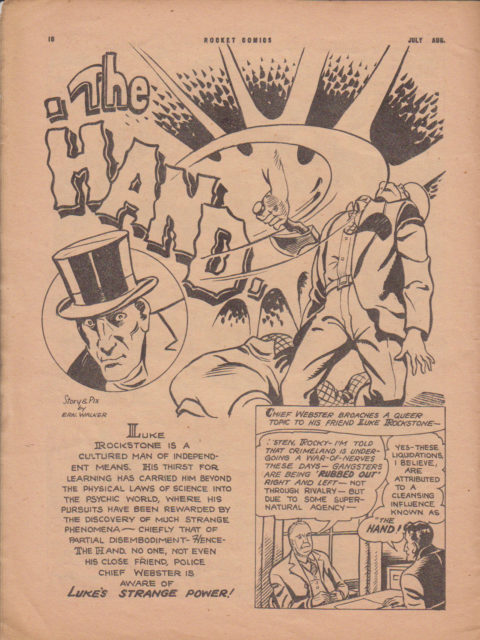 In the summer of 1944, Anglo-American Publications begins to make a shift away from redrawing Fawcett characters to creating more characters of its own and one of these characters was Commander Steel who first appeared in Grand Slam Comics Vol. 3 No. 9. There he was an American soldier, named Jack Steel, who was wounded at the battle of El Alamein, close to death, he was rescued by a scientist who took him to his secluded cave laboratory and gave him an "Elixir of Life" that he had invented. The elixir saved Jack's life and gave him the strength of ten men as well as regenerative power. Commander Steel was created by Les Gilpin and ran for the rest of the title having more cover appearances than any other Anglo-American character.
A few months after this at Bell Features, Gerry Lazare came up with The Dreamer who was, in reality, psychiatrist Dr. Kent Marlow. Dr. Marlow has a fall down some stairs which knocks him out. When he recovers and goes to sleep in the evening he finds that he has nightmare visions of future crimes which he decides to counter under the guise of The Dreamer. This was the story of his first appearance in Wow Comics 24 and his feature ran until the end of the title.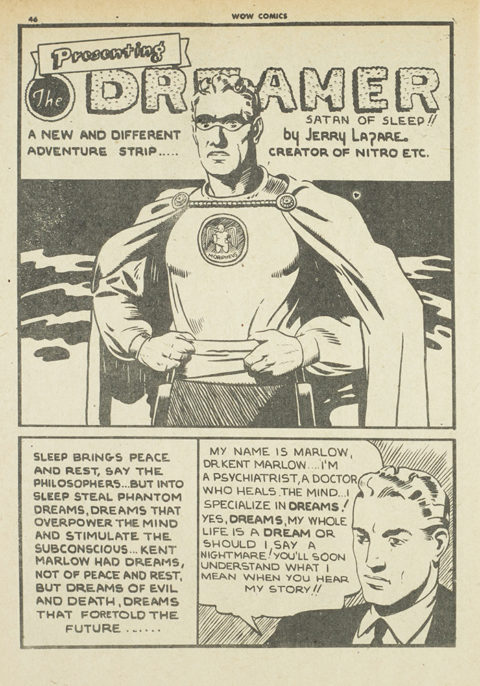 In 1946, in the last issue of Commando Comics, writer Pat Hamilton (probably a pseudonym for Adrian Dingle's wife) and artist Paul Dak come up with Kerry Dane. This one-shot hero has telepathic powers. He can receive and transmit thoughts, in fact, in the last panel of the story, he makes a telepathic broadcast, like a radio transmission, to the whole of Europe. Kerry Dane can also fly and has extraordinary strength. Sadly, along with the other heroes, he became a casualty of the post-war collapse of Canadian original comics.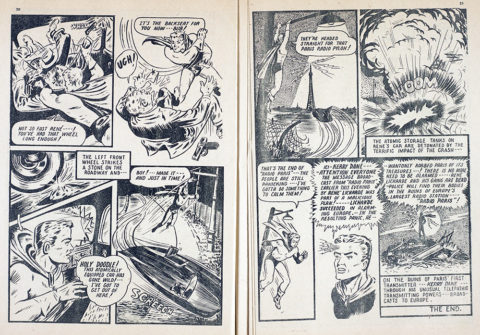 One other hero, that didn't appear in a comic book proper, needs to be mentioned here. He is Jim Casey, the Atomic Man. He first appears in a comic section of a pulp called Real Boy's Stories from February of 1946. The Atomic Man gets his powers after the accidental explosion of an atomic machine, Casey finds that he has super strength. Subsequently, a coloquium of scientists from the USA, Canada, England, and Russia make him "World-wide Protector of Atomic Knowledge" and supply him with advanced atomic weapons and an atomic jet. He has one more known appearance in the next issue of the title.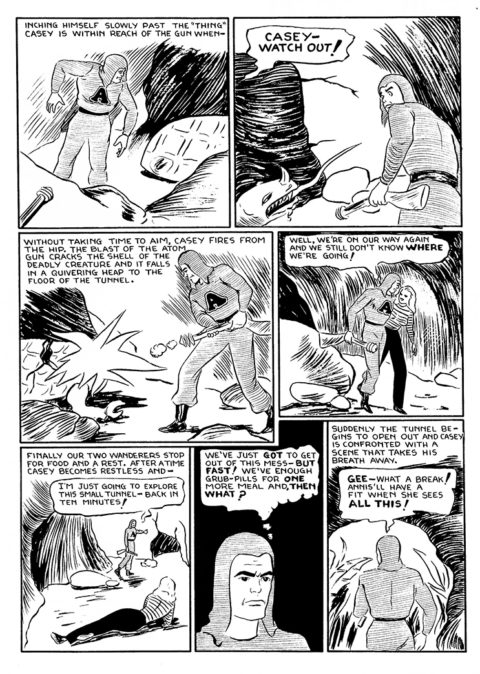 Essentially that's it for the classification, but there are two more heroes that, I think, demand a category of their own. These are Major Do-Mo from Bell Features Publications, created by Avrom Yanovsky, and Derry Dreamer from Maple Leaf Publications, created by Spike Brown. Both are 'disabled' heroes. Major Do-Mo is an armless war veteran who fights fascism and Derry Dreamer is a young wheelchair-bound boy who seemingly has the power to make his wishes and dreams real. Both are singular comic book heroes and deserve their separate categorization.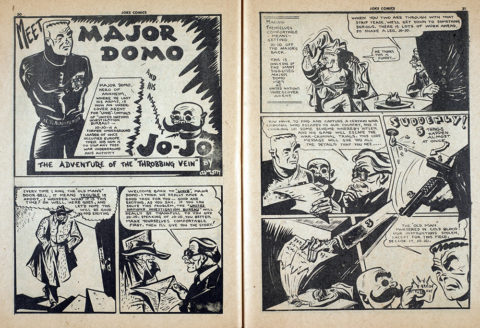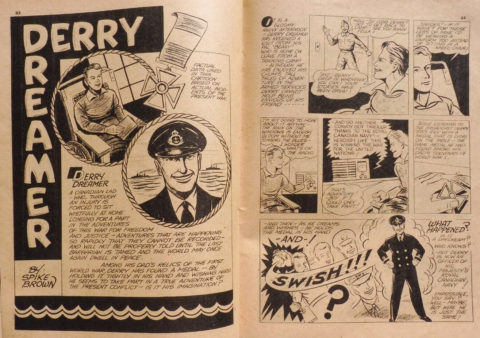 ---
News
We are planning a small get together of WECA comic collectors at the upcoming Toronto Comic Con on Friday, March 20 and plan to have lunch together at The Keg at 165 York St. (about six blocks from the con). Peter Hansen, a collector of Maple Leaf books as well as British Comics is coming over from England and will join us (so far myself, Jim Finlay, Robert Pincombe and Walter Durajlija) probably for around 2 or 3 pm after some time at the con. We look forward to meeting up with any other Canadian golden age collectors there as well.