I'm getting those email notifications for the big C2E2 Comic Con happening this coming weekend in Chicago. C2E2 is the official launch of the mega con season, San Diego Comic Con is probably the best known comic con with all its celebrities and Hollywood panels and teasers. New York Comic Con is the biggest for sure and Fan Expo Canada is the big one I set up at every year (an 864 sq. ft. island set up that hurts my head when I think about the costs).
The email notifications got me thinking about these mega-events: are they still viable for comic book dealers and collectors? I can tell you from personal experience that they get tougher and tougher each year. The problem is I find myself hoarding comics for Fan Expo because the cost is so large I want to have strong sales, but the more I analyze it the more I realize I'm just padding the numbers. A good amount of these books I hoard for the show would most certainly sell in the shop, at the smaller local one-day shows we do, and even on eBay yet I keep them back so I can boast about making the numbers I need to justify my con expenses. I'm thinking this whole process needs to be reviewed.
Chuck Rozanski of Mile High Comics famously quit the San Diego Comic Con a few years back citing that back issue sales can't justify the costs. It must be a frustrating thing watching thousands of people with no interest in collecting comics walking past your booth at a comic con you spent thousands of dollars to set up at. A prudent man like Mr. Rozanski made the right decision.
Don't get me wrong, Fan Expo is a fantastic show; it draws in over 130,000 participants and for the most part, these people have money to spend and they spend it. If I can't sell back issue comics then I should be figuring out what they are buying and bring that along. But I'm a comic book dealer and I want to sell comics! It seems those purist days are long gone and those dealers not willing to adapt need not set up unless losing money is in the business plan.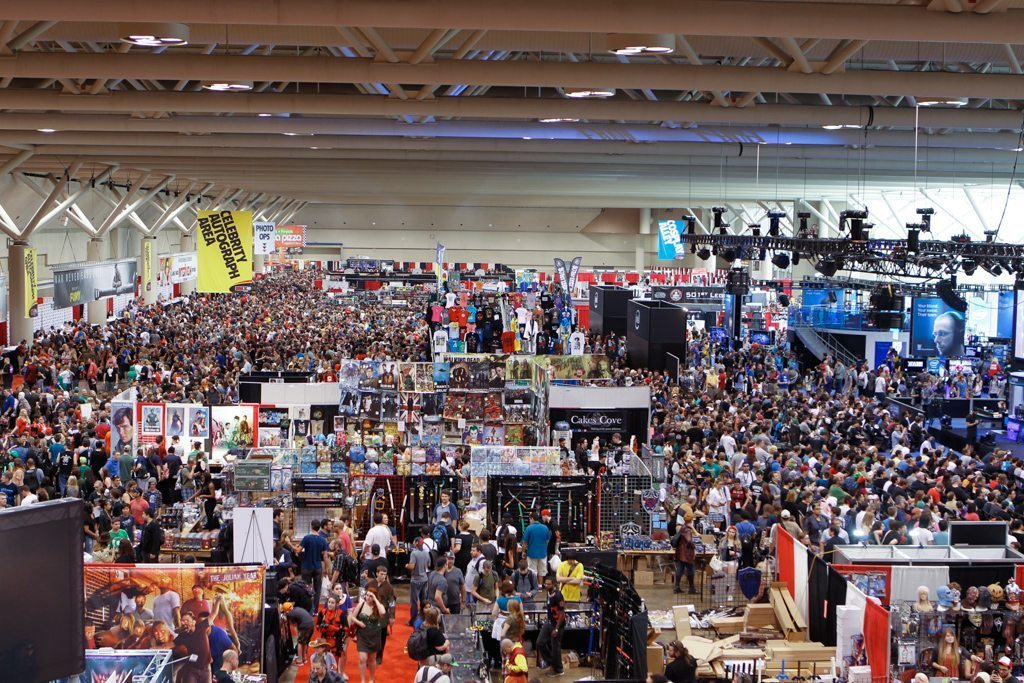 How about these super cons through comic collectors' perspective? It seems each year there are less and less comic book dealers at these big shows and thus less and less selection for the comic book collectors. I remember the early big shows in the 80s and 90s, the Wizard World Chicago show every August literally had hundreds of comic dealers with over a million quality comics ranging from the hard to find Golden Age to the hot modern books. It was worth the wait in line and the price of admission because you as a collector really had endless options and selection. Today the line waits are twice as long and the admission fees are three times as much yet the selection, unfortunately, is a fraction of what it used to be. Why still come? Old habits maybe or maybe your love of the hobby makes your big con trip a calendar event not to be missed; you are still years away from being priced out of your cherished pilgrimage.
I know comic collectors that no longer attend the Fan Expo, they choose instead to go to the one-day comic cons that are now springing up in every major city in North America. I'm wrong when I say springing up, they've always been around but I can tell you that in Toronto they've grown into excellent comic book shows that are proving cost-effective and delivering a good selection of comics.
Do these big shows even need comic book dealers any more? I'm sure there are waiting lists of dealers waiting to get in and even bigger waiting lists of pop culture companies looking to set up fancy displays from where they can give away samples and show off their new products. I must be old fashioned because I just can't see these things continuing to be viable if they abandon the very thing that gave them their start. If anything I think these big cons should be working to make sure that the collectible comics component of the show is worth the price of admission, not only would this keep the comic con label from being false advertising it would also shore up the one pillar of their customer base that is not fickle. Comic book collectors are tried and true: give them a reason to come and they will. All cons I'm sure have attendance projection meetings, make the cons comic book collector friendly and those meetings will have at least one stress-free point to discuss.
Are you still attending the big comic cons? Do you go to the smaller one day show? What are the best comic cons for comic book collectors?