On Saturday, August 25, among many other winners, three Canadian comics creators will be inducted into the Hall of Fame category:  Katherine Collins (Arn Saba) from more recent decades and Vernon Miller and Murray Karn from earliest days of Canadian Comics (WECA period 1941-46).
Murray Karn is now 89 and last week I had the pleasure of talking to him over the phone about his career. One part of the conversation moved to his illustrations of text story fillers in a few of the Bell Features titles and I was surprised when Mr. Karn couldn't recollect doing these. I plan to send him copies of many of these this week to jog his memory but it made me think that I could call attention to them here.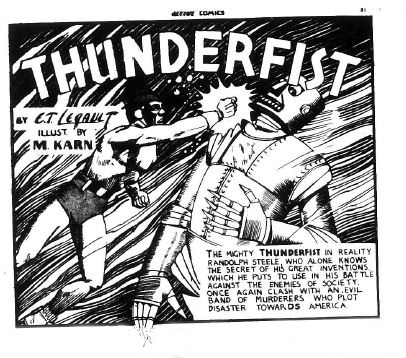 Everybody knows the two features that Karn drew for Bell: "Thunderfist" (created and written by E. T. Legault for the first 6 Active issues after which Karn took over the writng)  in Active Comics No. 1 (Feb. 1942) to No. 12 (Aug.-Sept. 1943) — Leo Bachle took over after this because Karn entered the armed forces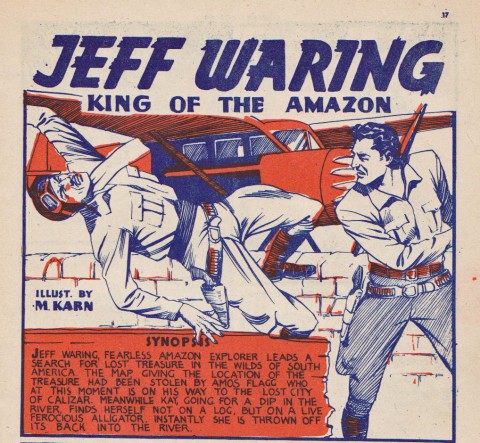 — and Jeff Waring (totally Karn's creation) in Wow Comics  No. 7 (April 1942) to No. 16 (Aug./Sep 1943) after which Jerry Lazare took over but Karn came back to Bell late in 1945 to add Jeff Waring stories to Wow Comics Nos. 29 (Oct.-Nov. 1945) and 30 (Dec. 1945-Jan. 1946). The war shortened the Canadian comic careers of many of the WECA artists and Karn's lasted less than two years  (he has no recollection of doing post-war work for Bell such as the Jeff Waring stories in last two issues of Wow Comics or the cover and Jeff Waring story in the May, 1946 issue of Slam-Bang Comics No. 7, or doing anything for Canadian Comics after he returned from the war.)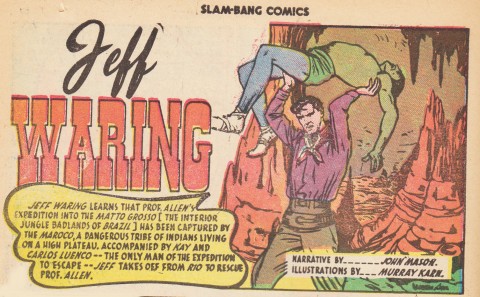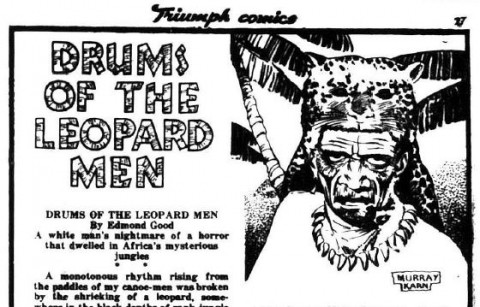 Besides these two features, Karn did illustrations for text stories first probably in Wow Comics No. 5 (Feb. 1942, though uncredited) but definitely in Wow Comics No 6 and then Wow 13 and 14, Triumph Comics Nos. 7 to 10, Dime Comics Nos. 4-7, and Active Comics Nos. 9-13, finishing up again by the fall of 1943. Most of these were written by either Vic Griffin or fellow Bell creator Edmond Good and one written by E. T. Legault (of Dart Daring and Whiz Wallace fame) in Triumph Comics No. 9 as well as one written by 12 year-old contest winner Maragaret Joyce Crooks in Triumph Comics No. 10.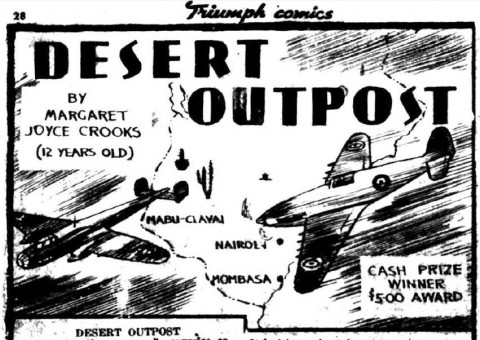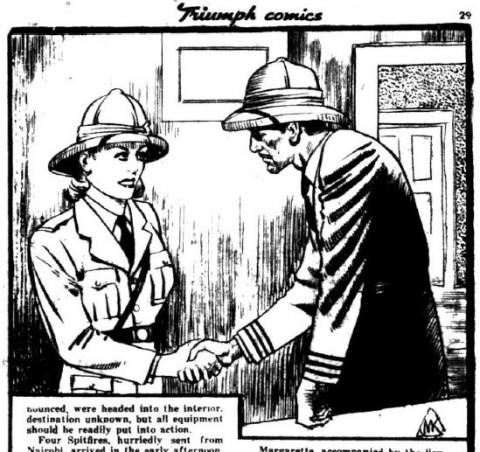 Here are some of the best examples (you can often see how Karn channels Alex Raymond):