One-shots are outliers in this wonderful hobby of ours and there are many reasons for their existence. Some are compendiums that gather together a number of features around a given character or theme. Some are ash-cans that are most often cobbled together to cement a trademark or copyright issue. Some are give-away promotional copies focused on a specific message to a consumer. Finally, and these seem to be the most interesting, some are unfulfilled promises cut short by external factors.
In this column, I want to take a look at a book that belongs in the last of the above categories. Top Flight Comics No. 1 was the last of seven issues put out by Adrian Dingle's short-lived Hillborough Studio on Granville Street in downtown Toronto. The other six comprise that very sought-after run of Triumph-Adventure Comics featuring the first half-dozen appearances of Nelvana of the Northern Lights.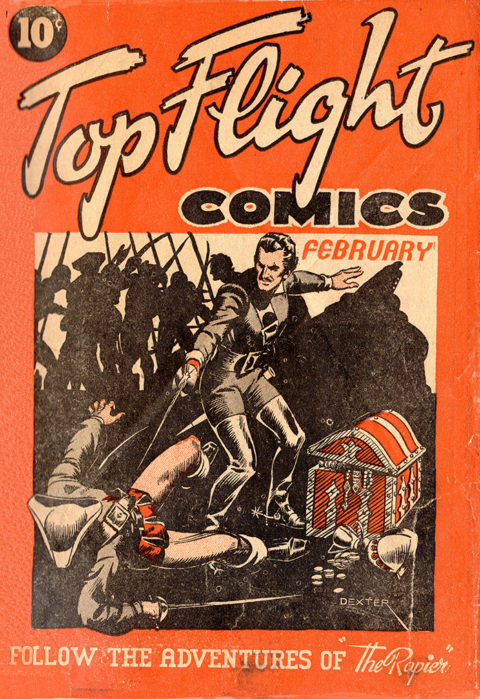 The cover date for Top Flight Comics is February 1942, but we are fortunate enough to be able to establish the precise date the issue reached the newsstands because of an ad for it that appears on the back cover of Triumph-Adventure Comics No. 5. There it plainly states, in the last lines of the copy, that the comic will be on the stands December 20th, meaning, of course, December 20th 1941. This was a comic intentionally put on the stands in time for Christmas.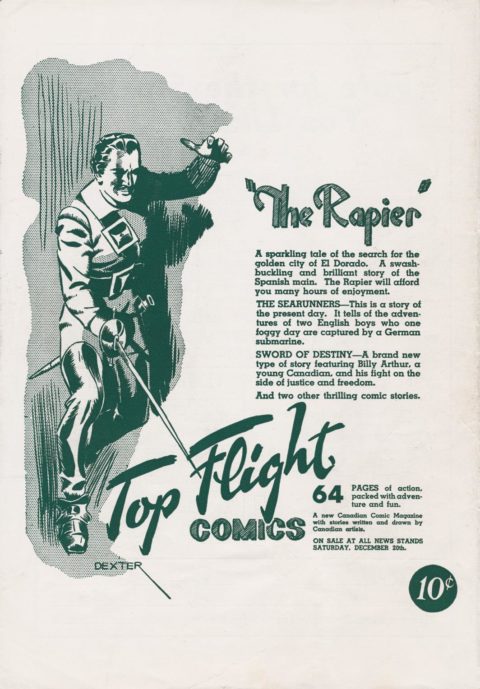 So, just a handful of days before Christmas, you could have found this issue of Top Flight Comics alongside Triumph-Adventure Comics No. 6 and two new titles from Commercial Signs of Canada, Active Comics No. 1 and Dime Comics No. 1. You could have probably still found Anglo-American's first issue of Captain Marvel Comics as well as early issues of Freelance, Robin Hood, Grand Slam, Three Aces Comics, and Whiz Comics. Early issues of the west coast comics from Maple Leaf Publications such as Better Comics No. 10, Lucky Comics No. 6, Rocket Comics No. 2, and Bing Bang Comics No. 2 would have filled the gaps between those issues. If you were a kid with a single dime, which book would you have picked? Looking back, it's fun to imagine a ribbon-wrapped packet of a dozen of these books waiting for a youngster under a Toronto living room Christmas tree–though, at the time, it probably wouldn't have impressed as much as a model airplane kit or a Red Ryder BB gun (if you've ever seen the classic movie "A Christmas Story" – 1983).
Top Flight Comics #1

Active Comics #1

Dime Comics #1

Rocket Comics #2

Triumph-Adventure #6

Freelance #5


Three Aces Comics #2

Capt. Marvel Comics #1

Better Comics #9
The above is my guess at some of the books that would have been on the stands in Canada just before Christmas 1941. If you were a kid with a single dime, which one would you have picked? (Remember that a Canadian kid in 1941 wouldn't have been a speculator and he wouldn't have considered that ten cents an investment.)
Top Flight Comics lacked an official number either on the cover or in the indicia. However, it clearly was not intended as a one-shot because each of its five features concludes with a panel promising a continuation of the story in the next issue.
The inside front cover introduces the four artists who work on the issue and provides stamp-sized portrait sketches of each by Adrian Dingle.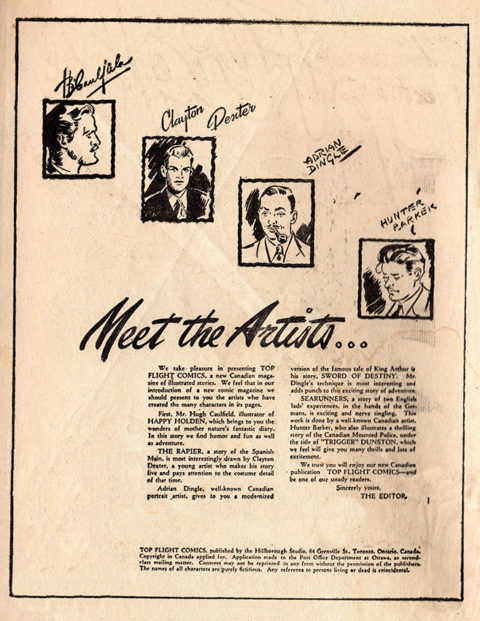 Hugh Caulfield had already worked for Dingle on a feature called "Escape" which straddled the last two issues (Nos. 5 and 6) of Triumph-Adventure Comics as well as another story called "Commandos" in Triumph-Adventure Comics No. 6. Clayton Dexter (real name Howard Buchanan Cowan) was doing his first comic book work here with the lead-off and cover feature "The Rapier." He had been working as a commercial artist for a few years. Adrian Dingle, himself, was the founder of Hillborough Studio Publications, overseer and art director for the company, and creator of Nelvana of the Northern Lights. He was an established fine artist who specialized in oil portraiture. Hunter Barker (1918-2010) had studied at the Ontario College of Art and in England. He later moved to the United States and worked as a commercial artist through the 40s and 50s before turning to fine art as he grew older and he died in Florida.
Here are a few examples of Hunter Barker's later work.
Trigger Law Original 1952

Juneau Beach 1992
The book starts off with Clayton Dexter's swash-buckling story set in the 17th century starring an Errol Flynn type swordsman hero known only as 'The Rapier.'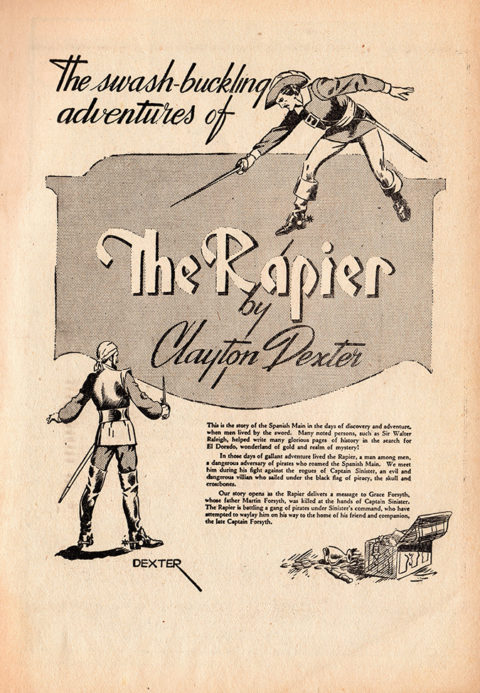 The Rapier arrives at the mansion of siblings Grace and Lance Forsyth to deliver a letter from their recently deceased father with the information that somewhere in the mansion is a map that will lead them to the fabled treasure-city of El Dorado. Eventually, amid the bookcase secret passages and hidden rooms of the old building, Grace and The Rapier locate the treasure chest and the map…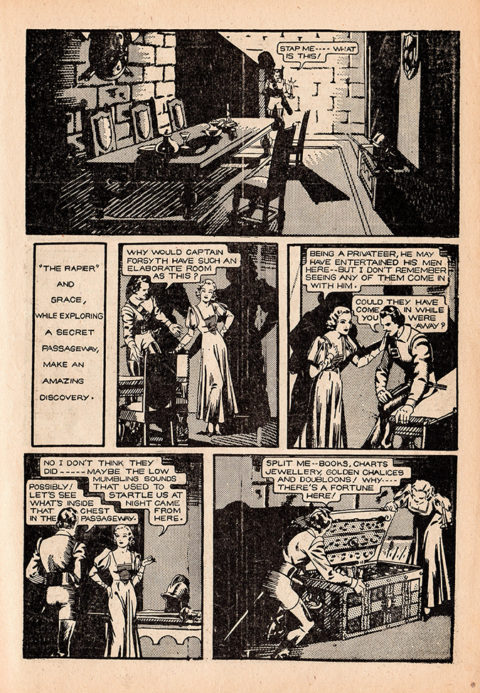 …only to have it, along with Grace's brother, immediately stolen from them by the pirate Captain Sinister and his henchmen. The episode ends with Grace and The Rapier on the cliff outside the mansion staring out to sea as Captain Sinister and his crew, now in possession of the treasure chest, Grace's brother Lance as a prisoner, and the map to El Dorado, row out to their ship anchored just offshore and sail away.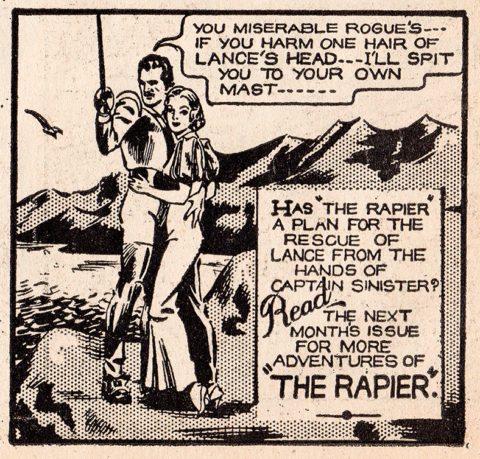 Hunter Barker's "The Searunners" is next.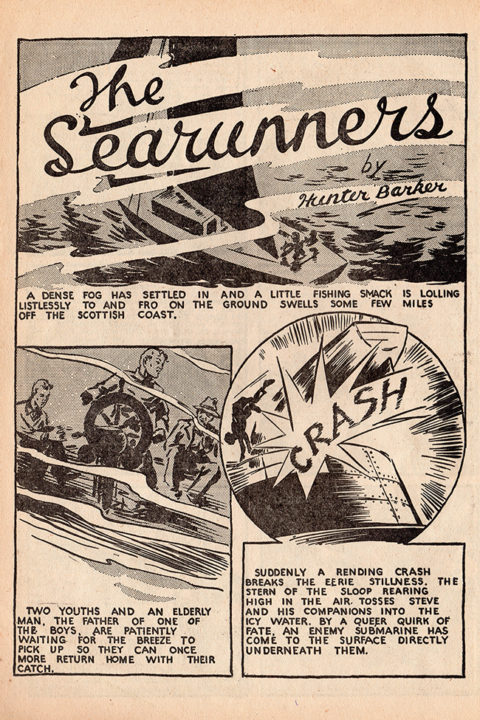 This is the story of a pair of Scottish fishing lads, Steve and Eric, who, along with Steve's father, are in a small boat returning to shore after a days work. Their short trip back home in the fog and rough seas is interrupted by the surfacing of a Nazi U-boat directly under them. This capsizes their boat and Steve's father is lost at sea while the boys are taken aboard the enemy sub and brought to a Norwegian port where they are thrown into an internment camp. They manage to escape but are tracked down by Gestapo pursuers and Steve is shot. In the last suspenseful panel, though Eric is free to make his escape, he decides to turn back to help Eric.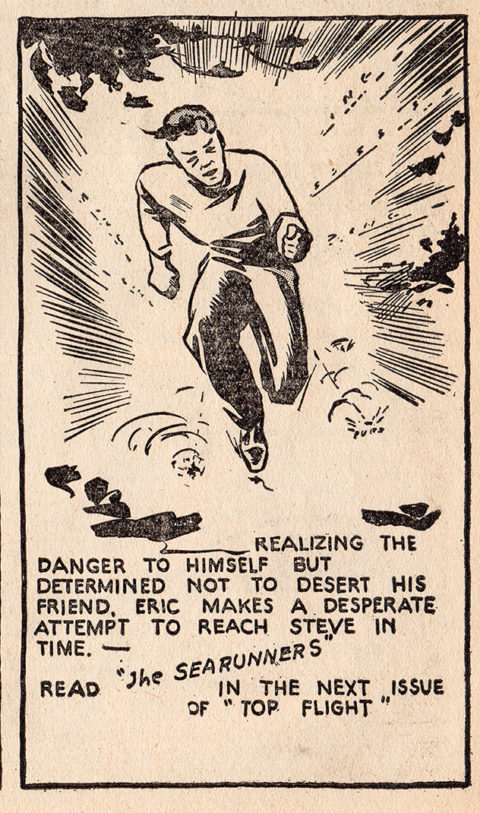 After pirates and treasure chests and Nazis in the North Atlantic, we move on to Hugh Caulfield's adventure story set on the west coast of Canada.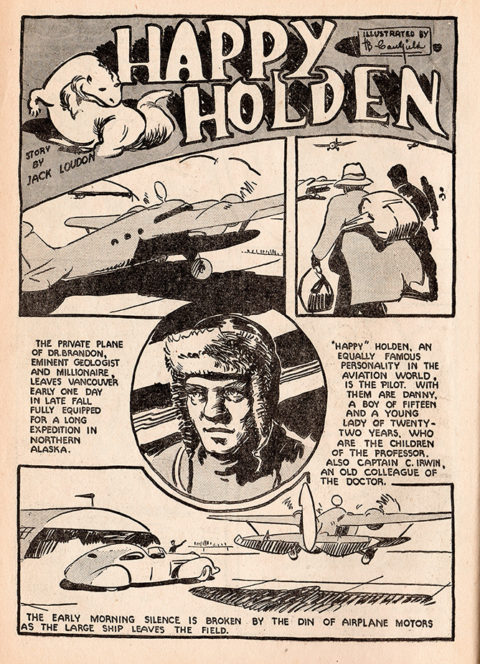 This feature, "Happy Holden," is the only story in the issue not written by the illustrator. The author is Jack Loudon and we know nothing about him. The title character is a pilot hired to transport a professor from Vancouver to the northern reaches of Alaska on a scientific expedition. Also on board are the professor's two children Brenda 22 and Danny 15, as well as one of the professor's old friends. They encounter a storm over northern B.C. and go down. When they wake up the next morning they find themselves in a lost world replete with dinosaurs and gorilla-like humanoids. In the last panels, Brenda and Danny are left in peril, lost in the jungle, and pursued by one of these gorilla-men.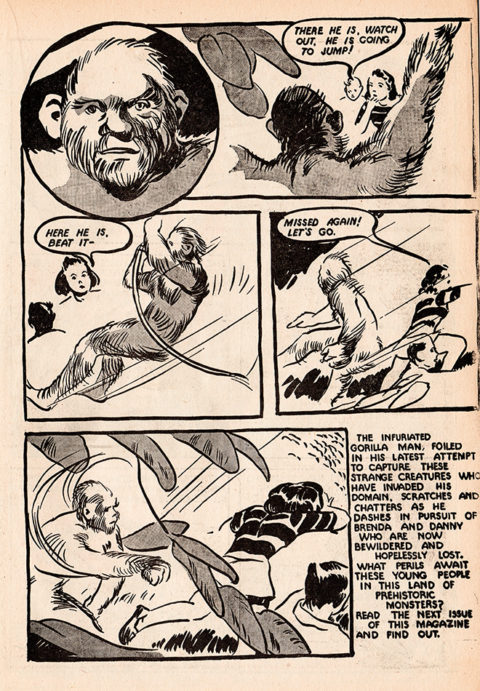 Up next is another Hunter Barker feature, this time about a Mountie corporal named "Trigger Dunston."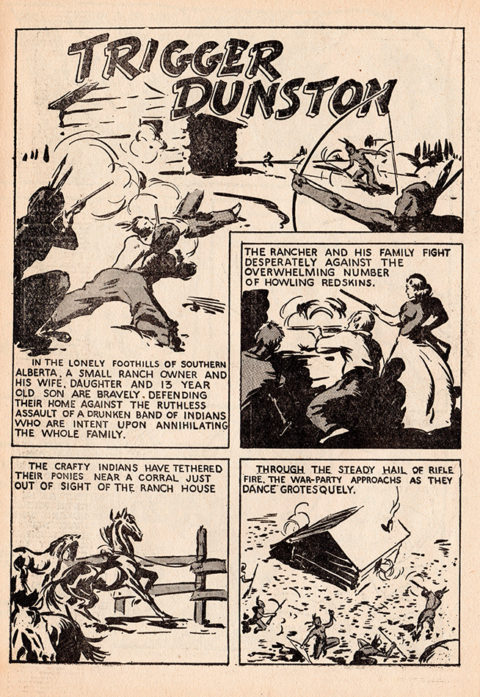 The story is set in southern Alberta and is an example of what we would consider today to be a racially bias presentation of drunken Indians slaughtering unsuspecting settlers. Trigger Dunston finds out about the murders from the young son of the homesteaders who had managed to escape. Dunston immediately sets out for the foothills to round up the murderous "redskins" and their notorious alcohol supplier, Slippery Dan. After a night-time encounter with a pack of wolves, a perilous pursuit of Slippery Dan himself, and a confrontation with a Crow chief at the Indian camp, Dunston returns to Fort McLeod with all the culprits in tow.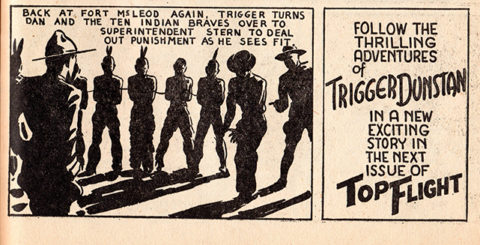 Closing out the comic is Dingle's story, "The Sword of Destiny."
This is probably the closest the comic book comes to a superhero-type story. Young Billy Arthurs gets locked in a local museum after hours and eventually dozes off. Waking up in the middle of the night, Billy explores the place and is drawn to a glass case containing an ancient sword glistening from the moonlight pouring through a window. He manages to take the sword out of the case and notices it bears the inscription "Excalibur." As he wields it,  the sword generates a mist that transforms him into a costumed hero called "The Knight" who eventually helps a pair of Chinese students wrongly imprisoned by a tyrant in Burma. The episode ends on the inside back cover with the brooding tyrant Leolasha planning his next move.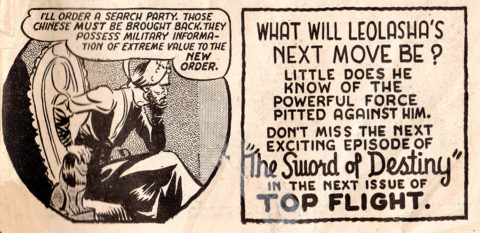 However, with all of its last-panel promises, Top Flight Comics was the final Hillborough Studio comic to be issued. One of the main reasons Dingle had started the company in the summer of 1941 was that he intended to marry and needed extra funds to do this (see the Adrian Dingle obit on pg. 14 of the triple issue of John Balgé' and Dave Sim's  Canadian fanzine CANAR (Comic Art News and Reviews)  26-27-28. Well, on Saturday, December 13, 1941, a week before Top Flight Comics hit the stands, Adrian Dingle did, indeed, marry Patricia Neville Symmes.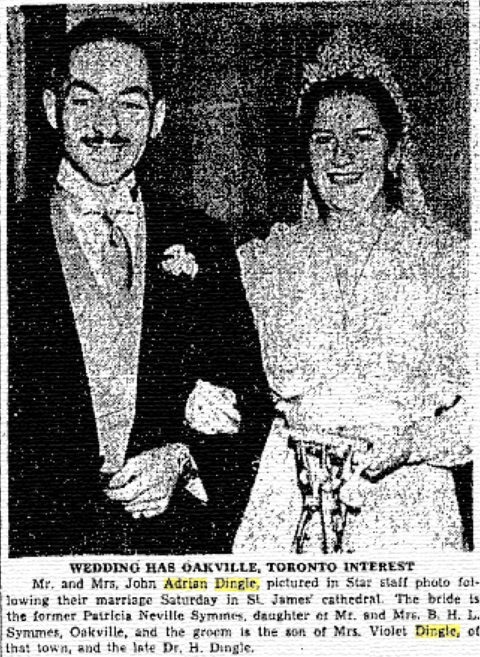 By the start of the new year, Hillborough Studio's debts had accrued to the point where the comic book company, which had always been operating on a shoestring budget, could no longer put out another issue. The partnership with the financial backer that started up the company broke apart and Adrian Dingle was saddled with a significant number of debts. Here are Dingle's own words from that same CANAR obit:
I remember taking all the debts and the broken partnership down to Cy Bell. To my surprise, I found the masthead for Triumph Comics was already made up and ready to roll. He was anticipating me. He took over all the debts. And I was on salary then. That's how I really got started for those few years.
Dingle worked as Art Director for Cy Bell and Bell Features Publications for another five years helping produce a quality line of Canadian war time comics where, in addition to continuing the saga of Nelvana of the Northern Lights, he also created characters like The Penguin, The Sign of Freedom, and secret agent Guy Powers.
But all of this left Top Flight Comics as a one-shot and leaves us wondering what it could have been. Clayton Dexter couldn't have continued with The Rapier because he was whisked away into the army and was in training in Saskatchewan early in 1942 but maybe the sequel to the first episode was already done because the pace of comic book production might have demanded it. This may also be the case for the other Top Flight features but we will probably never know. Remember that F. E. Howard found some unpublished art for Bell Features stories after its original titles folded and worked them into Super-Duper Comics No. 3 in 1947, this included the first Fred Kelly Mr. Monster story.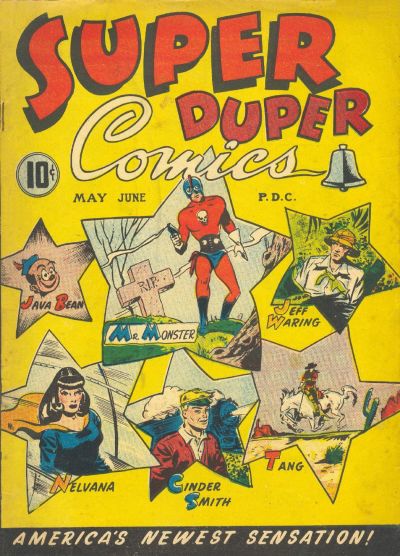 Whatever the case, Top Flight Comics is one of the rarest of the Canadian wartime comics with only two known copies in existence and one of these being an 8.0 slabbed copy. This would make it a Gerber 10 on the scarcity index. I don't see it ever being reprinted but it's important that collectors and fans of Canadian war time comics know about it and let's keep hoping that at least another couple of copies will show up.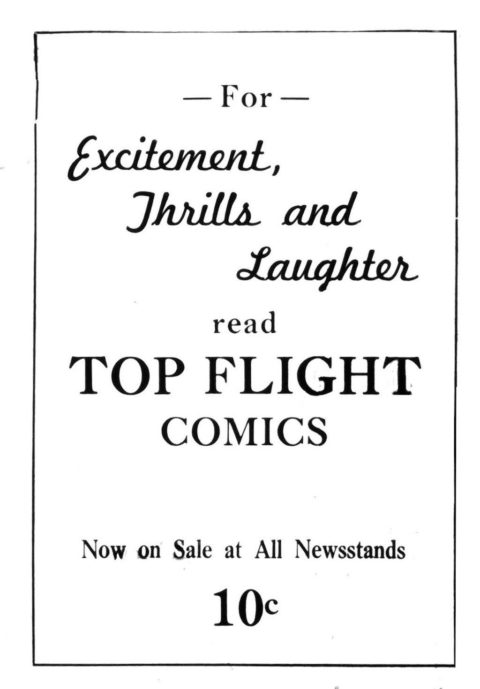 NEWS:
I will be doing a panel at Fan Expo in Toronto that's scheduled for 3 pm on the Friday in Room 717. The title of the panel is "Margaret Atwood Meets Mr. Monster: The Forgotten [Canadian] Comics of WWII and Their Impact Today." The aim, as always, is to draw attention to our Canadian war time comics, this time in the context of contemporary creators such as Ken Steacy with Margaret Atwood and Michael T. Gilbert who have, in certain ways, mined them for material. Michael T. Gilbert, of course, has successfully revived Fred Kelly's Mr. Monster, and Margaret Atwood and Ken Steacy have produced a three-part story about a fictional Toronto WWII comic book publisher and female character called Oursonette that has resulted in a graphic novel called War Bears. Ken and Michael will be on the panel. Comic Book Daily Centrepiece, Walter Durajlija will also be on the panel to discuss the relevance of these Canadian comics to collectors today and their values. If you plan to attend Fan Expo, please consider coming. It would be great to meet up with you and chat about these great old comics.