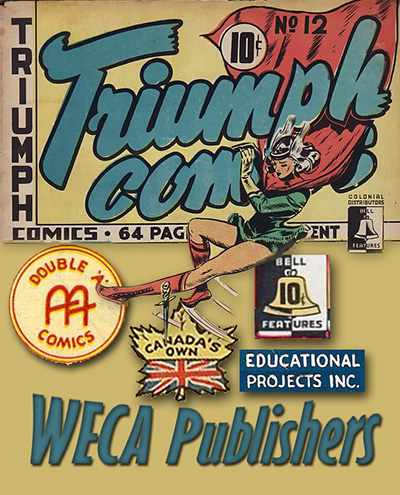 There were four main publishers of Canadian comics in the WECA era.  Anglo-American Publications out of Toronto and Vernon Miller's Leaf Publications out of Vancouver started the whole thing off in March of 1941 with the issue of Robin Hood Comics No. 1 and Better Comics No. 1. Adrian Dingle's Hillborough Studios followed in August of that year with Triumph-Adventure Comics No. 1 in August and Commercial Signs of Canada (later to become Bell Features) stepped in with Wow Comics No. 1. It was about a year later that the final "big" publisher, Educational Projects in Montreal brought out Canadian Heroes No. 1.
In this post I'd like to discuss, briefly, the "collectability" of these publishers and rank them according to my own preferences. For now I'm leaving out all the minor publishers such as F. E. Howard, Al Rucker, Feature Publications, Superior, Export, etc.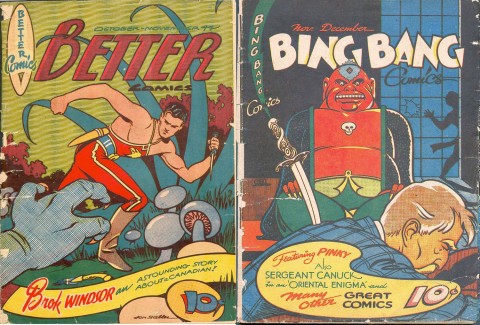 My own experience in terms of rarity places Maple Leaf books as the hardest to come across closely followed by the Hillborough Studios books,  then the Educational Projects books, then Bell Features, and then the Anglo-American books seem to be the easiest of the Big Five to find. These are just generalizations because certain Bell books and Double A books are very difficult to find.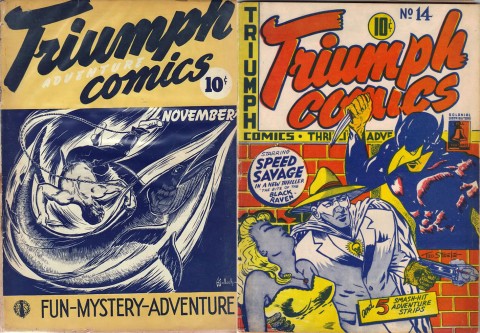 In terms of production values (quality of art, writing, paper, printing…) I would place the Maple Leaf books and Bell books in a virtual tie. The Maple Leaf books were the most American like in terms of production quality. Bright, semi-glossy covers, great stories and top art work by people such as Jon Stables, Vernon Miller, and Ed. Alton, Bert  Bushell and good paper quality in the pages.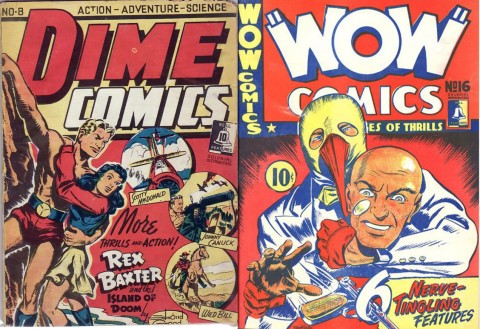 Bell books had the most superheroes, with perhaps the best stable of arists/creators in Canadian comics: Dingle, Good, Karn, Bachle, Lazare, the Kulbach brothers, Saakel, Cooper, and a couple of my own favourites in Ted Steele and Avrom Yanovsky.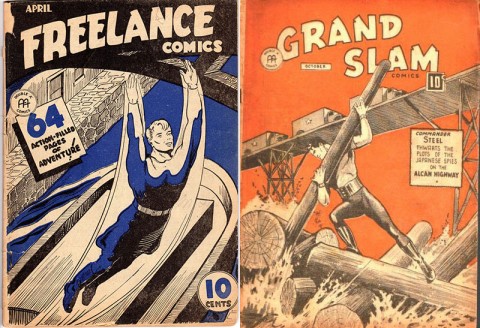 Anglo-American had its own super heroes (Freelance, Commander Steele, etc.) and did interesting things with the redraws of the Fawcett characters they licensed. Ed Furness was among the top of the heap in terms of WECA artists. However, Anglo-American falls a bit short in terms of having two-colour covers that were almost invariably the same newsprint of the content pages and by defaulting to licensing Fawcett features when it could have done just as well with its own original stuff. The quality returned for the Double A books when they acquired access to colour printers towards the end of their runs.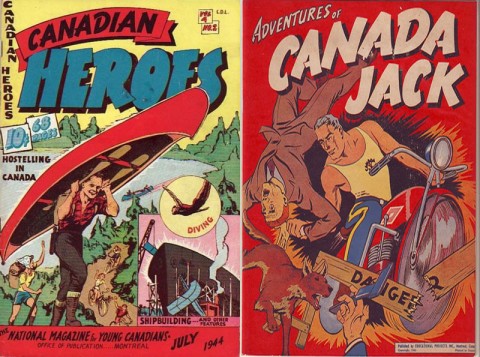 Educational Projects books, though they had top quality artists such as George M. Rae, had staid true-to-life stories as the main content (aside from Canada Jack) that come across as the "Classics Illustrated" of the Canadian golden age.
So, my personal pick for most collectible WECA publisher would be Maple Leaf Publications with its four main titles (Better, Lucky, Rocket, and Bing-Bang) followed not too far behind by Bell Features with its seven main titles (Wow, Triumph, Dime, Active, Joke, Funny Comics, and Commando).  I'd place Anglo-American's (Robin Hood, Freelance, Grand Slam, and Three Aces along with the Fawcett redraws in Whiz, Capt. Marvel, and Spy Smasher) third and then Educational Projects with its mainstay Canadian Heroes bringing up the rear.
What does everybody say for their own picks and if you could pick one most collectible WECA era title what would it be?
How about the most collectible single WECA book?