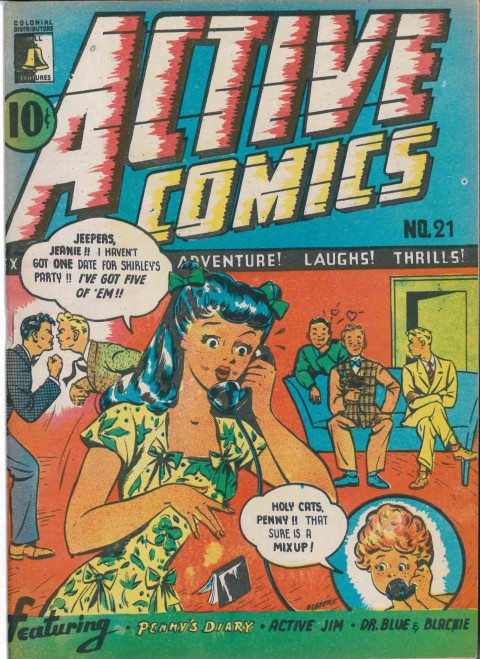 No, this is not going to be a piece about good girl art in the WECA books, nor about the small handful of female heroes (Nelvana, The Wing, Polka-Dot Pirate, Betty Burd etc.) that graced the pages of those Canadian Whites (though this is grist for future columns). In this instance, I want to bring forward the names of the few female creators who contributed to those cream-coloured, black-and-white newsprint pages of the Canadian war-time comics.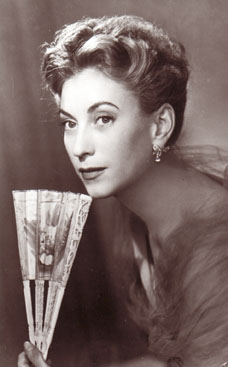 The first two I want to mention are the team of Patricia Joudry and Doris Slater from Bell Features, who produced the feature "Penny's Diary" in Active Comics 19 (Oct./Nov. 1944?) to 26 (Jan./Feb. 1946?). Patricia Mae Joudry was born in Spirit River, Alberta on Oct. 18, 1921. When she was four, the family moved to Toronto and by the time she was nine they had permanently settled in an English speaking residential area of Montreal called Notre Dame de Grace (See the unpublished doctoral dissertation of Aviva Ravel entitled The Dramatic World of Patricia Joudry out of McGill University, June 1984). She wrote and starred in a radio series entitled "Penny's Diary" that ran on CFC radio from 1941-42 and then moved to CBC radio from 1942-44. She went on to have a successful career as an international playwright and novelist. She died in Powell River, BC on Oct. 28, 2000.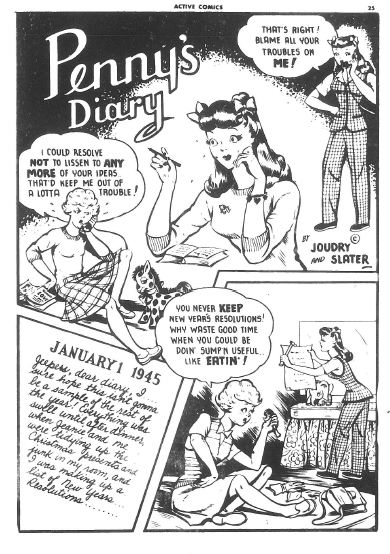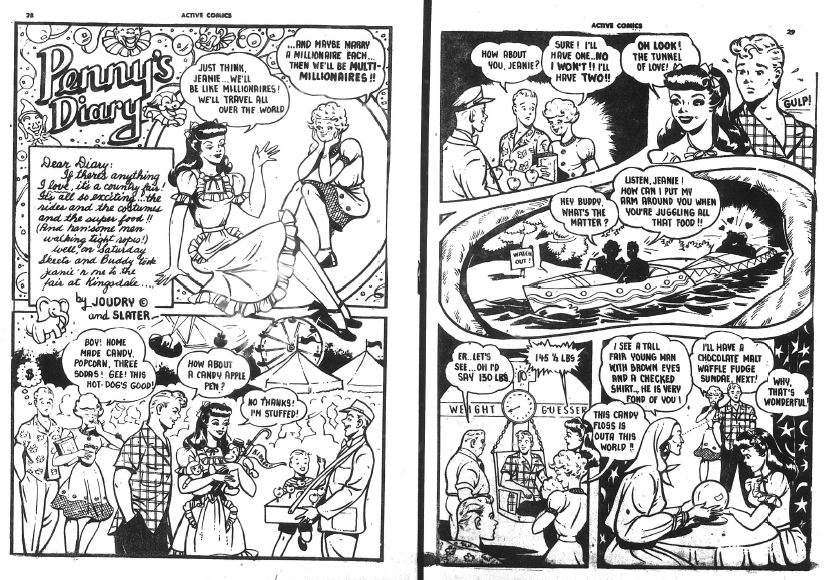 What is significant for us is that Patricia Joudry brought her successful "Penny's Diary" radio show to Bell Features in late 1944 and to "visual life" with the help of Doris Slater. Each story begins with a diary entry by Penny and discussion with her best girlfriend Jeanie. Stories deal with the romantic angst of the typical teenage girl of the forties. The story in Active Comics 20 is particularly helpful to us in dating these Bell issues (which are notorious for not supplying date information in their indica) because the diary entry is dated "Jan. 1, 1945). "Penny's Diary," with the added support of the radio show, must have been a popular feature because it earned a cover (one of the only two WECA covers drawn by a female artist) by its third appearance in Active Comics 21. Doris Slater went on to do illustration work for the Canadian Home Journal in the later forties.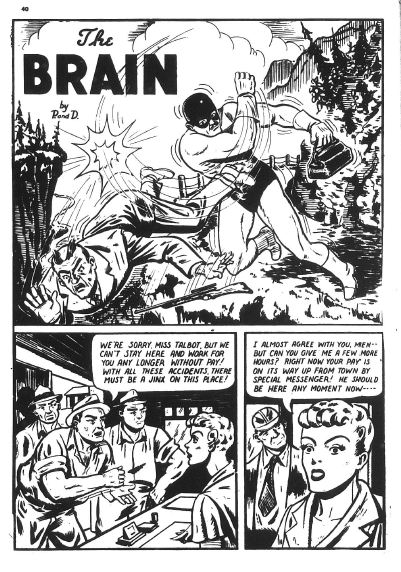 Before we leave this team I must mention the fact that it looks like they did at least one non-Penny story for Bell because "The Brain" story in Active 27 is credited to "P. and D." with the art looking unmistakably that of Doris Slater. It may say a lot about gender attitudes of the time that Joudry and Slater were too timid to put their full names on a "boys strip."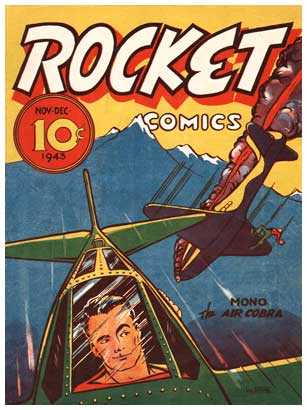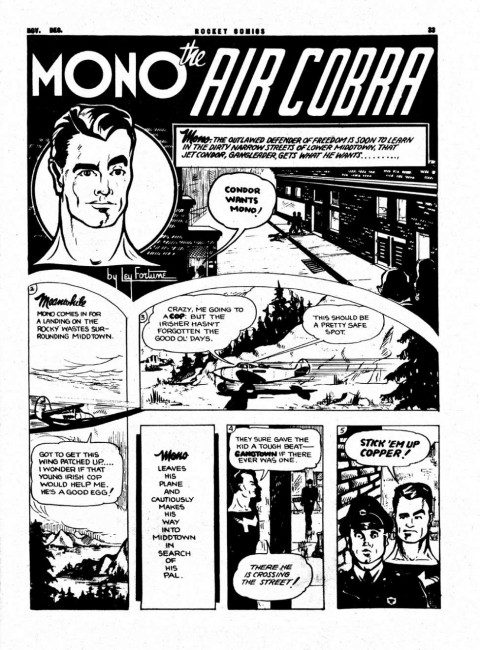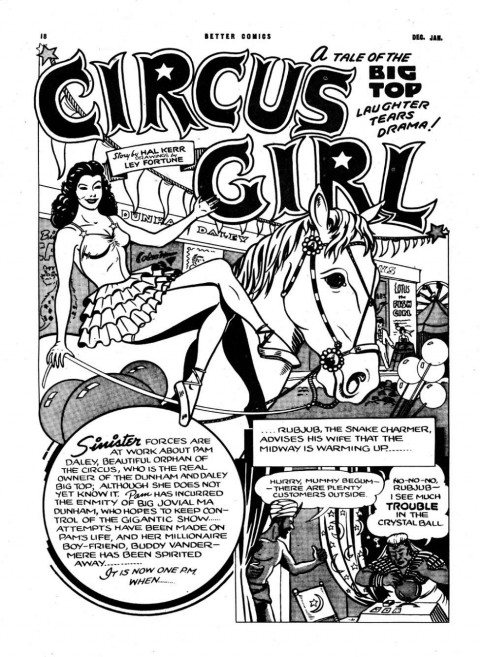 This is echoed over at Maple Leaf Publications with Ley Fortune who chose not (or was advised not) to use her full name Shirley Fortune on her two strips "Circus Girl" which appeared in Lucky Comics and "Mono the Air Cobra" which appeared in Rocket Comics. "Circus Girl" involved the "film noir" adventures in crime and romance of Pam Daley, orphan circus performer. Mono the Air Cobra was a crime fighting aircraft pilot with a large "M" on his costume and a stiff, disproportional neck that has perhaps become an unintentional trademark of this character. Ley Fortune's art matured in her later work as for example in her work on the strip "Bush Pilot" in Rocket Comics Vol. 5 No. 10 from May-June 1946. Ley Fortune gave us a second WECA cover drawn by a female artist with Rocket Comics Vol. 2 No.  5 from Nov.-Dec. 1943.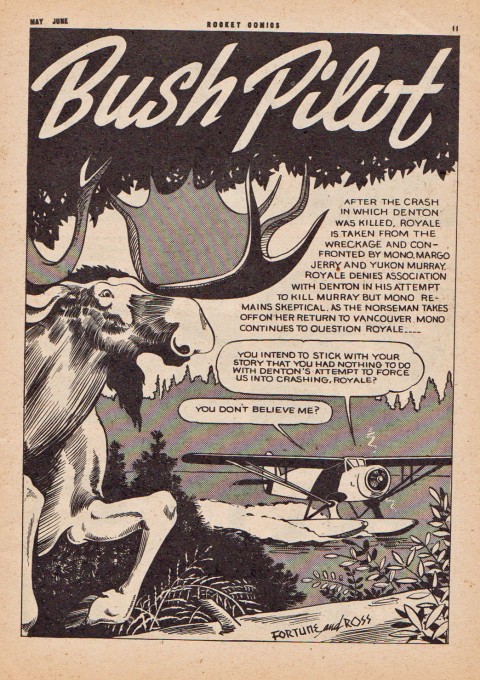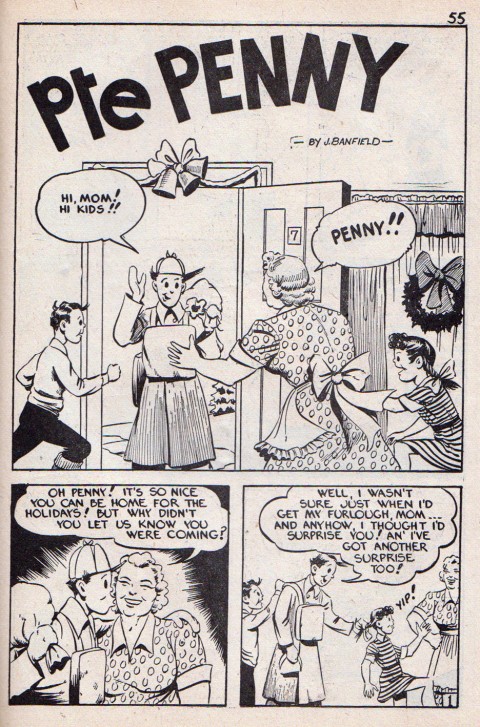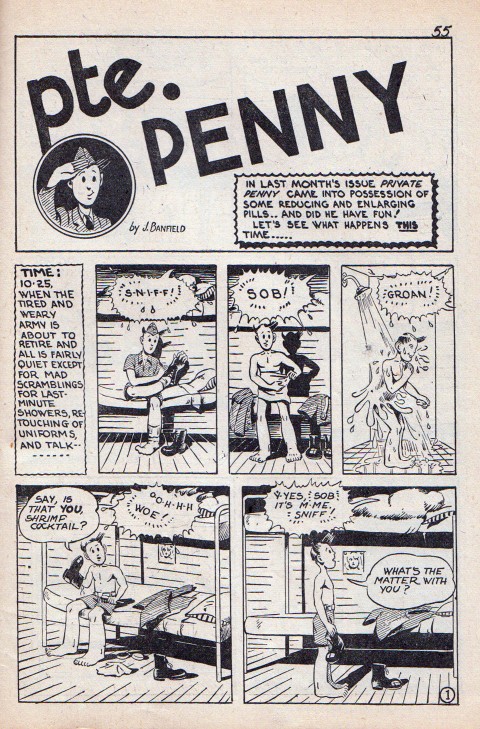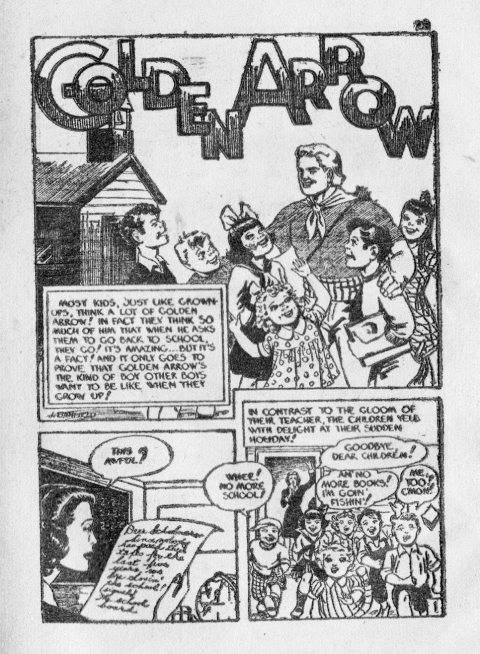 Over at Anglo-American, I know little about June Banfield who created and drew the "Pvt. Penny" strip in Grand Slam Comics and did the redraws for some of the Golden Arrow strips in Whiz Comics and in the Canadian version of the Golden Arrow Mighty Midget Comic. Robert Campbell in his article on Anglo-American Comics, "The War Years: Anglo-American Ltd." (John Bell, Canuck Comics, Matrix Books, Montreal, 1986 pp. 93-101) on p. 97 mentions that Betty Mercer was responsible for much of the lettering in those "Double A" and that Priscilla Hutchings began drawing female figures for "AA's" assembly line process. He also mentions that June Banfield and Priscilla Hutchings, after a while, became skilled enough to take over most of the art on the Freelance strip.
These women must be recognized for what they did in a male-dominated profession within a decidedly patriarchal society. More must be uncovered about them and perhaps one or two others that we have missed.