Those last few months of 1946, those last few months of the WECA period, and what happened to each of the titles that were still being put out are still very murky. Not one of the issues that we now see were the last issues of each title announced that it would be the final one. On the contrary, a few clearly indicated that the stories would continue. Ed Furness, in Robert MacMillan's article on Anglo-American Publications in John Bell's Canuck Comics from 1986, said that he thought it all would go on forever and was shocked when it stopped. Was it like that for the creators? Was it a guillotine rather than a withering away? Did the creators have finished stories on their art tables that were never published and, if so, where are those stories now?
The only company that comes close to sharing their idea of what they thought was going to happen was Bell Features. On pg. 8 of Dime Comics No. 27, which I estimate came out around June/July 1946, Cy Bell made the following announcement and it's clear that he felt something significant would soon happen: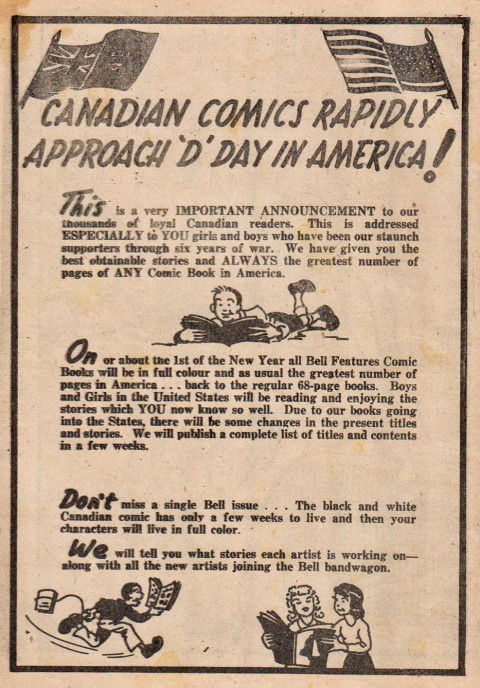 Big plans, indeed… with his new printing capabilities, Cy intended to print his titles in full colour and was confident enough to consider distributing them in the United States.  It sounds like he planned to rearrange them a little and had some new artists he could use, but the plans seemed to be to go big though actual events proved a disappointment.
Let's take a look at some of the situations our heroes were left in when the guillotine came down. If we look at one of the final panels from the last all-original issue of Triumph Comics (No. 31, June/July 1946), we find that famous Doc Stearne/Mr. Monster transition which promises the next story will be in full-colour and will appear in what was going to be a new title called Unusual Comics.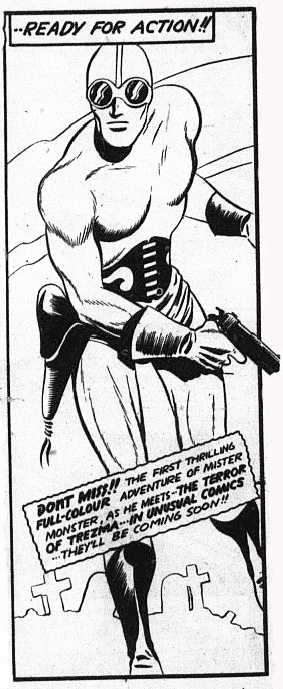 When Unusual Comics No. 1 was finally released a year later, it had no Mr. Monster story and only contained Chesler reprints. The promised Terror of Trezma story did not appear until another year after that in the F. E. Howard Publications Super Duper Comics No. 3 (May/June 1947). In fact this book became the repository for a number of leftover stories featuring Bell WECA characters.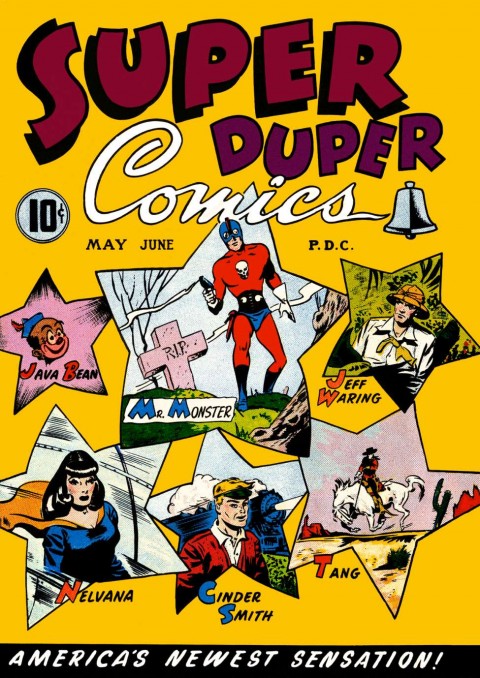 The final Nelvana story in that same Triumph Comics No. 31, which involves a confrontation with a villain called Electra, closing out a 31 issue run without any ceremony or inclination that this would be the final WECA Nelvana story.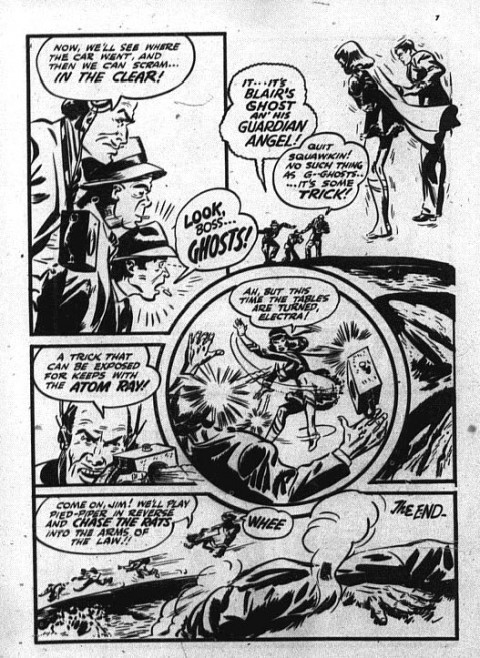 She does show up again in full colour in that same Super Duper No. 3 and Dingle stuffs the two great Nelvana arcs, Glacia and The Ether People, into the same story and this would become Nelvana's sign-off.
In Wow Comics No. 30 (the last issue of this title, April/May 46), just after the Penguin story ends the next panel on the page promises some changes: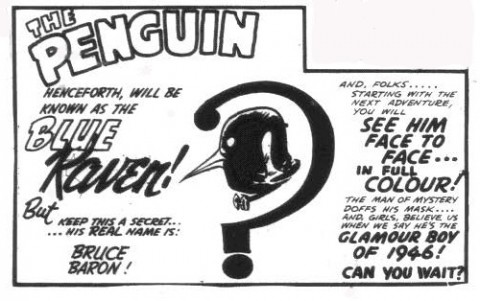 The Penguin's identity was going to shape-shift into that of the Blue Raven and it was going to be in full colour. But there was no indication that this would be in the next issue of Wow Comics and, in fact, it wasn't. Again, it appeared a year later in that post-WECA attempt to keep the Bell heroes alive called Super Duper Comics 3.
The message was slightly different in two other last story panels from that Wow Comics No. 30. At the end of the lead-off story "Woody and the Wolf" story in Wow 30 Tedd Steele tells us that the story will be continued in the next issue of Wow Comics.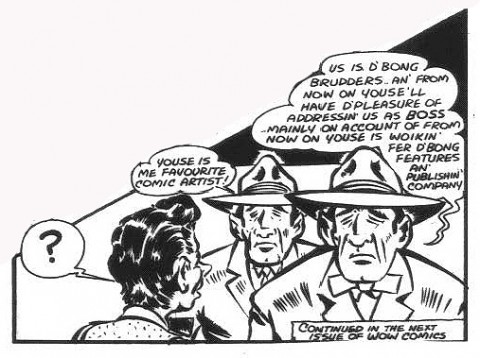 Similarly, Murray Karn, at the end of his second Jeff Waring story after returning from the war, tells us in its last panel that Jeff's new adventure will begin in the next issue of Wow Comics.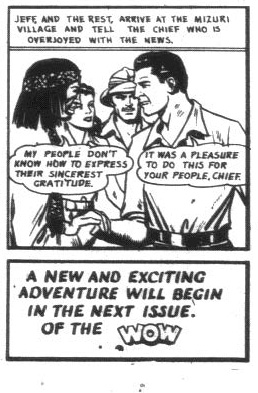 Instead the Jeff Waring story was again put off for a year and showed up in that Super Duper Comics 3 while Woody and the Wolf never appeared again and there never was a next issue of Wow Comics.
The last Bell promise that only came true in F. E. Howard's Super Duper book was originally made in the last issue, No. 22, of Commando Comics from around March/April of 1946. This issue contains the last Bell Polka-Dot Pirate story by Ross Mendes and its last panel doesn't say where she will appear next but it does ask the reader to "Watch for it! The Polka-Dot Pirate in Full Colour."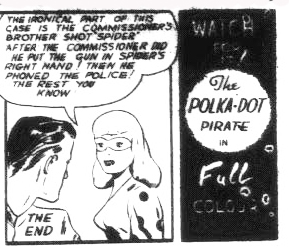 Again it took a year but the story did appear in that Super Duper Comics No. 3. An identical message regarding Jerry Lazare's The Dreamer appears in the last panel to his last story in Active Comics No. 28 (May/June 1946)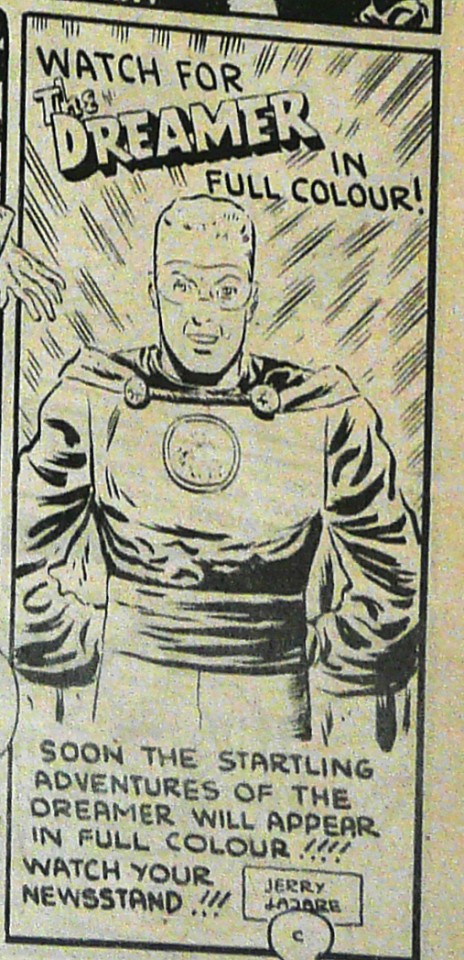 But this promise, unlike the others, is never borne out. However, this begs the question, was this story actually drawn and does the original exists somewhere. Gerald Lazare himself naturally doesn't remember what happened seventy years ago but maybe the drawings will turn up somehow and somewhere.
As an aside, here's Johnny Canuck's last page from Dime Comics No. 28 and his saga just seems to fizzle out without promising anything. Johnny has just helped defeat quasi-Nazi arch-villain Rudolph Hindor (a tongue-in-cheek play on Adolph Hitler) and his mechanical island that is capturing flights on their way from England to Halifax and he sets off in his plane for England, but he's really flying into comic book limbo.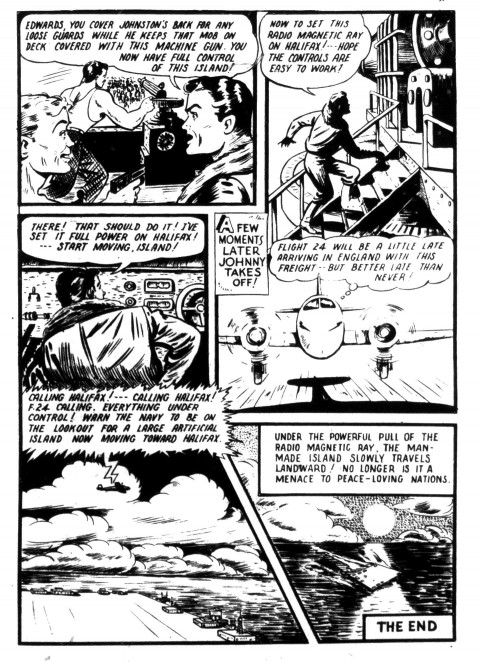 Out on the west coast, I can note that two central figures were left hanging. In the last issue of Maple Leaf Publications' Lucky Comics (No. 34 Oct.-Nov. 1946) our little French freedom fighter, Lucky, ends a story drawn by John MacKillop in a warm, comfortable bed and thanking his benefactors, even though he is suffering from amnesia. The final panel urges us not to "…miss the next episode of 'The Adventures of Lucky' for startling developments!"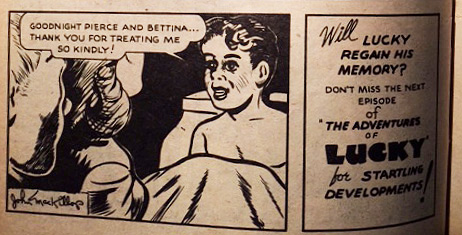 Too bad there never was a next issue of Lucky Comics, but was a story finished and will it ever turn up?
The other was John Stables', Brok Windsor who, I believe, appeared for the final time in the penultimate issue of Better Comics (No. 37 Aug./Sept. 1946). In this issue, Brok begins a quest in answer to a dream he has about his friend, Chuck Rawlings, who he dreams is being held prisoner in a Himalayan monastery. Brok sets off from Canada to London and then Egypt, where in the last panel of the story he is pouring himself a cup of coffee, blissfully unaware that a dagger is perched to pierce him between the shoulder blades. The next panel asks us, "How can Brok escape this unseen danger?" and promises us "More mystery, action, and suspense in the next startling chapter."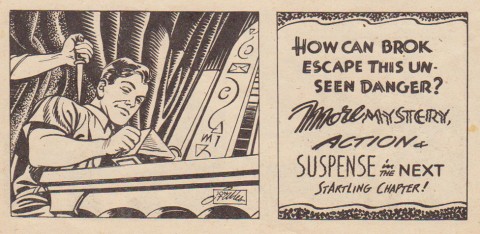 It turned out to be an empty promise and an unfulfilled one in the sense that another Brok Windsor story never appeared so that we are only left with a perpetual cliff hanger as our last contact with the hero.
Finally, let's take a look at Anglo-American. Just after the Dr. Destine story in Grand Slam Comics No. 56 (Dec. 1946-Jan. 1947) there is an ad encouraging readers to read Robin Hood Comics which bears with it a great irony since the concurrent issue of Robin Hood Comics (No. 34) was also the last issue of that title. In that final issue of Robin Hood Comics, the last panel of the Men of the Mounted story is followed by a panel that promises more Kip Keene stories that never arrived.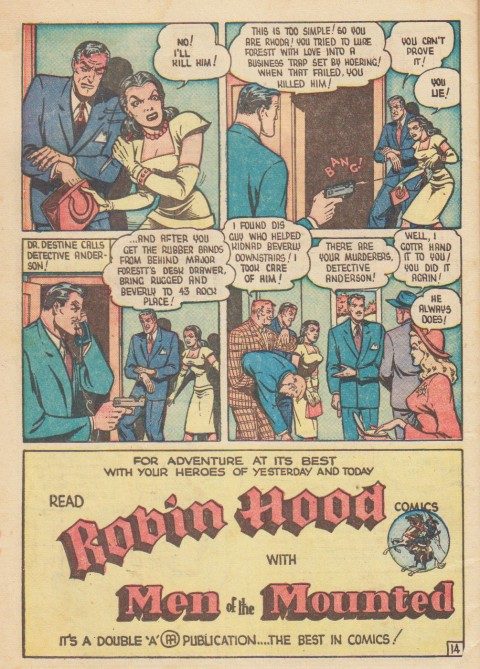 Perhaps of all WECA finales, I find that of Freelance in issue No. 35 of his eponymous title, to be the most poignant. After disposing of the enemy in this last ever story, Freelance and his sidekick, Big John Collins, as the last piece of text reads: "…swim silently away in the gloom—and they grin as they know their work is good!"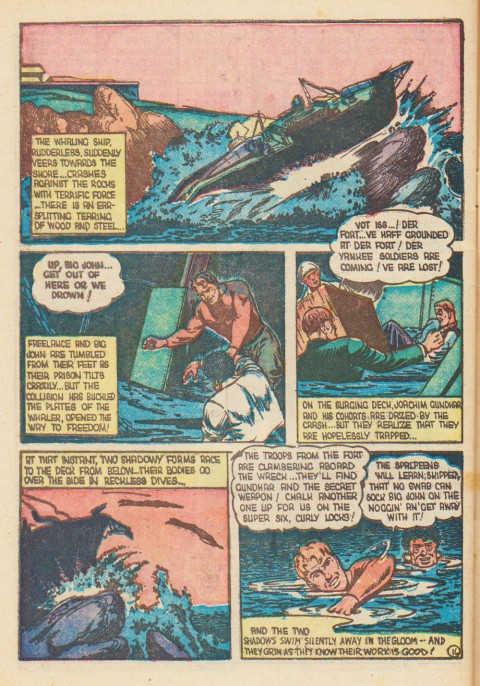 No words were more apt to say goodbye to each and every one of the WECA heroes, Mr. McCall.