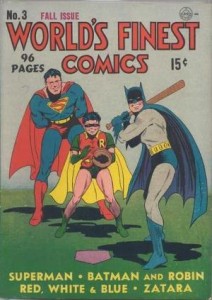 World's Finest Comics #3, DC Comics, Fall 1941
Two separate incidences led me to zero in on this book. First was the strong result realized by Wonder Woman #6 in a recent ComicLink auction and second was the strong results being posted by nice copies of Batman #189.
Wonder Woman #6 of course features the first Cheetah, a Wonder Woman villain. The triple guide it realized at auction made us all pay attention to more obscure villains that came out of the Golden Age. The CGC 9.0 was the 3rd highest CGC grade for Wonder Woman #6.
Recent auction results for Batman #189, the first Silver Age Scarecrow have also been very strong, approaching triple guide in several higher grades.
I'm not sure how the thought came to me but somehow I put these two pieces of information together and imagined, wow what would the market bring for Scarecrow's real first appearance in World's Finest #3 from 1941?
It turns out the book doesn't bring much, recent sales had a CGC 5.0 sell for under guide and a CGC 6.0 sell for a sliver above guide. The most recent sale, a CGC 7.5 copy that is the 3rd highest grade available barely got 10% above guide.
Is it the World's Finest run? Remember The Riddler in Detective Comics #140? That thing is worth 5 times this week's Spotlight pick. What if Scarecrow first appeared in Batman or Detective? Shouldn't matter, there are plenty of examples of big sought after books stuck in lackluster runs, just look at Batman Adventures #12.
By the way, there are more Detective #140's graded than World's Finest #3s. Detective #140 still blows away World's Finest #3 at market (World's Finest CGC 5.0 $777 versus Detective CGC 5.0 $3600). So I guess its down to Riddler versus Scarecrow there.
Is it the lack of Scarecrow on the cover? Shouldn't be, Pep #22 is doing just fine without Archie on the cover.
So the numbers don't add up, they add up even less when you factor in just how strong a villain Scarecrow is.
Nobody has better villains than Batman (Spidey fans start arguing). Scarecrow was created by Batman legends Bob Kane and Bill Finger and consistently ranks very high among these villains, Comicvine had him at #2 (don't agree but still…).
The Scarecrow (Jonathan Crane) is a criminal mastermind that uses psychology on his victims, specializing of course in the psychology of fear. This is a great villain, lots has been done with this and lots more will be done. Great Scarecrow stories are still to come and Scarecrow will continue to be a frontline Batman villain.
I won't try to rank Scarecrow amongst Batman's villains but I will say that I think he belongs on the A List of Batman villains and having said that I think World's Finest #3 is a bargain right now.
Perhaps this is a good time to jump on the next World's Finest #3 that shows up on the market.
The 44th edition of the Overstreet Comic Book Price Guide shows $2240/$3920/$5600 as the 8.0/9.0/9.2 price splits.
Strengths that make this comic book a good long-term investment are:
First appearance Scarecrow
Who doesn't like baseball (especially with Robin catching)
Currently undervalued