Every week CBD's Editor in Chief Pete DeCourcy asks the question and the crew (and special guests) give their answers, we'll be doing this for 52 weeks. Tip of the hat goes to the gang at Scans_Daily for the inspiration.
Today's Question: What is Stan Lee & Jack Kirby's Best Creation?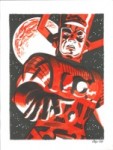 Scott VanderPloeg (writer of CBD's Bound Together column; his ramblings can be found blogged at  eBabble. )
Has to be Galactus for me. A character so immense in sheer power and size, consuming planets to sustain his life and to maintain a cosmic balance. Galactus was the first comic book character I encountered that was a primal force of the universe and had the power to do what he wanted. Kirby was king of "cosmic" and was able to draw this character on a truly grand scale. Lee gave him a keen intellect, reason and in the end compassion.  Awesome is the only way to describe him.
Shelley Smarz (Comic Book Daily's resident Comic Book Goddess)
Lockjaw.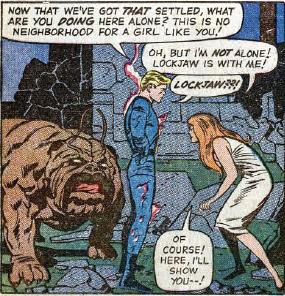 'Nuff said.
Chris Owen (Professor of Comic Books History at Hamilton's Mohawk College and host of The Comic Culture Radio Show.)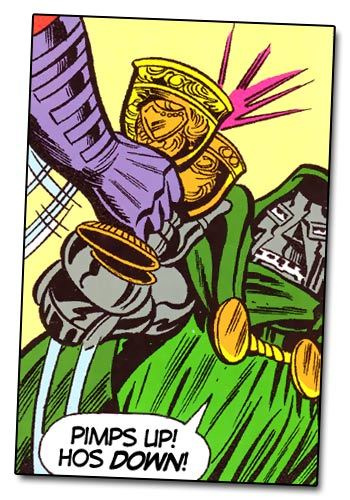 For me their best creation is Doctor Doom. I always liked the kinds of emotions that Doom portrayed. And to be able to get those ranges of emotion without being able to draw a face, just the mask, always impressed me with Kirby's art. The costume design is a great mix of old pulpy villains with a then-modern take.
Anthony Falcone (Writer of Whosoever Holds This Hammer)
I assume that this question feels that Stan and Jack contributed equally? So we are not talking about great characters that Stan came up with and a monkey could have drawn, or the awful hackneyed garbage that Stan created and Jack made awesome?
Either way, my choice is The Hulk. The darkest of all the early Marvel superheroes, the Jade Giant has walked the fine line between hero and villain for decades now. With a strong supporting cast and excellent visuals based on Karloff's Frankenstein makeup, the early Hulk stories are full of pathos, explosions, and commie spies.
Subsequent writers have shifted and distorted this character, but the underlying Jekyll and Hyde premise never gets old. Plus, his 60's cartoon show has a theme song second only to Spider-Man. And two words: Lou Ferrigno.
David Diep (News Editor, Part time Comic Shoppe Employee, All Time Sexual Dynamo)
I'm going to have to definitely agree with Chris on Dr Doom. There's so much going on with Victor Von Doom. He's got his own fictitious country, a unique regal way of speaking; KNEEL BEFORE DOOM a distinctive character design with his mask and almost always being depicted with his arms folded across his chest. The tragic element of his childhood and deal with Mephisto over his mother's soul makes him more than some generic villain that Reed Richards beats. Definitely read the Books of Doom By Ed Brubaker for an excellent take on what makes Victor tick.
Chris Howard (From Egesta Comics, one of the masterminds behind the fan favourite webcomic series Dressed For Success)
I'd say the X-Men. When Stan and Jack started their onslaught of the comic world, it was marked by a more human face to the heroes. They had flaws, they seemed more like us. Peter Parker had to deal with being a teenager. The Thing and Hulk were man monsters, shunned by society.

But the X-Men were not only unique as individuals, they were a whole group that suffered from bigotry and racism. While their other creations dealt with personal struggles, the X-Men were, and became more so, an examination of one of the worlds biggest issues. An especially important one for the US, where racism continues to this day. So while their other creations were huge leaps ahead for superheroes, the X-Men were an extra hop for the social relevancy of comics as a whole.
That's it for this week! Stay tuned to next week for another Question!