Back by popular demand, Comic Book Daily asks the question and the crew (and special guests) give their answers. Tip of the hat goes to Stanley Jon for this week's question.
[box type=question]This week's 52Q: what was your best comics experience of 2011? Comic, graphic novel, interpret as you'd like and share your most memorable comics experience of the year.[/box]
Greg Hyland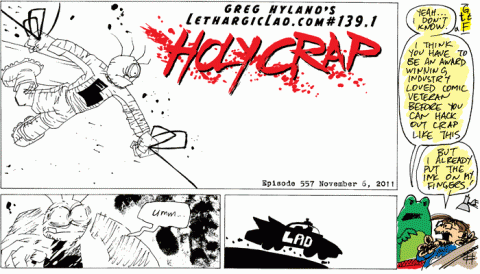 Frankie Miller's Holy Terror. I thoroughly enjoyed it because it was pure polarizing crap. I go the most feedback and comments this year when I made fun of it in Lethargic Lad.
Laura Thomas
I can't choose! I'm going to go comic and manga best moments. My best comic moment was when I finished the end of Batgirl: The Lesson. It was so bittersweet, with Stephanie Brown swinging off into a purple sunrise morning over Gotham City. It was the best and worst moment, really, since it was so sad to see her basically giving up the title of Batgirl, but so well done it summed up the character so well.
The best manga moment was when Sailor Moon vol. 1 hit shelves in September! It's been out of print for almost a decade and the originals are not only hard to find, but poorly translated and poorly bound. They fell apart on first reading for me, and I never got to reread them for fear they would become completely destroyed. Now Kodansha, the original Japanese publisher is doing their own releases in North America and they are great! The translations are better, the art isn't flipped, and the books are obviously made for fans by fans. I can't wait to get the rest, but having number one in my hands was such a good feeling!
Chris Howard
Mine's a tie between TCAF for all the great people I got to meet and the great work I got, and Word on the Street for the wonderful crowds of people looking to buy new things to read, including comics.
(And yeah, The Lesson was exactly that.)
Stanley Jon
I'll go with the Montreal Comicon. I got a chance to talk to and get kick-ass sketches from Stan Sakai and Pia Guerra. I have been fans of both creators for many years. The Montreal Comicon itself was an interesting experience. For a "small" comicon, there was a huge crowd and a friendly atmosphere created by everyone attending. Kudos to the folks who dressed up in their favourite characters. There were some pretty good costumes.
Daniel Champion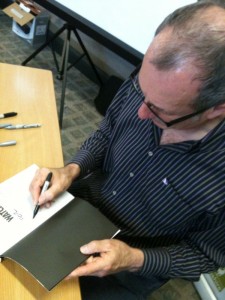 I met Dave Gibbons at the Cartoon Museum in London Town – he was kind enough to sketch Rorschach in my copy Bryan Hitch's instructional manual (as a joke) and signed it. I celebrated a new excitement in comics (generally) and drew inspiration from the design and production of a new DC Universe. I produced the first 4 pages of my first ever WebComic – and I feel like I set the ball rolling on a career in illustration.
Scott VanderPloeg
My best comics experience this year was discovering comic strip reprints and their wealth of all ages wonderment.  It's also bittersweet since I spent the year reading material that's fifty plus years old and very little that was actually created in 2011.
Up there is my time as editor-in-chief of Comic Book Daily and my immersion into the comics world.
Andrew Ardizzi
I suppose I have a few. It's always been cool to chat with Anthony Del Col and Conor McCreery of Kill Shakespeare, and I got to do that twice this year at both Wizard World Toronto and Fan Expo. I always have a great time with the guys, a ton of fun, and I always get some get great material from them. Our 40 to 50-something minute interviews are among my favourites.
Secondly, I'd have to say actually working for a comic book company has been extremely cool. I've been able to see what goes into the books behind the scenes, whether it's meeting the publication deadlines, using the software necessary to complete projects or even getting the books ready for digital. I can say I've been on both sides of the comic book experience, and working at Crystal Fractal Comics has been a blast.
As for my favourite reading experience, that's a bit more of a loaded question. I loved Bendis' Scarlet, and am really hoping he is working on the sixth issue of that series. Kill Shakespeare was great from start to finish, and obviously I loved the War of the Green Lanterns story arc from earlier in the year as well as the current books in the New 52. I'd also have to give an honourable mention to Image's L'il Depressed Boy. There have been a lot of new books that have come out this year, but I'd have to say my absolute favourites have been Uncanny X-Force, which is arguably the best book of the year from the big two, and anything written by Peter Milligan. He's adding depth to the Red Lanterns' corner of the DCU, while also writing Justice League Dark. That's lead me towards catching up on his Hellblazer run. Summarily, although I've enjoyed a lot of books this year, Remender and Milligan definitely caught my attention.
Anthony Falcone
This was actually a tricky question for me. Looking back 2011 had some pretty sweet moments, Spider-Man is back in fine form, I met a bunch of creators, I read Parker for the first time, I checked out the Montreal and Boston Comic Cons, and played a tonne of Marvel Vs Capcom 3 and Marvel Pinball on the PS3. But if I have to choose a wow moment that reminds me of why I like comics I would say Secret Avengers #19.
Brett has already mentioned that SA is the best title of the year, but for me #19 was the best of the best. Amazing storytelling by Ellis that perfectly suited the art by Lark, if you didn't pick up this issue for shame. The two page spread of Cap punching a thug in the face is worth the price of admission. Even those of you who are "trade-only" should drop the $4 and pick it up now. Don't wait for the collected edition.