The year is winding down so Pick Five will be focusing on top items for the remainder of the year to aid in reading and Christmas shopping.  This week: top comic strip reprint collections.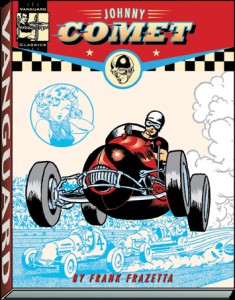 The complete collection of Johnny Comet by Frank Frazetta.  It's a very straightforward racing action strip with beautiful women and dashing men.  More.
Frazetta's famous newspaper-strip masterpiece is back in a hardcover for the first time in 20 years! But, for the first time in any collection, it is being shot from Frank's personal artist's proofs making this the best reproduction ever! This is the definitive, official edition authorized by Frank Frazetta.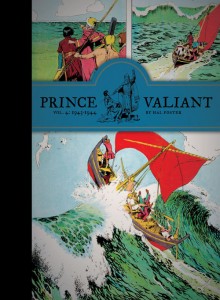 The latest collection from Fantagraphics collecting Prince Valiant's adventures in a wonderfully oversized hardcover.  More.
As this fourth volume begins, Prince Valiant, haunted by the lovely Aleta, seeks Merlin's wise counsel. This brief episode segues into one of Hal Foster's patented epics, "The Long Voyage to Thule," which ran for seven straight months and featured Valiant's return to his birthplace and reunion with his father. Of course, Foster's astonishingly detailed and evocative depictions of Val's home- land contribute greatly to this sprawling epic.
3. Floyd Gottredson's Mickey Mouse Slipcase Set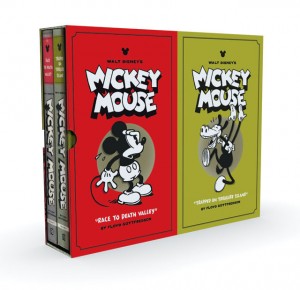 A very handsome slipcase set of the first two hardcover volumes reprinting Floyd Gottfredson's run the Mickey Mouse newspaper strip.  Something completely different for Mickey fans: shooting, drinking, and madcap adventure.  More.
Today's America knows Mickey Mouse as a gentle do-gooder. But in his 1930s heyday, Mickey rose to fame as an epic hero — a bold, adventurous scrapper battling mobsters, kidnappers, and spies! And Mickey's greatest feats of derring-do took place in his daily comic strip, crafted by one of history's greatest cartoonists — Floyd Gottfredson.
2. Miss Fury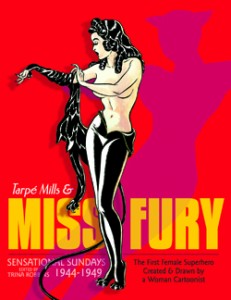 Collecting the stunning Sunday colour strips of a heroine most have never heard of.  More.
Catfights and crossdressers, mad scientists and Gestapo agents with swastika-branding irons-it's one lurid and exciting adventure after another in this lavish, full-color collection of the first female superhero created and drawn by a woman. Miss Fury was a sexy adventurer clad in a skin-tight panther costume-complete with sharp claws on her hands and her feet!
1. Definitive Flash Gordon and Jungle Jim Volume 1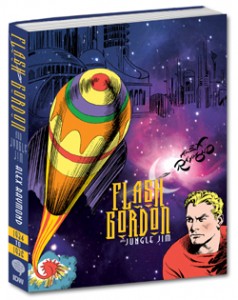 I waited all year for this one and it was worth it!  Breathtakingly beautiful art in its full original size.  More.
This gigantic volume collects every Flash Gordon and Jungle Jim from the first strips on January 7, 1934 through May 31, 1936. During Raymond's ten-plus years drawing the strips, Jungle Jim was the topper to Flash, except for a brief period in the first half of 1935 when King Features switched all their Sundays comics to individual tabloid-format pages. Every one of these rare tabloid pages—which encompass the legendary "Tournament of Mongo" sequence when Flash is pitted against gladiators from the far reaches of the planet—are included.