Recently I was cleaning up and organizing my DVD collection.  I love movies and I own a lot of them.  It takes a while to go through them all.  I try to keep all my comic book movies in one section shelf, but when I was going through them I found a couple of movies that I haven't watched in years.  And few of them weren't in with my comic book movies because I had forgotten that they were based on comics or graphic novels.
So here is my Pick 5 of forgotten comic book movies.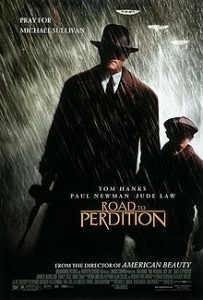 I forgot I owned this movie, let alone it being based on the graphic novel by Max Allen Collins.  It stars Tom Hanks as an enforcer for mob boss Paul Newman.  This movie has one of my favourite Paul Newman scenes.  Tom Hanks has to kill Paul Newman, and Newman's character says "if it had to be someone, I'm glad it was you."
This was one of Paul Newman's last on-screen performances.  If he decided to retire then, that would have been the perfect moment.  It was like he was passing the torch to Tom Hanks.
Road to Perdition also featured an almost unknown British actor named Daniel Craig.  I think he's done some other things to make him a big star… but I can't remember what they are right now…
#4 Judge Dredd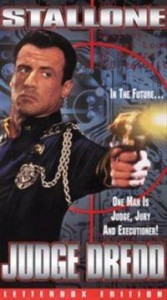 2012 saw the release of a new Judge Dredd with Karl Urban playing our favourite judge, jury and executioner.  But back in 1996 Sylvester Stallone was the first actor to bring Judge Dredd to the big screen.  There are a lot of people who don't like Stallone's Dredd.  It is a movie I really like.  In comparison to Karl Ubran's movie, I like the costumes and vehicles in this movie.  I think it feels more like the comic book.  It is one of those movies that get overlooked with today's comic book movies, but a great action movie to pull out and watch at any time.
#3 The Shadow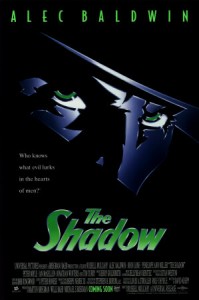 The Shadow came out in 1994 and starred Alec Baldwin.  This movie was directed by Russel Mulcahy, who also directed one of my favourite movies, The Highlander.  The Shadow is one of the comic book movies to come out in the 90's, that tried to cash in on the popularity of comic books at the time.  The other movies to come out around that time too were Tank Girl, Barb Wire, Spawn and The Phantom.  To think of it, most of those movies are forgotten.  The Shadow was one of my particular favourites because the supporting cast was great in that movie.  Jonathan Winters, Tim Curry, Peter Boyle, Penelope Ann Miller and Ian McKellan were all great in that movie.
#2 The Phantom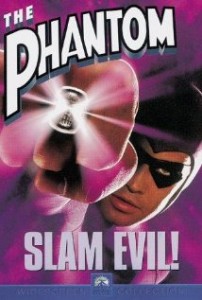 As I mentioned with the Shadow, the mid 90's saw a lot of Super Hero movies come out.  In 1996 The Phantom hit the big screens with Billy Zane starring as the "Ghost who walks".  The Phantom was a fun movie that was filled with action and adventure.  The critics have crucified it and it isn't very popular.  I enjoy it because it feels like a matinée movie serial you would see in the 40's.  Plus any movie that stars Treat Williams is a must see in my book.
#1 Mystery Men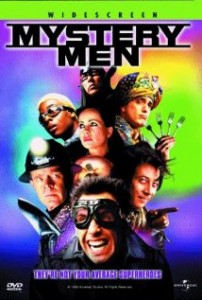 Yup… Mystery Men was based on a comic.  The characters of Mystery Men came from the pages of Flaming Carrot Comics.  Mystery Men featured a cast of super-stars who have been in a lot of movies.  It felt like most of the movies in the late 90's and early 2000's starred someone from Mystery Men.
Geoffrey Rush played the villain in Mystery Men and his character's name is the coolest villain name ever… Casanova Frankenstein.  It bombed at the box office but did very well on home video.  If it was released today I think Mystery Men would have been a huge hit.