Most comic collectors would covet a collection that includes the first appearances of Wolverine, The Punisher, Iron Fist, Hobgoblin, Spider-Man's Alien Symbiote suit, Elektra, Phoenix, and Kitty Pride. For good measure we'll add the debut of the "All-New, All-Different" X-Men of X-Men #94 and Giant-Size X-Men #1 that introduced the world to Storm, Colossus, and Nightcrawler. Since their introductions, all of the above characters continue to be among the most popular in the Marvel Universe and the comic world. Not only are they staples on comic shelves but they have all been featured in movies, cartoons, and video games, solidifying their place in pop culture history.
Besides their continuing popularity, these characters have another thing in common: they were all born in the Bronze Age of 1970 to 1985. During the Bronze Age, many of the creators, artists, and writers that defined the Silver Age stepped aside for younger talent. The Stan Lee/Jack Kirby X-Men of 1963 vanished in 1969, resurfacing in 1975 with Len Wein and David Cockrum at the helm. In addition to new talent taking the reins, social issues such as racism, drugs, and alcoholism influenced storylines, ushering in a darker, more realist tone. Who could forget Harry Osborn's LSD trip in Amazing Spider-Man #120?
As a final sweetener to this collection, all titles will be graded 9.8 by CGC.
Would you be shocked if I told you this collection has experienced a devastating loss in market value over the last two years? In late 2009 a collection of key Bronze Age titles (list below) would have been worth approximately $65,000. Using the latest auction data, this collection would be worth around $36,000 today. A stunning 45% drop.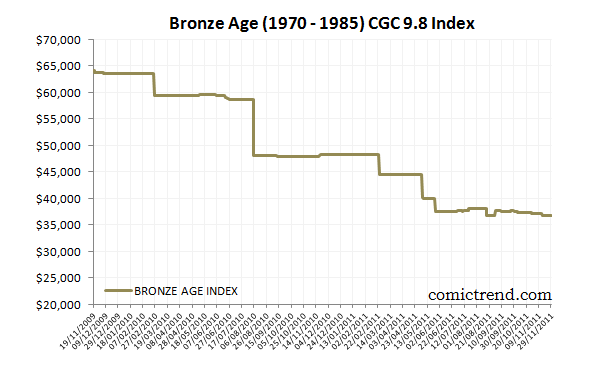 This basket of comics includes Amazing Spider-Man #129, Amazing Spider-Man #252, Amazing Spider-Man #238, Daredevil #168, Giant-Size X-Men #1, Incredible Hulk #181, Iron Fist #14, Secret Wars #8, Uncanny X-Men #129, Wolverine Vol 1 #1, X-Men #94, and X-Men #101. Transaction data taken from real auctions completed at eBay, Heritage Aucitons, and ComicLink. Titles chosen based on available auction data.
Why have these titles fallen so far? Well, perhaps a better question is why were they so high in the first place? Why did Amazing Spider-Man #129 settle at nearly $15,000 in a 2008 Heritage auction? The latest auctions have settled around the $5,000 mark! Rampant speculation due to the stampede of superhero movies? The tail end of a CGC/slabbing mania? The mirage of high grade scarcity? All of the above!
I'm going out on a limb to say that the violent price declines are over. To be sure, these comics might continue to fall in value. However, I believe that high grade Bronze Age values should stabilize here. Any near mint raw titles lurking out there have had plenty of time to be slabbed (the number of 9.8 X-Men #94s on the CGC census has jumped from 3 to 11). Movie mania has died down. These titles now stand on their own merit.  No, they will NOT skyrocket back to anywhere near their 2009 peak values. But if you're a fan of these characters (the most important thing) and believe they will continue to have an important role in the comic world and pop culture in general, buying at current prices is not an outrageous idea.