On July 6th I had the opportunity to attend the Toronto Comic Book Show (TCBS) for the first time. This was the second TCBS after its inaugural show in May.  You won't see any cosplay or signings at TCBS—the show's organizers are 100% focused on serving those who just want to get their hands on books (both raw and graded). The admission person I spoke with said they expected over 400 people throughout the day. While that's a far cry from some of the bigger Toronto shows or US shows, it's a pretty respectable number considering TCBS is a collector-first show. In fact, the organizers are so happy with the reception that they're thinking about adding a second show to serve the Ajax/Oshawa area.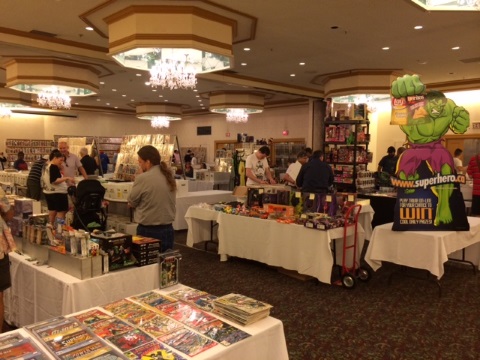 I had the opportunity to speak with several of the vendors at the show. I was very curious about the state of the comic show scene considering that most collectors (myself included) would rather click a few buttons and pay with MasterCard than carry hundreds or even thousands of dollars to a hotel conference room. I was also excited to pick the vendors' brains to get a feel for where they see comic values going and get a handle on what books are currently most in demand from collectors.
Frank Chang of Fun Comics was the first vendor I spoke with. Frank was packing some serious hardware at his booth. I noticed a nice 9.8 Batman #227 and a 9.8 Incredible Hulk #181. For all the valuable books Frank brought with him to TCBS one would think Frank was optimistic about his chances to move some books. Well, that's wasn't the case! He felt interest in comics is dipping and traffic at shows like TCBS on the decline. He was not expecting to move any big dollar books that day ("who brings thousands of dollars to a show?"). Frank believed that the Silver Age keys have moved well beyond the average collector and they're certainly beyond anyone looking to get into the hobby. He also expressed frustration that Silver Age books with high price tags are taking longer to sell. After our brief exchange I thanked Frank for putting me into a depressed mood. "I'm just telling you like it is," was Frank's reply. There was a lot more Frank had to say but I encouraged him to leave his comments at ComicBookDaily!
So was Frank optimistic about anything? Deadpool, Wolverine, and Spider-Man are his "three main staples" and are always sought after. He's selling more Bronze Age titles and expects their values to rebound after suffering the last few years. After all, with Silver Age values in the stratosphere, collectors need to look somewhere. He sees the movies having a big impact on the Modern Age and lower end grades but not so much on the high-end Silvers. One book currently in high demand is Iron Man 55 (first appearance of Thanos).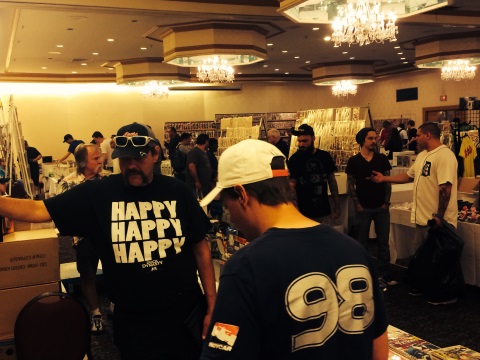 Paul McFaul stood in stark contrast to Frank (which I was thankful for because I really needed a pick-me-up). This was Paul's first show ever as a vendor after being in the hobby for a long time. He was energetic and excited to be at the show. Paul's table was certainly not the most impressive at the show but he more than made up for it with his energy. A huge Spider-Man fan, Paul's passion for the hobby was evident as he spoke about seeing the books he was now selling (encased behind CGC slabs) on newsstands when he was younger. After talking to Paul for a few minutes I was so pumped up by his energy I was thinking about buying the McFarlane ASM run he had on his table! He's wasn't interested in selling the stuff he wasn't even alive for. That may not be the wisest business move but I have to give respect to Paul for sticking with what he's passionate about. Paul thought Iron Man, X-Men, and Spider-Man will continue to do well. I pointed out a Walking Dead he had on his table but his outlook for the series was not optimistic.
I met Todd Manefski for the first time at the show. Todd's a cool, laid back guy with an impressive depth of knowledge about books from all ages. He's the kind of guy you want to grab a coffee with and just soak in his years of experience and collecting thoughts. Also with him was a very lovely lady who I assumed was his wife but I actually forgot to ask!  Todd's approach for the show was not necessarily to move a lot of books but to meet the right kind of collector.
Todd echoed Frank's sentiments about the Silver Age; it's just too far out of reach for most and especially tough for shows such as TCBS. He also mentioned the movies creating demand for certain titles. Nova comics are in demand now as he could be the Next Big Thing if Guardians of the Galaxy is popular. We had an interesting conversation about comics as artwork, an idea I plan to visit in a future column. Collectors are really embracing good looking books and great artists. With CGC slabs and lots of choices for frames out there, collectors are increasingly hanging books on walls. People are looking for great artwork and great artists. Alex Toth was an artist Todd mentioned.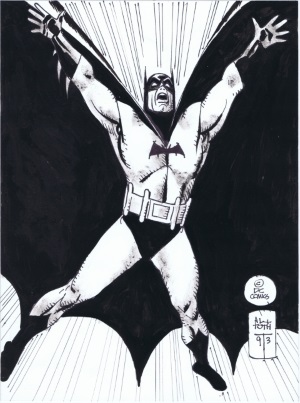 TCBS was great fun. I really enjoyed talking with the vendors at the show; it was a refreshing change of pace from typing thoughts on forums and looking at images of books on eBay. Frank's concerns about the decline of shows should be taken seriously. I would encourage TCBS to think of ways to bridge the gap between offline and online. Many vendors I spoke with at the show had no online presence whatsoever. It would be great if TCBS provided vendor profiles on the TCBS website or even created an online store that exclusively sells vendors' books in parallel to the show itself.