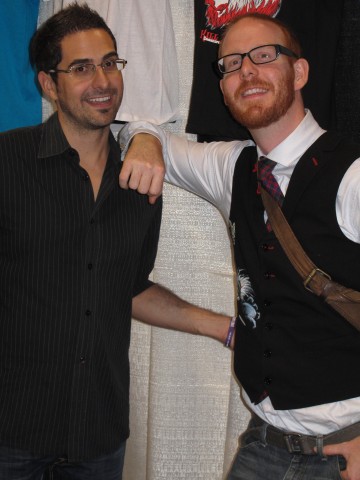 Life can be perceived as a series of acts, each of us living out the drama of our lives in a microcosm of the whole, day in and day out. Existence is a play, with each component of the greater story being told a piece at a time; before we know it, the curtains close on a chapter of life and the crowd disperses for intermission, anticipating the next part of the tale.
Every story has its genesis, and for Conor McCreery and Anthony Del Col, that story began with a simple idea. In the years since its conception, the two friends have nurtured their brainchild, Kill Shakespeare, a story which pits infamous playwright William Shakespeare's greatest creations against one another inside a single universe not dissimilar from any other comic book environment. Inclusive of characters ranging from Hamlet, Juliet, Romeo, Falstaff and Othello, to King Richard III, Lady Macbeth and Iago, the plot—described as equal parts Fables, League of Extraordinary Gentlemen and Lord of the Rings—centers around the two opposing sides as they battle one another in a bid to, as the series co-creators describe, either kill or save a reclusive wizard named William Shakespeare. On Aug. 24, over 16 months after the release of their first issue,  the twelfth and final installment of the critically acclaimed series was released, but the creators' feelings were mixed with the first part of their odyssey completed.
"It's a mixture of happiness and sadness. Happiness because we made it to the end, we crossed that finishing line. Not in record time, but in good time", Kill Shakespeare co-creator Anthony Del Col said of the series' completion. "We're really happy with the way the series ended, we're happy with what we've done with the characters, with what we've done with the story."
He said much of the sadness emanates from having spent incalculable hours fine tuning the story and each issue's scripts, but a fair portion derives from having worked with series artist Andy Belanger for so long and now being in the midst of a hiatus between the end of issue 12 and any future projects between himself,  co-creator Conor McCreery and Belanger.
"We're so used to getting frantic phone calls or BBMs from him at 11 p.m. or just check-ins," Del Col said of Belanger.
McCreery echoed Del Col, praising both Belanger's work and the artist himself.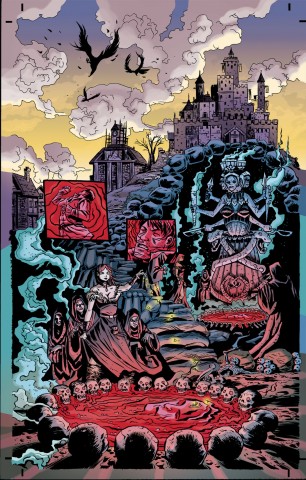 "More than the fact that he's a great artist, Andy is also a stand-up guy.  He's a real friend. You're lucky when you work in the business and you get a friend out of it, and we do have a great friend in Andy Belanger," McCreery said. "He is fantastic, he is the heart and soul of this book."
He applauded Belanger for his work in issue 12, citing the artist having offered some inspiring artwork within its pages.
"He did a lot of doubling images, which was cool, where you see a character in one frame twice," he said. " I think he did a great job with the Iago scene. That was so amazing how he worked that out. We had that in our mind when we wrote it, and Andy knocked it out of the park."
McCreery said one of the more impressive things about the issue was how Belanger combined the visual flare he had become known for throughout the series' run, with pages he describes as being more sparse than some of Belanger's more graphic scenes.
"The Iago one being a great example, and I think that's a really exciting development in his art, is that kind of balance with the visual flare he has and this new, sort of, using the space and letting negative space tell some of the story. I thought it was his best issue," said McCreery.
Del Col believes the horrific, gruesome side of Shakespeare is often overlooked, and it's something that Belanger's background of drawing horror comics complemented.
"He was able to really bring that in, whether it's a decapitation scene in issue 12 or the eyes getting gouged out in issue two, he really understood what works and he understands what makes something horrific. He doesn't just go for gore, he goes for the story or the emotion behind the gore," said Del Col. "What was great, I think about page six in issue 12 with the decapitation scene, is there are no words whatsoever. It's just Hamlet's reaction. Five panels, one on top of each other as you just see the reaction to what's going on. You see no gore, you see a bit of blood, but he was really able to capture that emotion and what makes everything horrific."
"He was the right fit for the job," he said.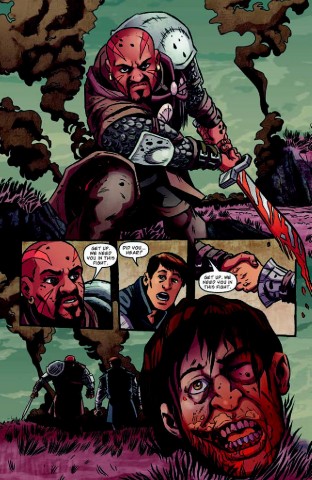 McCreery said if he could have changed one part of the series' success, it would be for Belanger to have gotten the recognition he believes Belanger deserves.
"We got a writers nod, which was great. I'm still gobsmacked, for a lack of a better term, that Andy hasn't gotten an art nomination," he said, in reference to Belanger's lack of nominations for the Shuster Awards and the Harvey Awards. "The nice thing is Kill Shakespeare went over two calendar years and the second half of the story is even stronger, I would argue, than the first half art-wise. So he may get his nod for issues seven through 12, which would be richly deserved."
McCreery argues his and Anthony's receiving a Harvey Awards nomination for "Best New Series" is only half the art-form, and both would be ecstatic were Belanger to receive a nomination for his work on Kill Shakespeare.
With the series completed, Del Col and McCreery have only scratched the surface of their aspirations for Kill Shakespeare, which above all includes a feature film adaptation of the property.
"We are going to continue work on the screenplay. We'll have that done by mid-September or so, head down to L.A. and start to talk to potential partners there," Del Col said. " We will have discussions at that time with IDW, our publisher, to continue on the series.  They're interested, we're interested. We just want to start to discuss terms and those sorts of things. We're really excited because we're already starting to brainstorm ideas for what could happen in subsequent series."
Del Col stated there are also plans to release a mobile game designed for the iPhone and Android, a play version of the story, while Toronto's Soulpepper Theatre will hold a live stage presentation of the entire Kill Shakespeare story beginning Nov. 25, running until Nov. 27.
As with any adaptation, let alone one where a comic book is the source material, challenges arise.
"One of the key things is, don't fall absolutely head-over-heels in love with something whether it's a plot-point or a character, or something like that because it may work great in one medium but in another medium, it may not," Del Col suggested. "Don't be afraid to make those sorts of changes if it's for the benefit of the story in that particular medium."
Del Col points towards one of the t-shirts that's part of the Kill Shakespeare "Shakesgeare" line of merchandise, which proclaims a simple credo: "Kill your darlings." McCreery agrees.
"It's a little unusual, (but) it's helpful to have," McCreery said of the motto.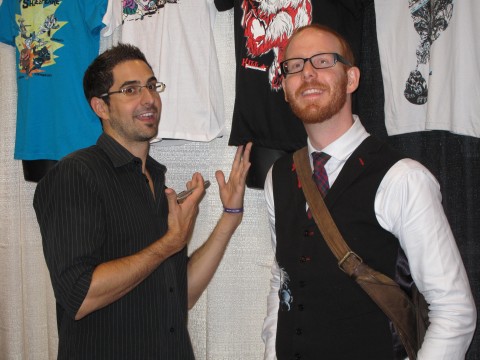 The series co-creators have also enlisted the aid of infamous story editor Howard Wiseman to help move the adaptation process forward.
"Howie's been great at being that person who comes in and gives us some distance from our own work, and it's just a really valuable tool," McCreery said. "It's a frustrating tool, because you change things you think work, but as Anthony said, it may not work for another medium or they may not work for the new type of story you're telling."
The film adaptation will bring its own marketing problems, considering the "comic book movie" generalization some comic book-to-film adaptations are automatically labeled with. McCreery is aware of the challenge, as well as the stereotypes attached to comic book films, the lack of originality in Hollywood and the likely disdain that will derive from the Shakespeare scholarly community.
"I think it'll be pretty easy to hate Kill Shakespeare if you want to, but at the end of the day I would challenge people to read the comic book. That's always been my thought with comic book movies," McCreery said. "People will say, 'oh, it's based on a comic book.' Well, have you read the actual source material? There's a reason comic books have thrived in culture, and it's not because we're getting dumber."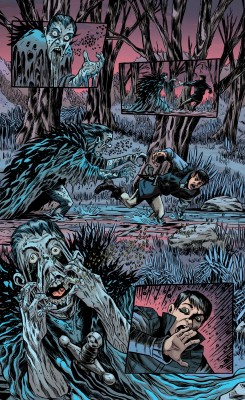 He believes quite the contrary, noting the medium has thrived because creators are able to tell riveting, entertaining stories written in a way that's accessible to readers regardless of their background.
"Comic books are not about how smart you are, they're not about what part of the city you were born in, they're not about what your parents do. Comic books are very accessible stories, and I think to me that's the tragedy of comic book movies getting slammed with that tag, is that the source material is brilliant," he said.
Despite the eventual backlash once knowledge of the film adaptation becomes more widely known, Del Col is quick to point out that Kill Shakespeare is very faithful to the original material, and is more than a simplistic "dumbing down" of Shakespeare for Hollywood.
McCreery and Del Col remain optimistic that it won't come to that.
"On the flipside, most of the time people think the concept is a great idea, so maybe we won't have that problem at all," McCreery said. "Maybe people will see the title, Kill Shakespeare, and they'll see a trailer that makes them realize that all these characters are in there together and that most people will be like, 'oh, awesome! I will totally see that!' So yeah, we'll think positive."
McCreery is quick to note there are as many good movies as there are bad ones, regardless of whether it's Shakespeare, comic book based, or otherwise.
"Our goal is to find the best partners to make the absolute best movie possible, and if we succeed all the worries about 'is it a comic movie or is it dumbing down Shakespeare,' none of that will be a concern because, if you hear the right names beside it, the right director, the right producer, the right stars, people will realize that it's attracting quality talent and that goes a long way," he said.
With a year's worth of good fortune behind them, both Del Col and McCreery are just thrilled that enough people liked their idea, and that is a strong measure of success for them.
"I think the greatest thing is when people walk by our booth at a convention and you tell them what the concept is and their faces just kind of start to light up, and they're like, 'that's really cool.' They can automatically see the potential," Del Col said. "They see the possibility and to see them start to think about what could happen in this story, in this world, that kind of excites me because we have so many other stories and so many other plots we'd like to put into the comic, into the film, into this property. To see everyone else start to realize what potential there is, that's kind of the coolest thing."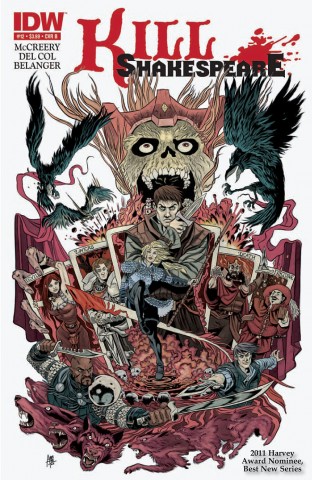 McCreery said he's thankful to everyone who's taken time out of their day to read Kill Shakespeare and especially to those who greet and talk to them at their booths across the continent at various fan conventions, or who follow them on Facebook and Twitter.
"It's really nice, it's always great. Somebody said to us, 'oh you don't charge for your signature, you don't get tired of doing it?' " said McCreery. "Honestly, I hope I never get to the stage where I can possibly be tired that somebody thinks my signature is an interesting thing to have. We have amazing fans and we're very, very appreciative of them."
Anthony Del Col and Conor McCreery, with their take on the classic tales of Shakespeare and his characters, have brought the world of the Bard to a booming medium, complete with critical success, praise from a devout base of fans, Harvey and Shuster award nominations under their belt, and forthcoming mobile video game, stage and film adaptations of their comic book property. With the possibility of a follow-up to the comic series very likely, the first act is poised to be the prologue to future multi-platform successes.
Photos courtesy of Andrew Ardizzi.