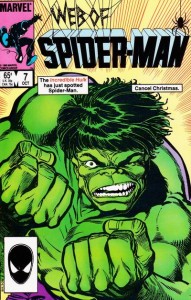 This is actually one of my favourite covers, but it doesn't really make sense. Normally when people talk about cancelling Christmas it is because the have no money, or some disaster has befallen them around December, or they are using it as a hyperbolic threat in punishing a 7 year old.
The cover would make it seem that 1. Spider-Man has something to do with Christmas; and 2. the choice to cancel or not cancel Christmas has something to do with our Friendly Neighbourhood Spider-Man being able to hide from the Incredible Hulk. Once seen, Christmas is over.
In addition this isn't even a Christmas issue, so go figure that one out. Oh, and the Hulk looks a wee bit constipated.