In last months Arcs & Runs we visited a bittersweet time in my life with comics. The 1991-1993 time frame represented the end of regular weekly/monthly comic collecting for my brother (Keith) and I after a fifteen year run of heavy collecting. We had amassed complete runs of practically every Marvel title from 1968 forward. Life, however, began to get in the way of our comic collecting activities. We were both single income dads with young families and mortgages (10-13%, yikes) and our discretionary income was dwindling. This affected Keith (four boys) more than me. Bottom line we quit collecting new comics, which we had both become a little disenchanted at the time anyway.
My brother left comics and basically never returned. I stopped buying new and started travelling backwards in time to a period of comics I did not grow up with but always wanted to collect, Marvel's early beginnings in 1962 -1965. One of the titles I was most interested was Tales of Suspense and that is where this month Arcs & Runs takes place.
Today I have picked one of my own custom runs for this collecting period, and is a personal favourite: Tales of Suspense issue #48 through #59. This twelve issue run is packed with first appearances and new beginnings. We will focus on the importance of the book itself and a very brief re-count of the story. This Arc & Run is split into two parts, with part two running next week.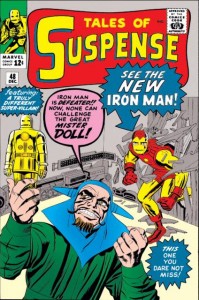 Tales of Suspense #48
December 1963
The New Iron Man meets the Mysterious Mr. Doll
Cover art by Jack Kirby, interior pencils by Steve Ditko, and inks by Dick Ayers. The story is by Stan Lee
In this book we are introduced to the iconic red and gold armour that would become Iron Man's signature costume. Iron Man continually changes/ improves his armour over the years but for me this outfit was the classic look. A special thank you Mr. Ditko for designing and creating this new look. I was not a fan of the "old gold" Iron Man armour and was glad to see it go.
Iron Man's foe in this issue is the mysterious Mr. Doll who it turns out is a poor mans Puppet Master. He uses little voodoo type dolls to inflict pain and suffering on his victims. Not a great villain and we don't see him again until he becomes Brother Grimm in the original Spider-Woman in the late seventies. The highlight of this book is the introduction of the new armour.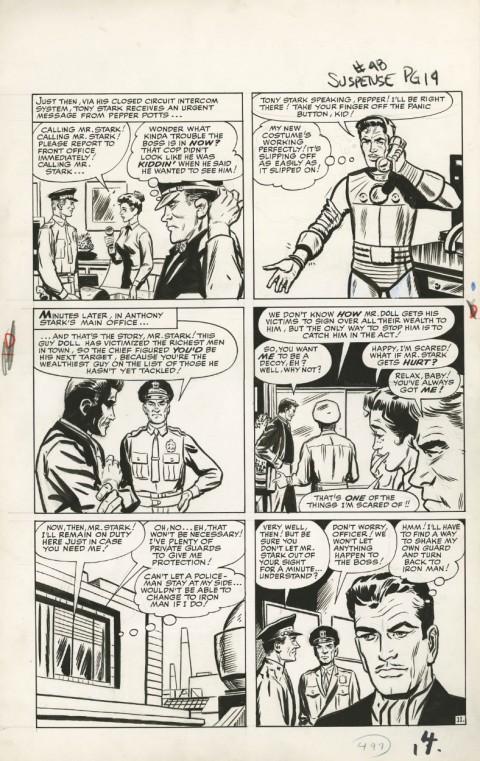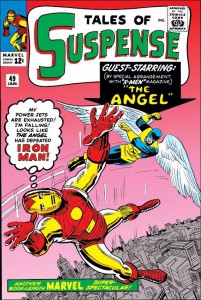 Tales of Suspense #49
January 1964
The New Iron Man meets the Angel
Cover by Jack Kirby, Steve Ditko, and Stan Goldberg. Interior art by Steve Ditko and Paul Reinman. Story by Stan Lee.
Iron meets the Angel and the rest of the X-Men in what was basically an introduction issue of the X-Men to more of the Marvel universe at the time. The X-Men had only been around about six months and two issues when this book was released. I wrote a piece for Walt in Undervalued Spotlight #209 that highlighted some of the important connections this book has in the early beginnings of the Marvel universe. As stated then the story is a bit hokey with the Angel turning "evil" after he flies too close to an atomic experiment at Stark Industries. Iron Man attempts to snap him out of it with a shock. He does at the risk of his own life and the Professor X and his X-Men are forever grateful. A back up story featuring the second appearance The Watcher (Tales of the Watcher) begins in this issue and is a nice add to the book. This was a very hot book in the pre-internet days of the early 90's and everything in the comic book world was X related. Demand has cooled a touch since then but it is still a popular and sought after book.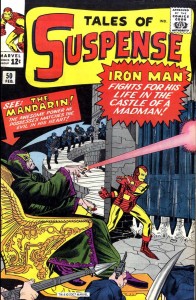 Tales of Suspense # 50
February 1964
The Hands of the Mandarin
Cover by Jack Kirby and George Roussos. Interior art by Don Heck. Story by Stan Lee
Don Heck takes over the interior art work with this issue. I am not a huge fan of Don Heck's work, and was spoiled by being raised on Gene Colan's Iron Man (started with issue #77). He's OK though.
Iron Man meets the Mandarin a character who was to become his arch nemesis for the first time. This is Iron Man's 12th appearance, and really outside of The Crimson Dynamo and the Melter he hasn't developed any kind of rogue's gallery of villains to date. The Mandarin begins to change all that. Here is a super baddie that is capable of really testing Iron Man. As it turns out he is also in communist China which fit in with the early "commie smasher" type hero they were trying to establish when Iron Man first arrived on the scene.
In this issue Iron Man is sent on a spy mission to "Red China" by the US government and in short order encounters the powerful Mandarin. They battle and Iron Man barely beats the Mandarin in hand to hand combat (and he has armour!). He completes his mission and returns to the United States. We know this only the beginning. The Mandarin becomes to Iron Man what the Red Skull is to Captain America, his mortal enemy.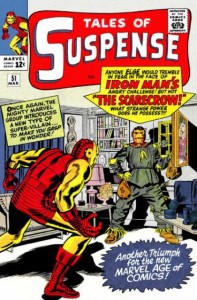 Tales of Suspense #51
March 1964
Face to face with the sinister Scarecrow
Art and story credits are the same as our previous issue.
Enter the Scarecrow. Never a good idea to make a "new" character out of superior one that is already well established at the distinguished competition. Worse, outside of the mask this guys costume looks a lot like Ray Bolger's from the Wizard of Oz. Our Scarecrow alias the Uncanny Umberto is a first class acrobat and thief but he is a second-rate villain for Iron Man. He robs Tony Starks's safe of some secret plans and goes to Cuba to sell them to the reds (who all look like Fidel Castro!). Iron Man catches up with the Scarecrow, retrieves the plans, and tosses the Scarecrow into the ocean. The Scarecrow vows to be ready for Iron Man next time. Fortunately for us there is no next time, and the Scarecrow joins Count Nefaria and his league of second-rate villains in X-Men #23. The weakest entry in this run IMO.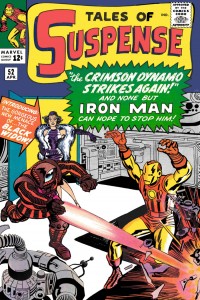 Tales of Suspense #52
April 1964
The Crimson Dynamo strikes again!
Cover art by Jack Kirby and George Roussos. Interior art by Don Heck. Story by Stan Lee and N.Korok.
Here is a book I wish I had ponied up and bought in high-grade twenty years ago. TOS#52 features of course the first appearance of the very popular Black Widow. She was an almost instant hit back then too and has total of five appearances in TOS over the next thirteen issues of this title before moving on. Marvel got it right when they cast the Black Widow as dynamite looking Russian spy.
In this issue the Black Widow (Madame Natasha) and her goon Boris are tasked with taking out Iron Man and Professor Vanko, who has been working for Stark Industries since his first encounter and defeat by Iron Man in TOS #46. They infiltrate Stark Industries and Boris steals Professor Vanko's (original Crimson Dynamo) power suit while the smitten Tony Stark is occupied by Madame Natasha. In the Crimson Dynamo suit Boris takes on Iron Man and with the Black Widows help has him on the ropes. The valiant Professor Vanko intervenes and fires and untested weapon at the Crimson Dynamo seemingly killing them both. Iron Man survives and the Black Widow escapes, fearing the penalty for her failure from her masters.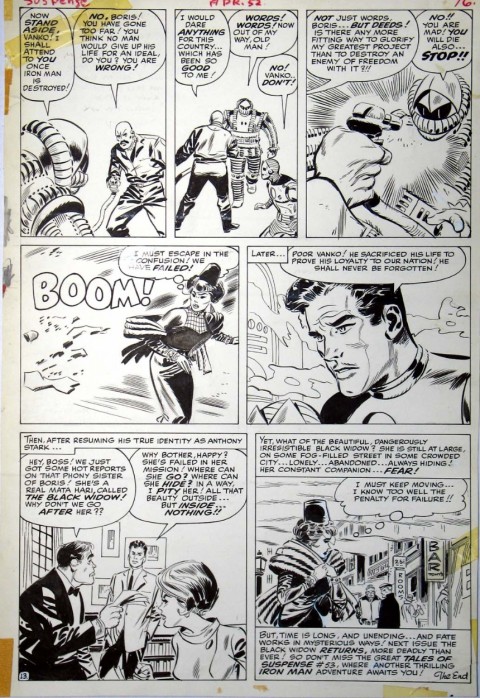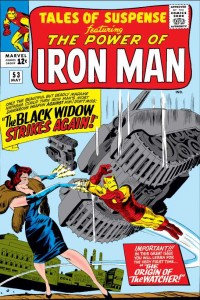 Tales of Suspense #53
May 1964
The Black Widow strikes again!
Art and story credits the same as our previous issue.
The Black Widow returns and she is trying to get back into her bosses good graces after her failure last issue. She opts for stealing a new top secret anti-gravity gun that Tony Stark has just invented. She contacts Stark and works the "damsel in distress" angle on him to perfection and steals this very powerful and unstable weapon. Iron Man gets on the case and finds a way to get it back, but the sly Black Widow escapes once more. I was shot with this anti-gravity device when it was in the hands of Doctor Octopus down at Universal studios in Florida. Origin of the Watcher also included in backup story!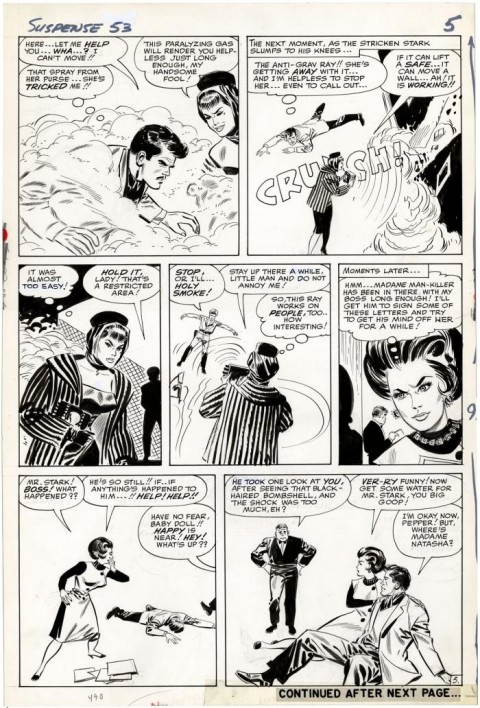 We'll get to the second half of this run next week. 44th Overstreet values for this week's books are listed below.
| | | | | |
| --- | --- | --- | --- | --- |
| | 6.0 | 8.0 | 9.0 | 9.2 |
| Tales of Suspense 48 | $183 | $488 | $1,094 | $1,700 |
| Tales of Suspense 49 | $237 | $632 | $1,416 | $2,200 |
| Tales of Suspense 50 | $150 | $384 | $867 | $1,350 |
| Tales of Suspense 51 | $87 | $209 | $467 | $725 |
| Tales of Suspense 52 | $183 | $488 | $1,094 | $1,700 |
| Tales of Suspense 53 | $90 | $216 | $483 | $750 |