We are in the month of June with the last vestiges of spring, the flowers are blooming, the bees are buzzing, and a young couple's thoughts turn to marriage and a life lived happily ever after… (insert screeching brake sound here)! Well that might have been the norm in days gone but today it's just a wee bit different. In today's Arcs & Runs we will look back at the Bronze age of Marvel romance titles and a period of time with profound changes, that have changed the way we live today and likely will forever.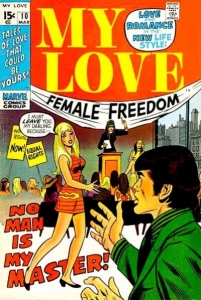 Before we get to those changes we first have to look at our two entwined comic titles. My Love and Our Love Story were two new romance titles for Marvel comics that began in the fall of 1969. My Love #1 started it off in September 1969 and was followed by Our Love Story #1 in October 1969. The two titles ran bi-monthly until the end of their runs in the spring of 1976, My Love at issue #39 and Our Love Story at issue #38. Both titles stopped running original stories at the end of their 22nd issue.
The romance genre has had a long and successful history in comics. Much like war and western comics that also shared space with the romance genre of comics, the popularity of all of these genres was rapidly fading in the late sixties. Marvel Super-Heroes which had a seven-year run (1962-1968) of enormous popularity, hit a speed bump in terms of sales and introduced our two romance titles and two new horror titles (Tower of Shadows & Chamber of Darkness) in the fall of 1969. These books featured all new material in an effort to boost comic sales. They threw the whole Marvel bullpen at all four titles and it was a real comic art feast for me at least, to see my super-hero artists tackling these other genres.
My Love and Our Love Story both benefitted from the superb artwork of two old romance artist stalwarts in John Romita Sr. and Big John Buscema. The covers of the first fifteen issues or so of both titles is really first rate. You can see a few close characterizations of Flash Thompson, Peter Parker, Mary Jane Watson, Gwen Stacey, Janet Van Dyne, and Shala-ba on the covers. Win Mortimer, Jim Steranko, Gene Colan, Jack Kirby, and many other fine artists contribute here as well.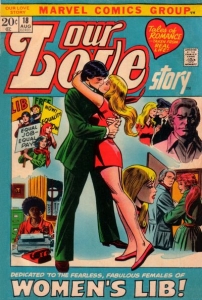 The interior pages of these books are where it always fell apart for me. I realize these books were meant for young girls and women but for me it was drivel. Stan Lee wrote most of these stories and I wondered where he came up with this stuff. To be fair he probably hadn't been on a date with anyone but his wife since the 1940's. Honestly, Spidey Super Stories directed at children did a much better job of articulating women issues and problems of the day better than our two romance titles did. They did try a couple issues on women's rights My Love #10 – No Man is my Master! Our Love Story #18 Tribute to the Women's Lib. Both stories were treated like they were passing fads, and we know now they were not.
The big and profound change in the early seventies I alluded to earlier came in the form of a little pill. The adoption of the birth control pill as an accepted form of contraception changed many women's lives. I lived my own teenage and early twenties years through the 1970's. I saw first hand the struggles that young women faced with the new life choices that were in front of them. Options they may have never dreamed of previously. Higher education, career, independence, plus they could have motherhood and family too – when they wanted one. It was very exciting and scary all at the same time. Some women embraced it, some were a little afraid and wanted things to stay the same. Religious beliefs were tested. Mothers seemed to want their daughters to have the pill to avoid an unwanted teen pregnancy. Fathers didn't want them to have it for fear of their daughters becoming promiscuous. The common way to sell Dad on the idea was the pill helped ease monthly cramps. A very interesting time.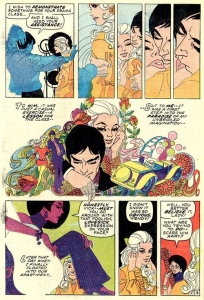 Fast forward to today. I bring out a small stack of My Love and Our Love Story comics including the two issues mentioned above to some young females in their mid-twenties. They look at the books and burst into uncontrollable laughter. I point out to the ladies their mothers went through some of this -they can't believe it. Today's women all grow up thinking like men and with all of the options. It is "normal" way of life for them now and less than two generations ago it was quite different. I for one (despite a much higher divorce rate in families), like the way it is now. Thank you for enduring my rant!
I will confess here and now I am not much of a fan of romance books beyond their covers. If you are a fan or want to know more about them I would suggest you look up the writings of comic historian Michelle Nolan. I first read Michelle's work in Comic Book Marketplace magazine years ago. Her love of romance books was infectious. She is a very informative writer and could write a column about washing dishes and make it interesting. Highly recommended.
My Love and Our Love Story comic titles have been gone for over forty years now. They still have an audience and fans though. High grade copies are still highly sought after and are pretty tough to find. I recently picked up the tough 25 center My Love #14 with the Win Mortimer Woodstock cover. It's a cool book – if you don't look too hard between the covers 😊!
Listed below is the 46th Overstreet Price guide prices for our two runs today. Happy Hunting.
| | | | |
| --- | --- | --- | --- |
| | 8.0 | 9.0 | 9.2 |
| My Love #1 | $56 | $108 | $160 |
| My Love #2-9 | $31 | $53 | $75 |
| My Love #10 | $33 | $57 | $80 |
| My Love#11-13,15-19,23 | $27 | $44 | $60 |
| My Love #14 (Giant) | $38 | $69 | $100 |
| My Love #20 | $28 | $47 | $65 |
| My Love #21,22,24-27,29-38 | $23 | $37 | $50 |
| My Love #28,39 | $25 | $40 | $55 |
| My Love Special #1 | $34 | $60 | $85 |
| Our Love Story #1 | $56 | $108 | $160 |
| Our Love Story #2-4,6-8,10,11 | $33 | $57 | $80 |
| Our Love Story #5 Steranko | $70 | $150 | $230 |
| Our Love Story #9,12 | $34 | $60 | $85 |
| Our Love Story #13 (Giant) | $37 | $66 | $95 |
| Our Love Story #14 | $33 | $57 | $80 |
| Our Love Story #15-20,27 | $25 | $40 | $55 |
| Our Love Story #21-26,28-37 | $23 | $37 | $50 |
| Our Love Story #38 | $27 | $44 | $60 |
Editor's note: check out this great interview with Jim Steranko about his only romance comic work.