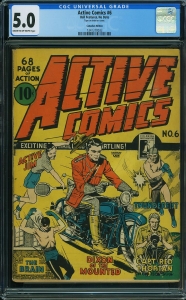 Active Comics #6, Bell Features, August/September 1942, Graded CGC 5.0 Cream to Off White pages sold for $326 on last week's big ComicLink auction.
I won this auction but I actually didn't mean to, I mean I'm glad that I won it but I didn't expect my bargain basement bid to actually win the day.
I'm not sure why this "Canadian White" did so poorly compared to the prices the "Whites" have been getting in the last year and a half worth of ComicLink auctions.
The rest of the "Whites" on this auction did not fare much better though there were only a handful of them.
Was that it? Where there too few "White's" available to draw in all the buyers?
I've heard a few people say that this spells the end of the crazy prices these comics have been getting. I personally believe this is a combination of a small blip and a bit of a much needed correction. I can point to the great Dreamer cover on the CGC 8.0 Wow #26 fetching $2,322 as an example of another strong "White" result.
I guess we'll have to see what happens on the next big offering of "Canadian Whites"
Advantage Buyer