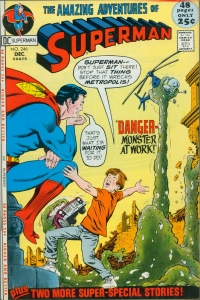 Superman #246, DC Comics, December 1971.
This guest Undervalued Spotlight comes courtesy of long time reader Sonny Zymali. Take it away!
I feel like I've got a good pick for an undervalued book that has had me scratching my head for over a year now. With the DC Extended Universe in full swing both on television and in theaters, I feel like Superman #246 is just dying to garner some big-time interest for marking the first appearance of the Scientific and Technological Advanced Research Labs better known as S.T.A.R. Labs. As of today, CGC doesn't even recognize it on it's labels as the first appearance of S.T.A.R. Labs, which is probably a big part of the problem. S.T.A.R. Labs had been sprinkled into some of the DC properties through the 90's and early 2000's, but over the past 5 years, it has become a focal point for any scientific developments in that universe. It is the epicenter for the very popular "Flash" television series and after a cameo appearance in Batman V. Superman: Dawn of Justice, it looks like it will play a role in Cyborg's origin and perhaps a bigger role moving forward. It also has a big part in the enormously successful Injustice Video Game series which is launching it's highly anticipated sequel this may.
Released in December of 1971, this is a bronze ager that deserves to stand out in a run of Superman's that deems the value of the first appearance of Terra Man more than something as important to the DC Extended Universe as S.T.A.R. Labs. It has spawned t-shirts and coffee mugs and has become kind of an inside wink for comic fans to display something they love from comics that looks like a legitimate research facility. While headquarters and bases of operations don't get a ton of love in the collecting community, I do feel that S.T.A.R. Labs has a coolness factor that cannot be denied. Outside of the Batcave, I can't think of a cooler place in either the D.C. or Marvel universes to get a hypothetical sneak peek of.
With the new Flash series doing exceptionally well for the CW (it's the CW's highest rated show in its first two seasons!) and the Justice League set to launch later this year along with Injustice 2, the time is right for Superman #246 to get some love!
The 46th Overstreet price break for this book is $60/$120/$180 in the 8.0/9.0/9.2 grade splits.
Reasons to buy this comic book as an investment.
1st appearance of S.T.A.R. Labs
A major organization in the DC television universe