First Wave #1 (DC)
Written by Brian Azzarello
Drawn by Rags Morales
I hate when promotion drops the ball on something I'm waiting for especially when it turns out it's something I end up liking.
As I duly noted last week, I love the old pulp characters, Doc Savage, The Spider, The Shadow, etc. I'm also a big fan of Batman, The Spirit and The Blackhawks. There's something about them that really resonates with me. Maybe it was the hours of my childhood, staying up late and listening to the old radio serials on a local station in Barrie.
Maybe I just have a thing for 45's.
This week started my monthly Reeces Pieces comic book in First Wave.
For those of you who have missed it, First Wave is a new version of the DC universe… I think? I'm not sure if anyone has actually stated that this will be part of the multiverse and personally I don't really care. If this universe stays separate forever, I'd be happy.
But I digress.
First Wave is a world where there is no superpowers. It's a world of adventure where the jungles haven't been fully explored yet. Where strange technologies exist. Where robots can kill and strange tribes of natives can train you to do amazing things.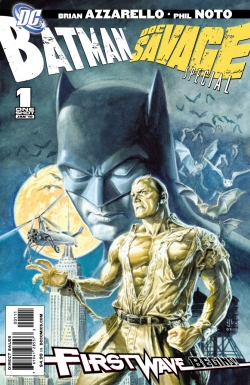 The first part of the story actually hit a while ago with a Doc Savage/Batman one shot written by First Wave mastermind Brian Azzarello and drawn by Phil Nato. Now we've moved up to the mini series that will explore this new world.
Issue one introduces us to Doc Savage, The Spirit and a little of the world they operate in. Both are trying to solve mysteries and both have their supporting casts in tow.
And that's kind of it.
This issue is a lot of set up but it's set up in a good way. I'm not bored or dropping the book, I'm really hungry for the next issue. Azzarello has the voice of Savage down perfect. I'm not quite sure about his Spirit but that may be just a case of me getting over the Darwyn Cooke version (which I loved) and it might take an issue or two to work that out of my system.
When they first announced this and then announced the Savage/Batman one-shot with Nato, I really thought DC had made a bad choice going with Morales on the main series and not Noto. Especially after reading Savage/Batman, Nato's style seemed to lend itself so much better to the 40's time period and I only really equated Morales with Identity Crisis and superhero action books which in my mind, kind of the antithesis of this series.
I am happy to report that I was wrong. Rags is doing some really great work here. He has got the characters down well, especially The Spirit. I love how he draws The Spirit, I so want pages from this book hung on my walls so I can stare up at them before I go to sleep. I'm looking forward to seeing his Blackhawks and Wildcat.
And the comic sets up so much. Giant robots, tribes in hidden places, mysterious deaths.
And the best part is we know there's more characters coming but have no idea how the fit in. Black Canary, The Avenger and Wildcat are all on their way. The series is going to feature a really eclectic group of characters that somehow seem to work even on paper.
Overall, if you like the monthly experience, put this book on your pull list. If you are thinking about waiting for the trade, I'll do an update when it ends but I have a feeling it'll be worth the trade or hardcover.
Speaking of updates:
Yup still no Image United #3. Apparently sometime in March.
Brent Chittenden is a Canadian freelance writer who also moonlights as a supernatural detective. He once caught a demon in a barn but it turned out to be an owl.  If you have need of his services you can reach him at [email protected], twitter at @BCNerdhole and his podcast Two Assholes Talking About Nerd Stuff. Feel free to become a fan of him at his Facebook group Brent Chittenden: The Writer.