Ah lovely readers, it's another week where there is a ton of stuff that I have to comment on so here we go with another Grab Bag addition of Just a Thought.
Gene Colan could use a bit of help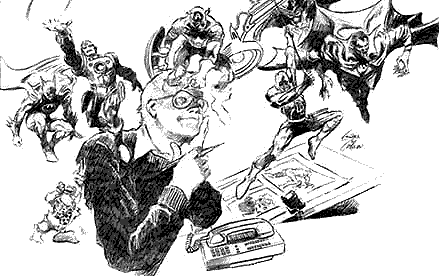 Gene Colan is one of the masters. Tomb of Dracula is one of those books that up and coming artists should be handed before drawing anything horror related. Due to his eye sight it takes him a while to finish a piece but when he does…wow. Unfortunately Gene suffered an injury not too long ago where his shoulder was broken. Unlike us Canadians, he doesn't have a public health care system to help him out. Not only that, broken shoulder means no drawing for Gene which means no income for what's estimated to be three months. But if you have a couple of bucks to spare you can help out and maybe score yourself so cool stuff.
For auction info go to
http://genecolan.blogspot.com/
And for updates on Gene's health
http://www.thecliffordmethod.blogspot.com/
Image United…not so much
So according to Rob Liefeld, Image United is a disappointment (due to shipping), Erik Larsen concurs but says when it's all out, everyone will forget about the lateness and the story will standout. The lateness doesn't surprise me. The statement from Larsen doesn't surprise me. What does surprise me is public distention in the ranks. Originally when this whole thing was coming out it was very much an all for one attitude and now we're just one step away from name calling.
Capcom vs Marvel 3



Marvel VS Capcom 3 Captivate 2010 Trailer
Uploaded by FrenchGamers. – Discover more gaming videos.
This might not mean much to some people but a lot of gamers perked up and took notice with this announcement. The first two Capcom vs Marvel games are often noted as two of the best fighting games of the past generation. The difference this time is when the last two games came out, Marvel was more of a minor player. All you have to do is look at the characters in the previous games, Blackheart is a character for pete's sake. Now Marvel is a bigger player and there's a chance we'll get a line up of premium characters for this version. Yes I'm a nerd.
DC…what are you doing?
My problems with DC's trade program are very well known at this point but the more I read about DC's publishing ideas the more I have to question what the hell they are thinking. Anyone else notice that DC has no digital delivery system of any sort? Yes I know that Marvel's shiny new Ipad app isn't perfect but at least they have something, even before that Marvel had a really crappy online subscription service. IDW has a decent delivery system and they're realistically half the size of DC.
Nemesis on hold?
On hold indefinitely? Late for a few months? Conflicting reports about how much damage a kidney stone and a bad back has done to Steve McNiven's schedule but I'll be honest, as someone with knowledge on the kidney stone front, can't blame him. But an official word from Marvel might be nice.
Casanova puts the moves on Icon
Matt Fraction's creator owned book has moved to Marvel's Icon imprint. Interesting move but not unexpected on either end. Matt Fraction is one of Marvel's solid writers, you could trust the guy with pretty much any character and he'd make a solid book out of it. Icon tends to be a little bit of a reward system for Marvel; if you do good by them, they do good by you. And I tend to agree.
Brent Chittenden is a Canadian freelance writer who also happens to write humorous things for Bite TV's blog. If you have need of his services you can reach him at [email protected], twitter at @BCNerdhole and his podcast Two Assholes Talking About Nerd Stuff. Feel free to become a fan of him at his Facebook group Brent Chittenden: The Writer.