Welcome back loyal readers, I hope my adventures were enough to keep you satisfied until my regular column returned this week.  This week we're going to do a grab bag and a few reviews.  I guess we should start at some sad news first.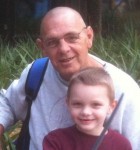 It seems the story of Steve Perry is ending rather horribly. For those of you who haven't been following the story, Steve Perry was a comic book writer most known for his work on the 80's cartoons Thundercats and Silverhawks. He was recently helped out with aid from the Hero Initiative and even did a video about how the charity had been of great support to him.  Then in May he disappeared.  When his house was found ransacked  and his van found at a motel (with signs pointing to an incredibly grisly crime), Steve was listed as missing.  This has now changed as police in Florida are now referring to Perry as a homicide.  It's sad when a guy seems to be on an upswing like that has something this horrible befall him, not to mention his family. The best resource for new information links is his friend Stephen Bissette's website which you can find at http://srbissette.com/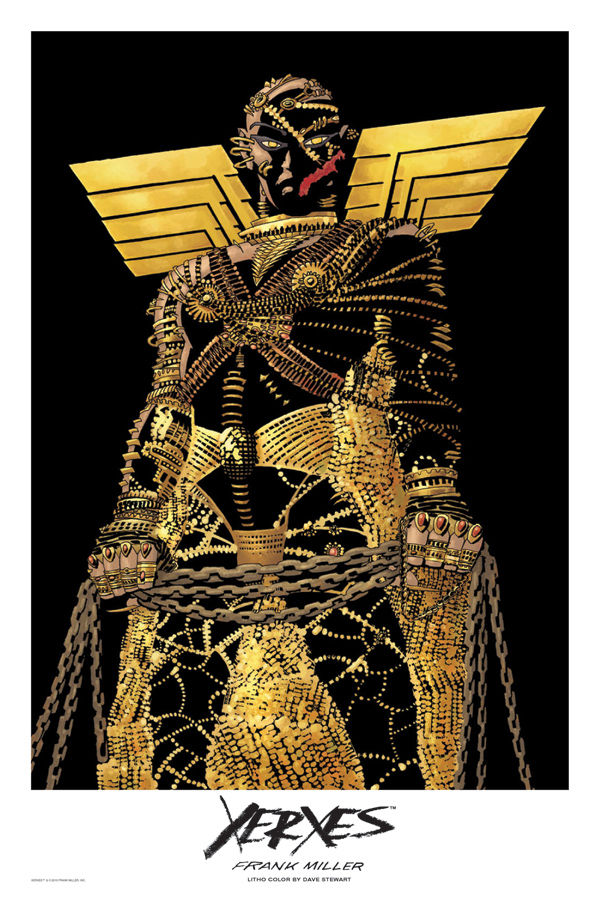 Frank Miller's Xerxes is slowly becoming a reality as we see a lithograph in October. No word on when the actual book will see the light of day but the lithograph does make a few interesting points.  One, it looks like Frank is dialing back his style to how it was for 300 which is a good thing. Over the years, Miller's style has gotten a little too cartoony for my tastes, this might be a step back in the right direction.  The second thing to note is that colorist Dave Stewart did the lithograph.  Does this mean Dave is taking over the reigns of Lynn Varley's paints?
Seeing this brought up something I hadn't thought about in a while.  What ever happened to Miller's Jesus comic book?  Or Batman vs Terrorists (or whatever that book became)?
In a side note, June brings us the next hardcover Swamp Thing reprint from Alan Moore's run.  Anyone know if they plan to continue it after that run is completed? I'd love to see Rick Vietch's run finally get a quality reprint…and maybe (God Willing) get to see his "lost" Swamp Thing story. Come on DC, you've got plenty of lead in time to get these pieces all together, it'll be worth it.
Review One
GI Joe Hearts and Minds #1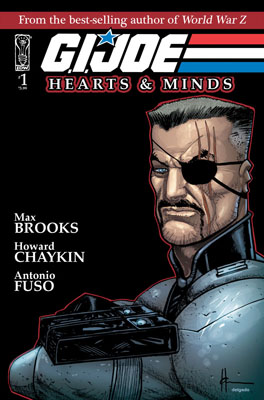 As you may recall, I got a chance to sit down with writer Max Brooks a little while back and talk about Hearts and Minds with him.  It was obvious he loved the property a lot and that he really felt he did it justice.
And I'm happy to report that he did a great job.  To recap, the premises is pretty simple. Half of each issue is about a Cobra, the other half about a Joe and we get a brief glimpse into what makes them tick. Issue one features Major Bludd and Spirit with Howard Chaykin on art for Bludd and Antonio Fuso handles Spirit. The stories are to the point and incredibly well written for a comic book newcomer. Brooks seems to have tapped into the souls of these characters and written about them in such a way that if you aren't a GI Joe fan, you can follow it, if you are a fan, you'll love it. Chaykin's art is really good and to be honest, it's the best he's looked in a while. I'm not really familiar with Fuso's work but I'm now ready to see more.  My only confusion with the art is which universe this is supposed to occur in.  I haven't been following any of IDW's GI Joe series so where does this fit in? The story can fit anywhere but I'm wondering if they're planning on this for a specific line.
Review Two
Secret Avengers #1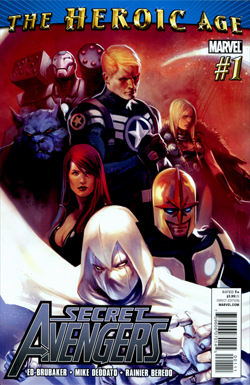 Now you all know how I'm very reserved when it comes to adding a new floppy to my buy pile.  Especially if it's an on-going.  Ed Brubraker and Mike Deodato may have added another one.  I have not been following much of the mainstream Marvel universe but Pete DeCourcy (knowing of my love of all books Brubaker) said I should check out Secret Avengers.  This book is solid. Brubaker's writing is…well it's Brubaker, what's not to like? Deodato's pencils fit really well so far, I really love his take on Moon Knight.  Not a lot happens in the first issue other then set up but it's done so well I'm looking forward to seeing what happens next. I love how they are mixing Steranko style SHIELD with Kirby space awesomeness. The question is, do I buy the floppy or wait for the trade?  This will keep me up for the month until issue two hits stands.
Brent Chittenden is a Canadian freelance writer who also happens to write humorous things for Bite TV's blog. If you have need of his services you can reach him at [email protected], twitter at @BCNerdhole and his podcast Two Assholes Talking About Nerd Stuff. Feel free to become a fan of him at his Facebook group Brent Chittenden: The Writer.