I've decided to take a break this week from my recent interview series so I could say a very big happy 75th anniversary to Batman….wait, is it anniversary or birthday? Either way, he doesn't look a day over 30, must be all the exercise and money. Being a billionaire does have it's privileges.
Batman first appeared in Detective Comics #27 on March 30, 1939 through the art of Bob Kane and the words of Bill Finger. It is one of the most pricey comic books in existence, with the highest graded copy selling for $1,075,00 in 2010. Less than a hand full of comics have been able to sell past the million dollar mark, proving just how important and iconic this Dark Knight is to the comic book world.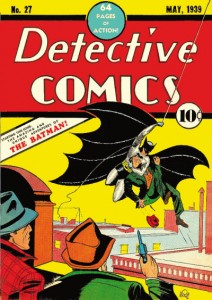 From there Batman has steamed multiple comics, a live-action TV series, many animated TV series and movies, and continuing blockbuster Hollywood movies. The first movie of the newest trilogy raised $533.3 million domestically and $468.6 million overseas. And, lets not forget the video games. Batman: Arkham Knight, which will be scheduled to release soon, is the 7th in the Batman: Arkham game series.
In celebration of Batman's 75th, Warner Brothers Entertainment and DC Entertainment revealed plans for, "a year-long celebration befitting the world's most popular Super Hero," stated DC Entertainment's press release. These plans include the below commemorative 75th anniversary Batman logo, an art exhibit called "Cape/Cowl/Create" which will feature contemporary interpretations of Batman's famous "cowl" headpiece.
They recently released Batman '66, a comic inspired by the 60's TV series. So, if you were a fan of the cheesey Adam West show you will love this book with art by Jonathan Case and written by Jeff Parker. And, they will be releasing a Batman '66 TV series as well. They also released special edition #27 Detective Comics. Oh, and they don't stop there, they are also partnering with thousands of libraries and comic book retailers to have July 23rd be Batman Day, where they will offer a free special edition Batman comic. They continued to announce that there will be two Batman animated shorts that should be coming out in April and a new one-hour drama for FOX called "Gotham", "which explores the origin stories of eventual police commissioner James Gordon and the villains that made Gotham City famous."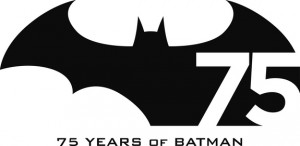 Some local (well, if you are in the Toronto area) promotions include Francis Manapul, the new writer and artist for the New DC 52 Detective Comic, signing in comic book stores around Toronto. This includes two signings yesterday at Paradise Comics, Silver Snail and Stadium Comics, and The Comic Book Lounge on April 5th.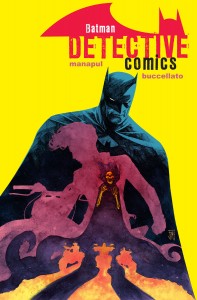 Last but not least, there is the sure to be blockbuster, Superman/Batman movie planned to be released for the summer 2016.
If you are a Batman fan you are sure to get your fill of the Dark Knight this year. Make sure you keep track of all the amazing releases DC has lined up because they are going to milk this anniversary like a pregnant cow. But, make sure as a fan you benefit from it!
Happy Anniversary you handsome bastard!