Being a passionate fan of comics, it is only natural to dream and hope that one day you could possibly work in/with them.
Well, I might not work in comics, but I do live in a city that allows me to meet and be friends with people who are. My next couple of articles will be a series of interviews with people who work in the comic industry focusing on how they got into the positions they are in today. These people include artists, writers, retailers, editors etc.
Previously in the series: Marcus To, Ramon Perez and Cary Nord.
Sadly, this interview wasn't able to happen in person, as Patrick is on the other side of the country in Dark Horse's home town of Portland, Oregon. Instead, we had a little internet back and forth to find out how Thorpe got his position with Dark Horse Comics as an Associate Editor.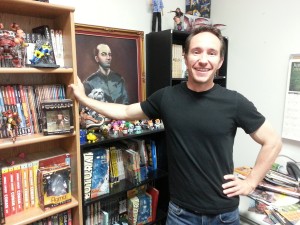 Patrick is known for working on such projects as The Legend of Zelda: Hyrule Historia, Battlepug, and Perry Bible Fellowship, which are just a few in the long list of books he has been a part of.
Patrick is currently working on a couple projects right now, " I've got a ton of projects in the works right now. The design proofs for Gail Simone and Jim Calafiore's Leaving Megalopolis are sitting on my desk. Mike Norton's Battlepug Volume Three is taking shape. I just read Duane Swierczynski's script for X #17, got some colors in for Sergio Aragones' Groo versus Conan #2, had a marketing meeting for Donny Cates' new book Ghost Fleet, and submitted two stories to the licensor for Robert E. Howard's Savage Sword this morning," Thorpe continues, "The second volume of Dream Thief kicks off in June and I've got the Art of Venture Bros. deep into development. I think, right now, I've got about nineteen books in various stages of production–some announced, some that I can't yet talk about yet!"
Unlike artists or writers who have a couple projects on the go at once, it always amazes me when I speak with editors and find out how many things they really have on the go. If you want to see a full list of Patrick's work check out this link: http://www.comicbookdb.com/creator.php?ID=19473
After the long list Patrick gave me I wondered what projects he was most proud of and why, so I asked!
"Oh, goodness. That's a really difficult question. Every project that comes across my desk gets a little piece of me poured into it. If I had to pin down the project I'm most proud of, though, it would have to be the localization of The Legend of Zelda: Hyrule Historia. That book demolished the social lives of about 15 people for a little more than half a year. We wanted every aspect of that book to be perfect. Everybody was working between 10 to 14 hours a day and on weekends to get that book out the door and we were still working on the book hours before the files had to be formatted to be sent to the printer. It was worth it though, for all of us," Patrick explained. I had to know what made it so rewarding, " They threw a release party for that book at Nintendo World in New York in the middle of January. It was freezing, but there was a line of people around the block, lots of them dressed as their favorite Legend of Zelda character. I can't begin to explain how rewarding it was to deliver that book to the fans. It was a labor of love and I'm so glad fans responded so positively to it."
I remember talking to Patrick in person about this project, how giddy it made him, I was so happy to see him include it in the interview, he even decided to give us a little fun fact about the book" "Fun fact: there were two misspellings and a swapped image in the first nine printings of Zelda. They were nothing that most people would notice, and not much for a book of that size, but I can't even tell you how hard it is for an editor to let that stuff go!"
With all these works under his belt I had to ask what Patrick wanted to do in the future. "Where do I want to go in the future? Mars. Seriously. I want to be the first mountaineer to summit Olympus Mons. That aside, it's difficult for me to answer this question because the projects I'm hoping to work on are in discussions right now. I have some things in the works right now that people are going to lose their minds over, but, due to the nature of the business, I probably won't be able to talk about for another year or maybe two!" Thorpe said, "More generally, I love working on all kinds of comics, but I think creator-owned projects are my favorite. There is always a purity of vision in those comics, and I love helping get those out to the world."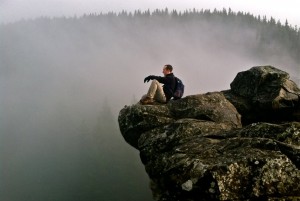 Knowing where he has been and where he wants to go in his job I asked the question this whole series is about, how! How did Patrick get the job he has today.  " I had always wanted to teach comic books as literature at the university level and I geared my studies toward that. I was down at Arizona State getting my Master's degree in English Literature with an eye toward getting a job in academia, but as I got further and further into my studies, it became apparent that there were hardly any universities that had programs in sequential images as literature and all of those positions were taken. With my teaching dream shattered, I had to figure out what I wanted to do."
Patrick explained further, " I started looking at practical shifts of focus: marketing jobs, advertising, etc. Jobs that I was equipped for with my skill set. I took the LSAT and applied to a bunch of law schools. At some point I realized that none of those things were going to make me happy, so I made the decision to move to either Portland or New York to try and get into comics as an editor. I sold my car, moved to Portland and applied for three different jobs at Dark Horse. About a week before I ran out of money and was going to have to move back into my parents' house, I got a call for an interview with the PR department at Dark Horse. I worked under the wonderful Anita Nelson and Jeremy Atkins for three months and moved laterally over into Editorial. I've been here for six and a half years now."
During his studies his love of comics which lead to his idea about working for Dark Horse came from a retail job he has at Atomic Comics in Phoenix. "It allowed me to meet a lot of comic book professionals that I still work with to this day! I met Tony Parker, one of my go-to artists and favorite people, at a signing at Atomic. It also solidified my love of the medium."
Bonus Question Time: "What are some jobs you had before getting into comics?"
"I was a security guard for a while. It helped me make money on the side during college, and oftentimes, if it was an overnight gig, I could study while working. I would do security for private parties and magic-trick conventions and things. Sometimes the parties were themed, so I'd have to wear a safari costume while checking people's badges and whatnot. It wasn't often the most dignified position, but I met some really awesome people doing that and I enjoyed it quite a bit."