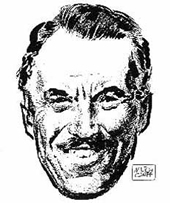 Comic-Con International announced via press release today this year's nominees for the Russ Manning Promising Newcomer Award. Presented to a comics artist "who, early in his or her career, shows a superior knowledge and ability in the art of creating comics," the award is named for Russ Manning, the artist known for his work on the Tarzan and Star Wars newspaper strips, and the Magnus, Robot Fighter comic book.
The 2010 nominees are:
The nominees were selected by a committee consisting of representatives of the West Coast Comics Club and Comic-Con International. The winner will be chosen by past Manning award winners and Russ Manning assistants.
Previous winners of the award include Dave Stevens, Jan Duursema, Steve Rude, Scott McCloud, Art Adams, Eric Shanower, Dan Brereton, Jeff Smith, Gene Ha, Alexander Maleev, Goran Sudzuka, Eric Wight, R. Kikuo Johnson, David Petersen, Cathy Malkasian and Eleanor Davis.
The recipient will be announced during the Eisner Awards ceremony on July 23 at Comic-Con International in San Diego.
If you haven't had a chance to check out any of these amazing artists, click on there names and visit their websites. I'd highly recommend picking up Stuff of Legends as it's probably one of the best and most visually arresting books I've come across in a very long time.
Past winners of the Manning Award include:
Dave Stevens (1982), Jan Duursema (1983), Steve Rude (1984), Scott McCloud (1985), Art Adams (1986), Eric Shanower (1987), Kevin Maguire (1988), Richard Piers Raynor (1989), Dan Brereton (1990), Daerick Gross (1991), Mike Okamoto (1992), Jeff Smith (1993), Gene Ha (1994), Edvin Biukovic (1995), Alexander Maleev (1996), Walt Holcomb (1997), Matt Vander Pool (1998), Jay Anceleto (1999), Alan Bunce (2000), Goran Sudzuka (2001), Tan Eng Huat (2002), Jerome Opena (2003), Eric Wight (2004), Chris Bailey (2005), R. Kikuo Johnson (2006), David Peterson (2007), Cathy Malkasian (2008), Eleanor Davis (2009).