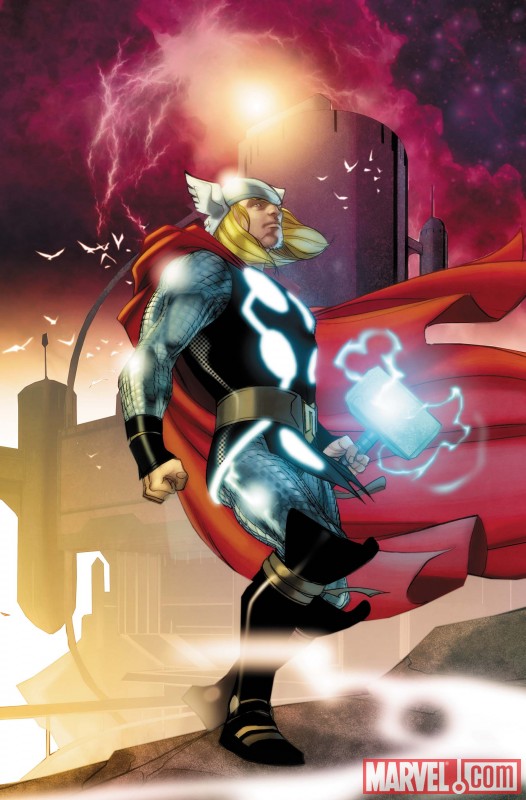 This September, superstars Matt Fraction, Pasqual Ferry and Matt Hollingsworth take the reins of Thor and begin a thunderous new direction! In Thor #615, following the stunning events of Kieron Gillen's acclaimed Thor epic, the ruins of Asgard are now a target and a dark, destructive force from another dimension is on its way to ravage all nine realms—including Earth. Only the mighty Thor can stand in their way, but, when the dust clears, nothing will ever be the same for the Marvel Universe!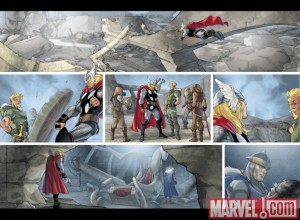 "I can't WAIT to unleash our Thor on you unsuspecting humans," said Fraction. "Things were intimidating enough when Pasqual, Matt, and I had to follow up JMS and Olivier– that we've got to take up arms after Kieron and company's stellar stand makes it all the moreso. All we can promise you is that Thor will overflow with colossal and cosmic action, giant space gods smashing each other in the faces with hammers, and all of the earth trembling in the balance. In short: everything that has made Thor great."
The perfect jumping-on point for new readers, a bold new era for Thor begins under Fraction, Ferry and Hollingsworth in Thor #615!
For people who want to see some early preliminary Thor designs by Mr. Ferry check out this post aptly named: Fraction and Ferry's Thor looks awesome! (Hey, headlines are for poets, not film school drop outs, okay?)
Here's the official solicit:
THOR #615
Written by MATT FRACTION
Art & Cover by PASQUAL FERRY
Rated T+ …$3.99
ON-SALE IN SEPTEMBER
try to contain yourself.
Okay, okay.. here's the original solicit:
THOR #611
Written by MATT FRACTION
Pencils & Cover by PASQUAL FERRY
All new creative team! The perfect jumping-on point! A bold new era for THOR begins under writer Matt Fraction and artist Pasqual Ferry! In the wake of SIEGE, Asgard must take its proper place as the Golden Realm, most glorious of the nine worlds of myth. But that means Thor's home isn't just a beacon…it's a target! And what happens to the Asgardians and the denizens of all nine worlds — including Earth! — when a dark, destructive force from another reality comes on the warpath?
32 PGS./Rated T+ …$3.99