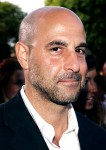 Marvel Studios has cast Stanley Tucci as Dr. Abraham Erskine in "Captain America: The First Avenger" opposite Chris Evans, Sebastian Stan, Hugo Weaving, and Hayley Atwell.
In the early Marvel comics, the Erskine character was a German scientist behind the secret experiment that created Captain America. The film will center on the Steve Rogers character — portrayed by Evans — volunteering to participate in an experimental program that turns him into Captain America.
Joe Johnston will direct the film from the script by Christopher Markus & Stephen McFeely. Marvel Studios' Kevin Feige will produce and Alan Fine, Stan Lee, David Maisel and Louis D'Esposito will exec produce. The film will be released in the United States on July 22, 2011 and distributed by Paramount Pictures.
News emerged last week that Neal McDonough was negotiating to join the cast of "Captain America" as "Dum Dum" Dugan. It really feels like they're getting all the best character actors to play important minor roles in this film. Be excited.
Here's Ed Brubaker's take on the good doctor from Captain America Reborn.