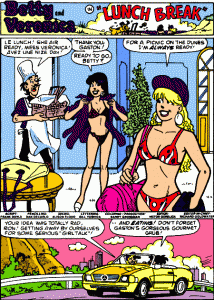 Usually when I think of technology and cutting edge Archie Andrews isn't really the face I think of. I think of Archie driving a jalopy and a making dated references to stuff that was dated even back in the 90s. I mean, this isn't a jab – these are the things that make the Archie comics great! I mean, you can count on eventually bringing up some random fad four years later. (Seriously, I think I saw one a while back wherein Archie and the gang were trying to investigate why Jughead had gone 'emo.')
But in terms of technology, Archie has been embraced whole hardedly, because as of September 1st, Archie Comics "Freshman Year #1" is the most downloaded comic in iTunes History!
So congrats the red-headed lothario! Good choice on Veronica by the way. She is going to age well.

Here's the press-release:
ARCHIE COMICS THE #1 MOST DOWNLOADED COMIC ON iTUNES
As of September 1st, Archie Comics "Freshman Year #1" is the most downloaded comic in iTunes History! Jon Goldwater, co-CEO of Archie Comics said, "As the Digital medium expands to include more forms of entertainment; we want Archie Comics to be at the forefront of new media. We are delighted to find our fans are already there and waiting for us. We announced the Archie Digital Comic for iTunes in May and in less than four months our first offering Archie Freshman Year #1, has become the most downloaded comic on iTunes. It is incredible!"
iVerse CEO Michael Murphy stated "Archie Comics have succeeded beyond our wildest expectations. Archie: Freshman Year #1 has been downloaded more than any other comic on the iPhone.  We're very excited that iPhone owners love Archie as much as we do."
Archie Freshman Year tells the origin story of Archie Andrews and his friends as they enter their freshman year at Riverdale High School. The story begins with Archie, Betty, Veronica and the gang wondering just what that first year will be like. 
According to Victor Gorelick, co-President and Editor-in-Chief of Archie Comics, "Archie Comics have always been about the High School experience. These days most High School students have iPhones or the iPod Touch, and that makes iTunes one of the fastest and easiest ways for our fans to get Archie Comics. We are excited by the rapid success with iTunes and will be producing new comics exclusively for iTunes in the near future."
In addition to Archie Freshman Year, Young Salem, Sabrina; Manga and the Betty and Veronica Prom Showdown have had huge success on iTunes.
The Archie Comics line of comic books is one of the most successful, longest running brands in the history of the comic industry. Archie Comics have sold 1.5 Billion comics and are published in a dozen different foreign languages and distributed all over the world. Archie Comics has spawned characters whose popularity has spilled over into other media and who have become part of popular culture. SABRINA THE TEENAGE WITCH and JOSIE AND THE PUSSYCATS are just some of the many legendary franchises that are part of the Archie Comics Library.
Visit the Archie Digital Comics Store at www.archiedigital.com