Points of interest from the comics interweb; I sort the chaff so you get the wheat.
Batman is getting a backup feature by the American Vampire creative team of Scott Snyder and Rafael Albuquerque.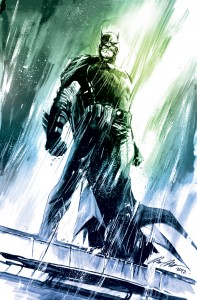 These back-up stories with continue to reveal more about the Court's sinister agenda as we move toward "The Night of The Owls" – a massive crossover event coming in May, which will span the Bat-books and reveal the full breadth of their master plan. With their claws sunk into Gotham history, the Owls represent a threat unlike anything Batman's faced before, threatening to tip the city's balance of power once and for all.
John Jackson Miller provides a look at December 2011 sales, including a decline in trade paperback volumes.
Trades finished off only 5.01% in dollar terms — and that made the difference. We can sort of see what happened by looking at trade paperback units, which were off by a wider margin, 11.64% for the year; we recall that 2010 was dominated by sales of Walking Dead and Scott Pilgrim, books priced lower on average than other trade paperbacks.
David Brothers provides a nice rundown of Brubaker and Phillips comics team-up.
At first glance you might think that Incognito was a knock-off of Sleeper, or that these two creators went back to the well again, but you'd be wrong. Although they're both prone to brooding and making bad decisions, and Incognito mines the subject material of not just cape comics but also pulp novels for inspiration, Zack is far from Holden. The two volumes of Incognitoare, if anything, probably the meanest books Brubaker and Phillips have done together. People die ugly and no one gets a happy ending, as near as I can tell.