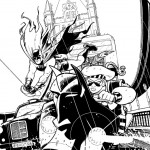 One of CBD's favourite artists' Cameron Stewart has finally let slip the secret project that he hinted at back at our interview at Fan Expo.
His twitter this morning read: So that secret project I've been teasing about? It's BATMAN AND ROBIN. With a link that lead back DC's The Source website that announced the news.
This is amazing news for fans of the Batman and Robin (Which is, for my money, the best superhero comic on the stands right now) as Stewart is one of the most versitile and exciting talents working in Comics right now. This will be the fourth collaboration between Stewart and writer Grant Morrison, who previously worked together on Seven Soldiers: Manhattan Guardian, Seaguy and Seaguy: Slaves of Mickey Eye.
Cameron will follow artist Phillip Tan who's following Frank Quitely. Artist Frazier Irving has also been rumoured to be doing a storyline as well.
Expect more updates as soon as I've caught my breath from running around the store screaming!