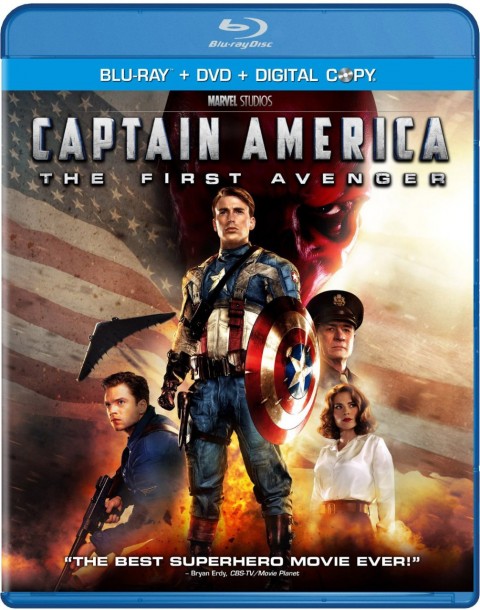 Captain America: The First Avenger comes to Blu-Ray (and DVD) this Tuesday (Oct 25th).
In case you don't know the story, Steve Rogers is just a regular kid from Brooklyn.  He is small (and sickly) and he just wants to serve his country in World War II.  He is enrolled in America's Super Soldier program and thanks to a secret serum he becomes Captain America.  In Germany, Red Skull is plotting world domination with the aid of an ancient powerful artifact.  Can Captain America save the day?  Will the evil Red Skull be stopped?
Captain America: The First Avenger was this summers other Avengers lead-up movie (the first being Thor).  It's worldwide box office total was $365,736,567 (source Box Office Mojo).  Which is surprising because Thor made $448,000,000 (worldwide) making Thor this year's big Marvel movie.
I love Captain America: The First Avenger.  I saw it 3 times in theatre this summer (2 times 2D, 1 time 3D, if you're keeping score).  It is one of my favourite Super Hero movies.  I wasnt' sure about Chris Evans being cast as Cap.  Don't get me wrong, I really like Chris Evans as an actor.  Especially his extensive Super Hero movie work.  But most of his characters are smart-asses and mouthy.  If you look at his Super Hero/Comic Book movie offerings he's been Johnny Storm, Lucas Lee (Scott Pilgrim), Jensen (The Losers), and Casey Jones (TMNT).  All of these characters have a mouth and aren't really taken seriously.  But after seeing him as Cap he played the role perfectly.  He was strong when he had to be, but was still vulnerable as well.
The writing was superb.  There was the right mix of drama, action and comedy.  My favourite line in the whole movie is when Tommy Lee Jones is asked what is in the steak and he replies "Cow!" (I use that line with my kids all the time now).
Captain America was directed by Joe Johnston.  If you are not familiar with him, he directed one of the best comic book movies ever, The Rocketeer.  Some of his other pictures include The Wolfman, October Sky, Hildago and Jurassic Park III.  By looking at his projects you can tell he has directed many period films.  Captain America has that "old" feel to it and if you watched it in Black and White you may even think it was a film from the 40's.
Buy It, Borrow It, Bargain Bin It!
My recommendation on this one is a definite BUY IT.  This is one of the best Super Hero movies ever.  This movie is an instant classic and can be re-watched many times.  Marvel is firing on all cylinders right now and every picture they are turning out is great.  Hopefully the rest of the Marvel properties will return to Marvel so they can produce new films to the calibre of Captain America, Thor and Iron Man.
What did you think of Captain America: The First Avenger?  Let us know in the comments below.