This past weekend was New York Comic Con.  This would be an event I would love to go to someday (San Diego being the other convention I'd love to go to).  Since I wasn't there, and away from my computer all weekend, I spent the beginning of this week checking out the interwebs for the news from the show.  There was lots of news to sift through, but a few stood out and caught my eye.  Here's what made me stand up and take notice.
General Mills and DC Comics Join Forces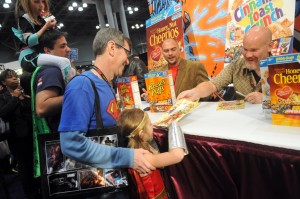 It was announced on the DC blog that DC Comics and General Mills have joined forces to promote literacy among children.  Here is what it said on the blog "Big G (General Mills) and DC Entertainment have joined forces to create comic books featuring DC Comics' Super Heroes available exclusively inside specially marked Big G cereal boxes.   With the "Justice League" Super Heroes and their epic stories, Big G and DC Comics combined powers in their dedicated efforts to promote reading among children."
This is a great idea and I fully support this one.  Literacy for children is a very important issue for me.  My kids are very good readers and they love comic books.  Not only does this new deal help promote reading, but it also gets kids interested in DC comics and Super Heroes.  Hopefully this will lead to more sales at your local comic book shop.  It hasn't been announced yet if this offer will be available in Canada.  You can check out the Big G/DC website for details on the comic.
The real interesting thing about these new comics is they are using the "classic" costume design for the DC heroes. With the DC relaunch, many of our favourite characters have a new look (especially Superman). This would've been a great opportunity to use the new costume designs and have kids recognize and embrace this design. But they chose to use the classic look. Most merchandising for DC still uses the classic look. Is this done for the kids or the parents? Or are they just trying to keep the classic look alive?
When I was a kid I remember DC comics being available as a cereal box premium.  I can't remember the exact cereal, but I do remember getting a Wonder Woman comic where she fought a minotaur and I also had a Superman comic.  It worked for sales on cereal.  When I would go to the cereal aisle, the ones with the DC comics would be the first box I grabbed.  Reading the comics also had an influence on me as well… or you wouldn't be reading this right now.
Deadpool is Dead?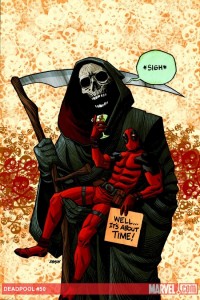 Deadpool #50 is coming out in February and Marvel is going to kill Deadpool.
What???
Here is a snippet from the blog about Deadpool's death. "Because of his healing factor, death—real, permanent death—is one of those  impossible things. Actually, to him, it's the impossible thing, the crown jewel."
Daniel Way says in the article that the groundwork has been laid for this story arc, and issue #50 will be a milestone issued commemorated with the death of Deadpool.
All I can think is why?
First off I am not a regular reader of Deadpool, and I know Deadpool has some hardcore fans, but does Deadpool need something sensational (like his death) to commemorate #50?  I thought the readership was strong enough on Deadpool that this trick didn't need to be played.  Is it just a quick death with an even quicker resurrection, and with issue #51 everything will back to normal?
Or is the death of Deadpool a natural progression to his story.  There is no doubt he will come back (they all do).
I guess we'll see what happens in February.  I imagine the way Deadpool is set up, the story will be a spoof of a classic Super Hero death scene (Captain America's death comes to mind).
Hulk Smash Avengers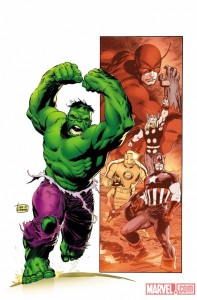 February will see the release of a new limeted series Hulk Smash Avengers.  The series will feature some of Hulk's run-ins with Earth's Mightiest Heroes  from 1963 to the present day.  The series is 5 issues and will feature some of Marvel's greatest creators – Tom DeFalco, Ron Frenz and Sal Buscema.
Each issue will take place during one of the Hulk's key periods with the Avengers.  The story will be featured during that time period as well.
This idea has a "Retro-Active" feel to it.  I am a fan of the DC Retro-Active series that came out in the summer of 2011.  I really support the idea of original creators coming back to frame a new story within the story they created originally.
I am looking forward to catching this limited series.  We'll see lots of  Avengers books coming out in early 2012 with the release of the Avengers movie.
G.I. Joe 7 Pack (BBTS Exclusive)
Of course you know I'm going to keep an eye out for toy stuff.  Hasbro had the new G.I. Joe 7 packs on display at NYCC.  I saw some pictures posted on a couple of the forums and I am excited for this set.
Over the last couple years Hasbro has released different G.I. Joe 7 packs.  Previous ones were the Extreme Conditions Set (arctic and desert) and the Assault on Cobra Island (Defence Set = Cobra, Attack Set = G.I. Joe).  This winter will see the release of the Slaughter's Marauders (minus Sgt. Slaughter) 7 Pack and their enemy The Dreaknoks (missing Zaranna who was released at SDCC this year, and Zartan).
This is a great opportunity to grab 14 updated figures.  With the new sculpting and articulation they are a must for my collection.  There is only one problem.  It is an exclusive to Big Bad Toy Store.  I would prefer to support my local action figure suppliers, and hopefully they are able to order them.  I know that I will have to pay a premium price for the sets that way.  But there are several Toy Shows coming up in 2012 and I hope I will be able to grab these sets then.