I visited with Kill Shakespeare creators Conor McCreery, Anthony Del Col and Andy Belanger early last week as they held an hour long discussion at The Central in Toronto. They all looked fairly tired.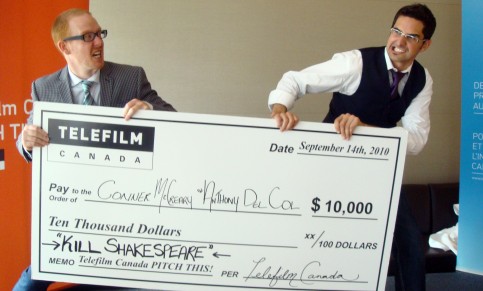 The previous night they had held a launch party for the first collected volume of their critically acclaimed series, Kill Shakespeare. By the time this night was over, they had talked with about two dozen people about their series, some of which were fans and others that were potential converts; following their talk they spent another hour signing autographs and talking to fans on the second floor of The Beguiling comic book store.
Yet despite the fatigue, there Anthony and Andy were again Sunday afternoon at the Toronto Comic Con promoting their book and connecting with fans.
"The first 10 or 15 minutes when I walk into one of these, I already feel tired," said Anthony Del Col, series co-creator and co-writer. "But as soon as that first person comes by the table or comes by the booth and you start talking about Kill Shakespeare which is what we love and what we're really passionate about, all of a sudden I get that second kick. That really energizes me and gets me through the next few hours."
They never really tire of attending conventions and just love being able to talk to people and get them excited about Kill Shakespeare, said Del Col.
"It's a great way to reach out to fans and be able to talk to people about what we're doing," he said.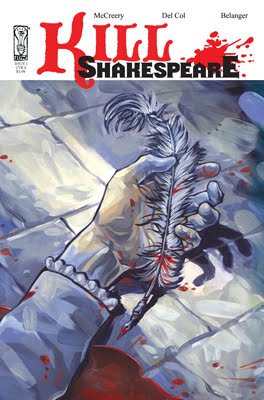 The series' artist, Andy Belanger, agreed.
"I think you can never have that feeling that you're tired of pushing your product," said Belanger. "It is an art form, but at the end of the day you have to market this thing, and if you think that not talking about your project is going to be a good situation, you're never right."
The entire crew, including the other series co-creator Conor McCreery, have tirelessly pushed their story and promoted it at both large and small conventions across North America.
"The large cons that we go to such as San Diego or New York or even Fan Expo here are so big and there's so much going on that (fans) don't have as much of an opportunity to stumble onto Kill Shakespeare," said Del Col.
That's why they like these smaller conventions, he said, pointing to Dragon Con, Heroes Con, and the Toronto Comic Con as examples.
"It gives us an opportunity to have one on one conversations with people," Del Col said.
Belanger said he does tons of these conventions, even the small ones, and they're all worth it.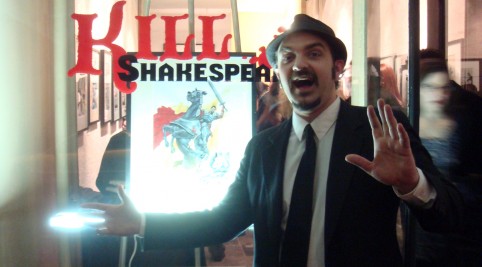 "I think people enjoy the fact that creators are accessible," he said. "I think that's important for the fans to connect to creators when they're in town. I think it's really cool."
The Series
Issue seven of the series was released Nov. 17, moving us past the half-way point of this 12 issue series.
Del Col describes the series as an action series that pits Shakespeare's classic characters, both hero and villain, against one another. Both are on a quest, he said, to either kill or save a reclusive wizard named William Shakespeare.
Del Col jokes that the true question of the story is, "to kill, or not to kill."
"Issue nine is where we're going to find out whether or not Shakespeare does exist and what he or she is like," said Del Col. " That is one of the major quests of this story."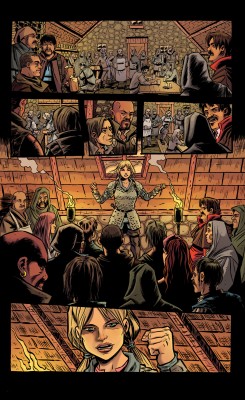 Character development has been consistent throughout the series, and it's something we can expect more of in the near future.
"What's great is that issue eight comes out at the end of December and really advances some of the characters, especially Hamlet, Juliet and Othello and they really investigate where they've come from and what they're about to go to," said Del Col.
Del Col said the next few issues will be interesting with some great art work and some very interesting cliffhangers, especially the one that concludes issue eight which he said was the best of them all.
The critically praised art has been a mainstay of the series, and that's in large part due to the work and effort of Belanger, especially in the latest issue.
"It took maybe twice as long to do issue seven than the other one's," said Belanger.
He said it was his Terry Gilliam issue, where he used a crescendo style to build suspense with each successive page to create what he calls a "play within a play". It's something Belanger asked for at the beginning of the series and allowed him to be more creative and abstract with his art.
"In the mirror scene it starts off with three panels, then four, then five, then seven; all of a sudden there's a hundered, then another hundred," Belanger said.
"All of a sudden there's so many panels and Hamlet and Juliet have drowned themselves out and then we return to the characters' dialogue and that silent note with them sort of trapped in their own world. That kind of stuff is exciting to work on," he said.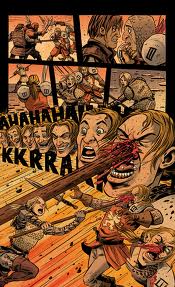 Belanger said to expect a more conventional layout in issue eight to let fans decompress after the last issue, but alluded to what's in store for readers.
"I think in issue 12  you're going to see something big," he said. "It's a 32 page comic so I have more room to do something big."
Belanger said we can expect a huge battle on par with the Lord of the Rings' Battle of Helms Deep.
"I find with war scenes in comics, people cheat a lot," Belanger said. "I'm going to try to come up with something different, something you haven't seen before."
Del Col said he and Conor are finishing off the scripts of issues 10 through 12, and that Andy is working on the art for issue nine.
At the end of the day with so much work put in on the creative and business sides, is it worth it for these gentlemen?
Del Col thinks so.
"The amount of sleep we get is minimal, but you know, we survive on a daily basis because we love it and we relish the opportunity to get more people excited about it."
(stay tuned to comicbookdaily.com for a full interview with both Anthony Del Col and Andy Belanger)