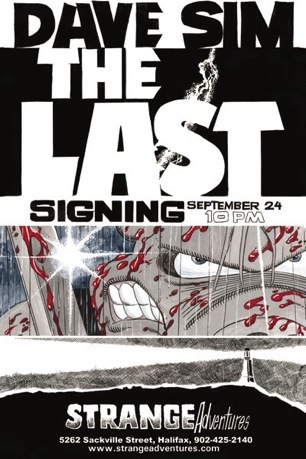 This Wednesday at 10pm, Strange Adventures in Halifax, Canada is hosting what they, and Dave Sim, are calling his Last Signing. And they are making it count. You can;
1) Welcome Dave on the flight from Toronto at Halifax airport on the Wednesday at 1pm. THe best sign wins a set of Cerebus for you and one for your local school or library.
2) A Question and Answer and Autograph session at Strange Adventures from 4pm to 8pm.
3) Thursday and Friday afternoons, portfolio reviews at Spring Garden Road Library from 4pm to 7pm, then 1.30pm to 4.30pm.
4) Friday, 10pm at Strange Adventures, the last signing… with free sketches, prints and posters .
5) Saturday night, the Glamourpuss event – dress up to the nines to join Dave and friends at the Economy Shoe Shop for a shindig.
I'm sure this doesn't mean that Dave will never sigbn another thing again in his life. But it does mean, he won't ever do a signing event again…
No word on if you have to sign a loyalty contract before the Q & A.
Strange Adventures has long been one of my favourite comic book stores in Canada, and they always have some of the best events. This is a very thorough few days for Mr. Sim and it really sounds like it's well worth your time.
I'll be honest – I haven't actually had the chance to read much of Cerebus as the first volume sort of scared me off. (I'm no Conan fan.) But by all accounts it gets better as it progresses.
Any one have any suggestions on where I should start?