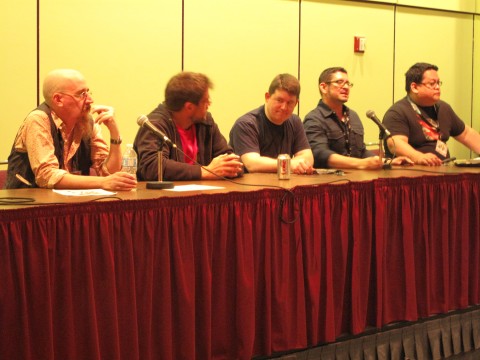 Anchored by super-star creators Francis Manapul, Andy Kubert, Brian Azzarello, James Robinson and DC Executive Editor Eddie Berganza, some of DC's brightest spoke with fans in attendance at Fan Expo on Aug. 26 about the company's Flashpoint storyline and what brought them to this juncture as DC prepares to re-launch their entire line of comic books.
The panel began with Berganza asking each of the creators at the panel how they came to be involved with the company's universe altering mini-series that's spread across a number of titles and has spawned dozens of tie-in mini-series throughout the summer.
"Hot Pursuit was a vehicle to get us to Flashpoint," Francis Manapul, writer and artist on the forthcoming Flash title, told fans, adding that he and Johns discussed the identity of the Hot Pursuit character while working on the previous Flash series and agreed it would be quite a revelation for it to be another version of Barry Allen. The character had been in pursuit of another member of the Flash family, believing them to be detrimental to the time-stream, before realizing it was in fact the Reverse-Flash he should have been chasing.
Andy Kubert, Flashpoint's artist, said he recalled simply asking to work on a new project, which lead the DC brain-trust to deliver him an opportunity they believed he would be a great fit for. Another key character, Batman, was intended to be Thomas Wayne as opposed to his son Bruce at a very early stage. Berganza said the relationship between Flash and Batman is very central in the main DC Universe, and it's something they wanted to explore once again from a different perspective.
"Really it comes down to Batman and Flash," he said. "Their relationship will be very cemented (in Flashpoint) because they're fighting towards the same goal."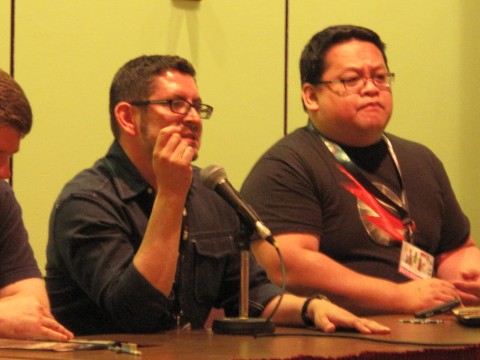 Brian Azzarello, who helmed the Batman Flashpoint  tie-in, remarked on his choice for the Joker in the series.
"It was so obvious," he said. "You assume Martha was killed in the alley and everyone wants to see Batman and the Joker kiss."
Berganza said an exciting part of Flashpoint has been the opportunity to analyze some of the characters from alternate perspectives, a series of "what ifs" relating to how things could have been different, or how they could have gone so wrong — such as they did with Aquaman.
"What would he have been like had he not had any kind of human guidance?" he said. "What the Aquaman-Wonder Woman story revolved around was, what got us to this point, how did they get to this level of antagonism?"
He said neither character really started out antagonistic, and the creators have had the opportunity to explore what dynamic changed all that.
Another prominent piece of the storyline within Flashpoint have been the Green Lantern titles centering on Abin Sur and Hal Jordan, with the Jordan story being a central point of interest for Berganza who wondered aloud what kind of man Jordan would be had he never received the Green Lantern ring.
"As it turns out, he's not the same guy because Abin Sur didn't die," he said. "His character arc was so interesting to explore because he never turned around."
Berganza said what was interesting though was in the end we found that he was still the same guy, while the hero, at his core, remained.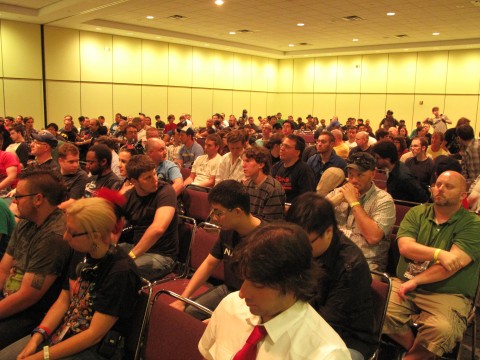 Once the panel turned the proceedings over to the fans for questions, the issue of character deaths came up. One fan brought up some of the backlash writers like J.T. Krul and James Robinson have gotten for killing characters in the past.
"James came in and said, 'I want to kill some little girls today," Berganza jokingly said in reference to Robinson's Cry for Justice mini-series in which Roy Harper's daughter Lian is killed during an attack on Star City by Prometheus.
Robinson noted Speedy was also a possible death in the series, joking he also got to kill a couple of people in Flashpoint. He said he enjoyed killing Mr. Terrific, Isis, Martian Manhunter, adding he also enjoyed coming up with a way to defeat Black Adam.
With death so prominent throughout Flashpoint, the creators refocused on the series which has claimed the likes of Hal Jordan and Billy Batson.
"Geoff (Johns) called me before I drew it and said we needed to be very discreet with it and wanted me to be very careful with it," Kubert said regarding the death of the teenage Batson in issue four of Flashpoint.
Berganza said what's been most important throughout the stories is to maintain a sense of humanity, ensuring an ever-present human element in these epic stories which DC intends to be a part of their universe going forward.
Another fan commented on the more adult oriented themes in contemporary comics, citing the ones she read growing up with her friends as being more kid-friendly. She questioned whether the company wanted to make books more accessible in order to expose younger children to literature at an earlier age.
"We want everyone to read them and we want books that appeal to everybody," Berganza said, answering the woman's question which also touched on comic book trade-in arrangements and more general level content."That's why we drew the line at $2.99, to help keep them affordable."
As the panel wrapped and the final question was asked, the creators thanked everyone in attendance and encouraged all to exit through the middle conference room doors to receive a special red poker chip emblazoned with a Wayne Casinos logo.
Additional Notes
Kubert said he began designing character costumes early last year, while Berganza stated each character's costume has some type of circle on it, a thread which unites them. He added the Flash logo was the one that tied them all together.
One fan compared the function of Flashpoint kick-starting the new DCU to the Star Trek (2009) reboot.
Another fan asked the creators if they had the Reverse-Flash's power, what they would do with it. Manapul proclaimed he would go back in time like in Back to the Future, while Robinson said he would join the Air Force.
The creators hinted at a forthcoming Canadian character.
They assured fans that in the new DC, events like Blackest Night, Brightest Day and The Killing Joke still happened.
There are no immediate plans for a large crossover mini-series in the near future, and that the company wants to focus on making the new 52 titles as strong as possible.
Manapul said there are some rogues they have plans to use over the next year in Flash, but wouldn't hint towards their identities.
All photos courtesy of Andrew Ardizzi.