Diamond announced the Free Comic Book Day Gold sponsors today, and the one that jumps right out is Archaia.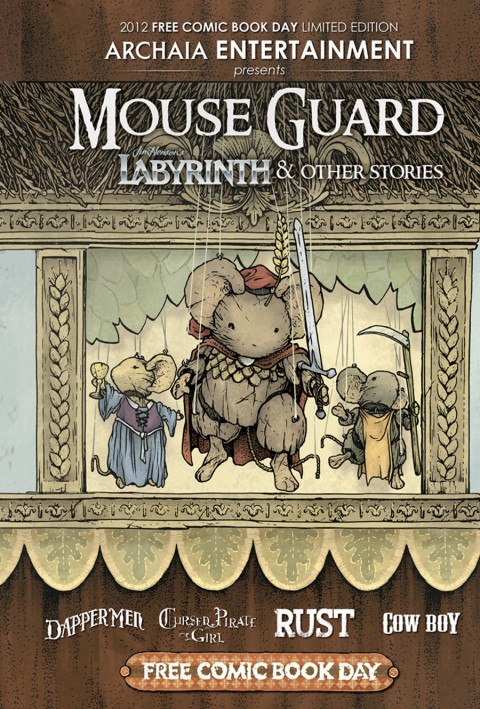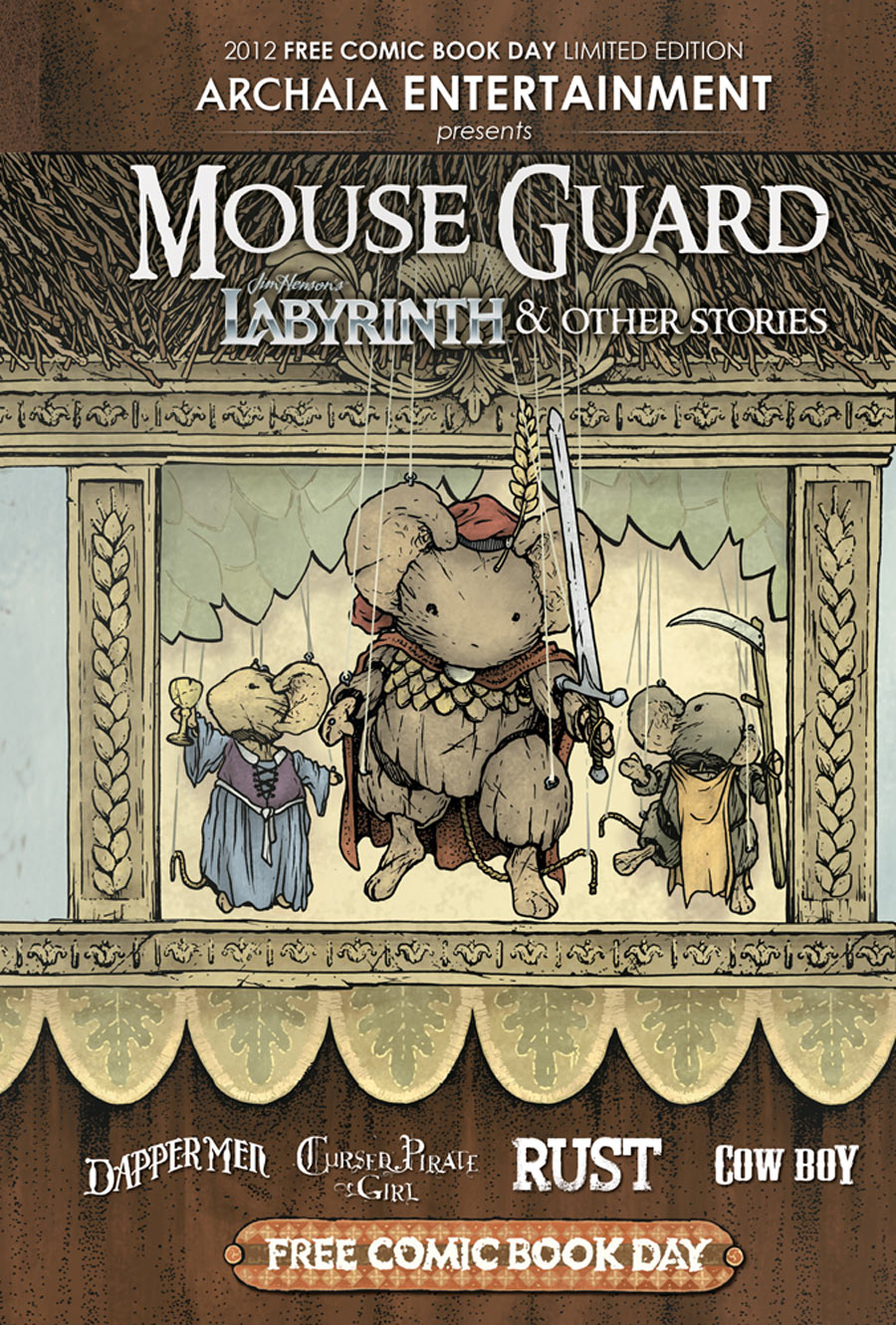 [quote]MOUSE GUARD, LABYRINTH, AND MORE HC FLIP BOOK
Written by Jeremy Bastian, Nate Cosby, Royden Lepp, Jim McCann, Ted Naifeh and David Petersen
Illustrated by Jeremy Bastian, Chris Eliopoulos, Cory Godbey, Janet Lee, Royden Lepp and David Petersen. Cover by David Petersen
This Free Comic Book Day, Archaia offers readers the chance to experience history in the making with a FREE, gorgeous, 48-page, 6" x 9" full color hardcover original graphic novel featuring all-new material! David Petersen returns with an all-new Mouse Guard tale that's guaranteed to tug at your heartstrings! Lose yourself once again in Jim Henson's amazing world of Labyrinth, featuring a fantastical story from Eisner Award-nominee Ted Naifeh (Courtney Crumrin) and Cory Godbey (Fraggle Rock). Get a new perspective on Jet Jones in Royden Lepp's critically acclaimed Rust, with a short story seen through the eyes of younger brother Oswald Taylor. Jeremy Bastian's acclaimed Cursed Pirate Girl hits the high seas in this whimsical, swashbuckling tale of wonderland journeys and unimaginable dangers. Nate Cosby (Pigs) and Chris Eliopoulos (Franklin Richards) present Cow Boy, a comedy/western that tells the tale of a young bounty hunter determined to send his entire outlaw family to jail. And Jim McCann and Janet Lee follow up their Eisner Award-winning Return of the Dapper Men with an all-new short story that leads into the upcoming sequel, Time of the Dapper Men. Witness the origin of a new, major character! And…the return of 41?![/quote]
While exciting for readers and bargain hunters alike, I can't see this being a success.  Let me explain: FCBD books are not free for the comic shop retailers who give them away, costing them anywhere from $0.25 and up.  Publishers are taking a big hit as well, but how much money can Archaia afford to lose on this book?  Are any retailers willing to pay $2 or whatever Archaia charges for a book they're giving away?
On the flipside this could be "THE" hot eBay book come next May.
Update
Archaia president and CEO PJ Bickett had this to say about the hardcover pricing.
[quote]…the cost to retailers for the hardcover is "exactly the same" as their FCBD single issues were in past years[/quote]
I checked Diamond for pricing and last year Archaia offered 2011 FCBD Mouse Guard / Dark Crystal Flip Book for $0.30 per copy in bundles of 25 to retailers.