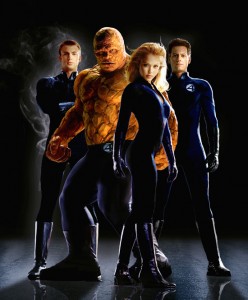 With all the attention the Disney/Marvel deal got today, Tom Rothman annouced that he's bringing us another Fantastic Four movie, and for this one he's bringing out the semi-big guns: Akiva Goldsmith.
Yes, the writer behind Batman & Robin.
Akiva Goldsman is producing the a reboot of Fantastic Four. Michael Green, a writer on Heroes (as well as the Superman/Batman comic) and the guy who wrote Green Lantern, is scripting.
No word on whether this is a straight up reboot or a slight reimagining – but either way, it sounds like this is a real strike against the Marvel/Disney alliance. I'm not 100% what this will do with rights though I've heard through internet sources that as long as Fox produces FF movies they'll always have the movie rights. (This is sort of similar to the Alan Moore vs DC over Watchmen rights.)
From the Variety article on the reboot:
Though Marvel Entertainment owns and finances properties like 'Iron Man' and 'Thor,' Fox controls "Fantastic Four" in perpetuity — as long as it continues make the films. Fox has the same arrangement on Marvel Comics properties "X-Men," "Daredevil" and "Silver Surfer."
So it looks like Fox has more interest in keeping the properties than the do in actually making a decent film. I suppose it's  a pride thing -No one wants to see someone else take something that they had and make it awesome. pity. Here's hoping I'm wrong.