Avenger #71, Marvel Comics, December 1969, 1st Appearance the Invaders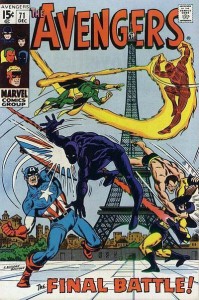 Avengers #71 is one of those comic books that is always missing from the Avengers bins. It's a book I'll always look for whenever I'm at a comic convention or visiting a new comic shop. More often than not this book is missing.
The 2009 Overstreet value for this comic is $49/$80/$110 in the 8.0/9.0/9.2 grades.
Recent sales include a 9.2 for $122 and a 9.4 for $400.
There are only 95 copies graded at 9.0 or better at the time of this post which makes graded high grade copies relatively scarce when compared to other key Avengers in this era (issue #57, 1st appearance the Vision has 176 copies graded above 9.0).
Strengths that make this book a good long term investment;
-The Avengers title is one of the top 5 collected Marvel titles
-The lead up to the very big Avengers movie release will highlight this title even more
-The last issue of the 1960s and it's within the 1 to 100 run
-1st appearance of a team that is still relevant today and looking forward will most likely remain relevant
-The story is actually very good and ties in with a later Invaders story (Invaders Annual #1 from 1977)
Walter Durajlija is an Overstreet Advisor and Shuster Award winner. He owns Big B Comics in Hamilton, Ontario.