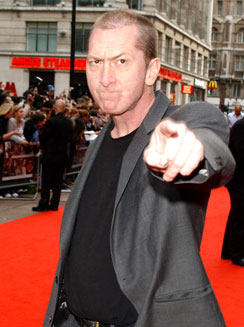 A while back Frank Miller hit twitter, and now he's launched his very own website.
And while his first post is a memorium to Brittany Murphy, an actress who appeared in Sin City but who died late last year, I'm kind of interested to see what else he'll put up.
It's no secret that Mr. Miller has been a usual on several conservative forums, so I wonder if we'll get some of his views on current issues through this blog. While he promises that the blog is "…here for [him] to show off occasional artwork, to update you on new works in progress, and to offer up commentary on all manner of things." I'm hoping that we'll get to see more of his take on various subjects.
You see, Miller's a pretty polarizing figure now.
I wasn't around when he was THE FRANK MILLER the guy who revolutionized Batman, took Daredevil to a whole new level and wrote some of the best comic books – hell, stories period. I got into him because that's what you get to read when you're first into comics, and it's that reason why when he's now referred to as The Goddamned Frank Miller, that I cringe a bit because I don't want him to become that crazy old man – like John Byrne has.
I mean, I think Mr. Miller's website will have either two things happen: It will become a great website that Mr. Miller can give his views and have a great debate, or it will become the next Byrne Robotics, where he'll rule with an iron-fist.
Hopefully it's the latter.
But either way, I've already bookmarked it!