Hobby Star/Fan Expo just sent out a newsletter about the latest additions to this year's Fan Expo.
One in particular caught my eye: Hasbro will be selling some of this year's exclusives at Fan Expo.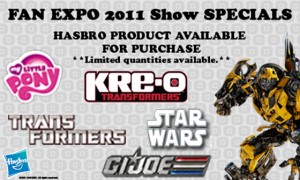 As you can see on the picture it says limited quantities, so everything will go fast.  But this will be a great chance to pick up the Marvel Universe Sentinel, G.I. Joe Zarana, or the Revenge of the Jedi 10 pack.
Stay tuned to Comic Book Daily, for all the news you need to know about this years Fan Expo.